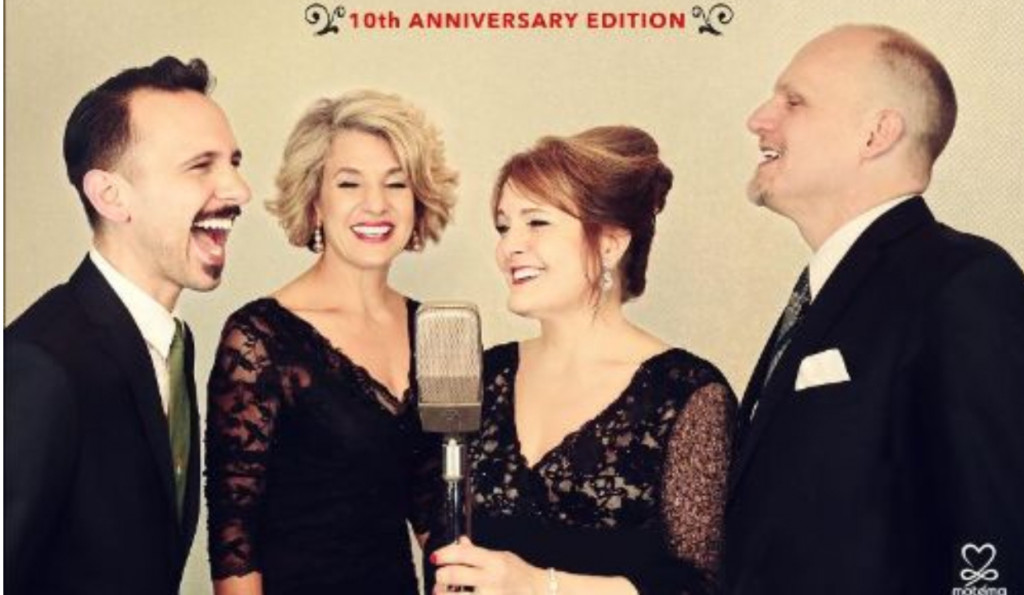 The Week in Jazz is your roundup of new and noteworthy stories from the jazz world. It's a one-stop destination for the music news you need to know. Let's take it from the top.
Noteworthy
"Angel of Jazz" Gretchen Carhartt Valade Dies: Businesswoman/philanthropist Gretchen Carhartt Valade died peacefully on December 30. She was 97. Valade was known as "The Angel of Jazz" for her long-lasting contributions to Detroit's arts and culture scene, as well as the global jazz community. at age 74, she founded the Mack Avenue Records jazz label and at age 82, she opened Dirty Dog Jazz Café. Valade died peacefully and surrounded by family, according to Carhartt's news release.
Aaron Myers on The JAZZIZ Podcast: Singer/songwriter/pianist Aaron Myers talks about his artistry and activism on our latest episode of The JAZZIZ Podcast, our series of conversations with some of the most exciting jazz artists on the scene today. Listen to it via the player below. Myers also talks about his latest full-length release, The Pride Album, which he released in 2021. The JAZZIZ Podcast is presented by the JAZZIZ Vinyl Club, our series of carefully-curated vinyl compilations.
The Royal Bopsters 10th Anniversary Reissue: The Royal Bopsters celebrate their 10th anniversary with the reissue of their landmark self-titled 2015 album, featuring special guests Jon Hendricks, Annie Ross, Bob Dorough, Sheila Jordan and Mark Murphy. Order it here. The album was reissued digitally on December 30 and will be reissued physically on February 24. The new version includes the bonus tracks "Jazz Jump" and "Auld Lang Syne."
Craft Recordings Announces Birthright: A Black Roots Music Compendium: Craft is set to release a 40-track collection spanning generations and genres, offering a comprehensive overview of American Black roots music. Birthright: A Black Roots Music Compendium will be released on February 17 on 2-CD set with insightful essays as well as an introduction and detailed track notes by Dr. Ted Olson, and digital formats.
New and Upcoming Albums
Sheila Jordan, Live at Mezzrow (Cellar/SmallsLIVE): Live at Mezzrow, released last year, marked the first live recording by legendary vocalist Sheila Jordan in nearly a decade, performing at the intimate Mezzrow Jazz Club with her long-time rhythm section including pianist Alan Broadbent and bassist Harvie S. This was also the inaugural release of SmallsLIVE Living Masters Series, a celebration of living jazz masters funded entirely by grants from the SmallsLIVE Foundation, in collaboration with Cellar Music Group.
Anthony Wilson, The Plan of Paris (self-released): Last year, Anthony Wilson released a new cinematic album, The Plan of Paris. The LP features set pieces conceived as narratives and the album is described via a press release as "an intimate, fluid hybrid of jazz, folk and blues." It also features the guitarist's longtime ensemble with Gerald Clayton, David Piltch and Jay Bellerose.
Molly Lewis, Mirage (Jagjaguwar): Preeminent whistler Molly Lewis released her otherworldly sophomore EP, Mirage, digitally on September 16 via Jagjaguwar. The EP finds her teaming up with producer Tom Brenneck and top instrumentalists to create six capacious and atmospheric songs that recall vintage recordings of the golden age of exotica.
Jakob Bro and Joe Lovano, Once Around the Room: A Tribute to Paul Motian (ECM): Guitarist Jakob Bro and saxophonist Joe Lovano co-lead a deeply-felt homage to the late, great drummer/composer Paul Motian, their mentor. Once Around the Room also features Larry Grenadier, Thomas Morgan, Anders Christensen, Joey Baron and Jorge Rossy and, along with two Motian-influenced originals each by Bro and Lovano, it includes a group improvisation and an especially dynamic rendition of a vintage Motian composition: "Drum Music."
Live Music and Festival News
Andrew Barth Feldman at Manhattan's Midnight Theatre: Andrew Barth Feldman will be performing new original music and reliving his Bar Mitzvah at Manhattan's Midnight Theatre on January 2-30. Tickets here. Barth Mitzvah Boy: An Evening Of Original Music will feature special guests, including Gaten Matarazzo, Alex Boniello, Gian Perez, Heath Saunders and more.
The Temptations Musical at London's West End: Ain't Too Proud, the jukebox musical based on the story of the American vocal group The Temptations, is set to open on London's West End later this year. The award-winning musical is set to run at the Prince Edward Theatre from March 31, 2023. Tickets here.
First Jazzkaar 2023 Names Announced: The 34th Tallinn International Jazzkaar Festival is set to take place in the Estonian capital city from April 23-30. During this time, it will welcome exciting performers from both Europe and the United States, as well as Estonia's most remarkable jazz musicians. The first artists have been announced for its upcoming program, and they include The Baylor Project and Mike Stern and his band. More here.
Esthesis Quartet New Album and Upcoming Tour Dates: The Esthesis Quartet will be performing extensively throughout the spring in support of their upcoming album, Time Zones, due out March 10. Their tour begins with a January run including Winter Jazz Fest's Manhattan Marathon on January 13. Check out all upcoming tour dates here. The Esthesis Quartet features pianist Dawn Clement, flutist Elsa Nilsson, bassist Emma Dayhuff and drummer Tina Raymond.
Like this article?  Get more when you subscribe.
Join thousands of other jazz enthusiasts and get new music, artists, album, events and more delivered to your inbox.