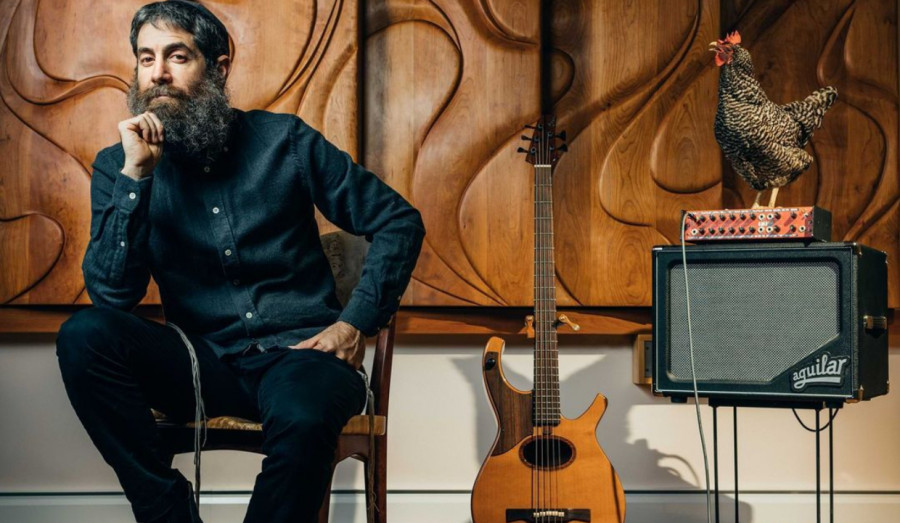 Bassist/composer Yosef Gutman Levitt shares music from his first-ever trio album as a leader, which showcases his unique and personal approach to the acoustic bass guitar.
Yosef Gutman Levitt showcases his unique approach to the acoustic bass guitar, flattering its melodic potential, on his trio album debut as a bandleader. Upside Down Mountain, released September 30, 2022, puts on display his idiosyncratic playing approach with a fine balance of sophistication and confidence, delivering emotive melodies with endless expressivity.
Levitt's playing not only complements the music but also contributes to the seamless interactive rhythms of his trio, featuring Omri Mor on piano and Ofri Nehemya on drums. Their chemistry is on full display on "Time With Abba," our Song of the Day, which you can hear via the player below. This is a mesmerizing composition soaring and spiritual, taking the listener on a transformative musical journey.
"Time With Abba" is one of the tracks that Levitt conceived during a single sitting, which the artist recalls via an official statement as improvising, "whatever flowed freely from my heart without thinking, editing or perfecting." It is part of an invigorating set of all-original material on Upside Down Mountain, produced, co-composer and arranged with Gilad Ronen and recorded over the course of a four-day session.
Yosef Gutman Levitt's trio album, Upside Down Mountain, is available now. Launch it here. You can also learn more about the album by listening to our recent JAZZIZ Podcast conversation with the artist HERE.
Featured photo courtesy of the artist.
Like this article?  Get more when you subscribe.
Join thousands of other jazz enthusiasts and get new music, artists, album, events and more delivered to your inbox.