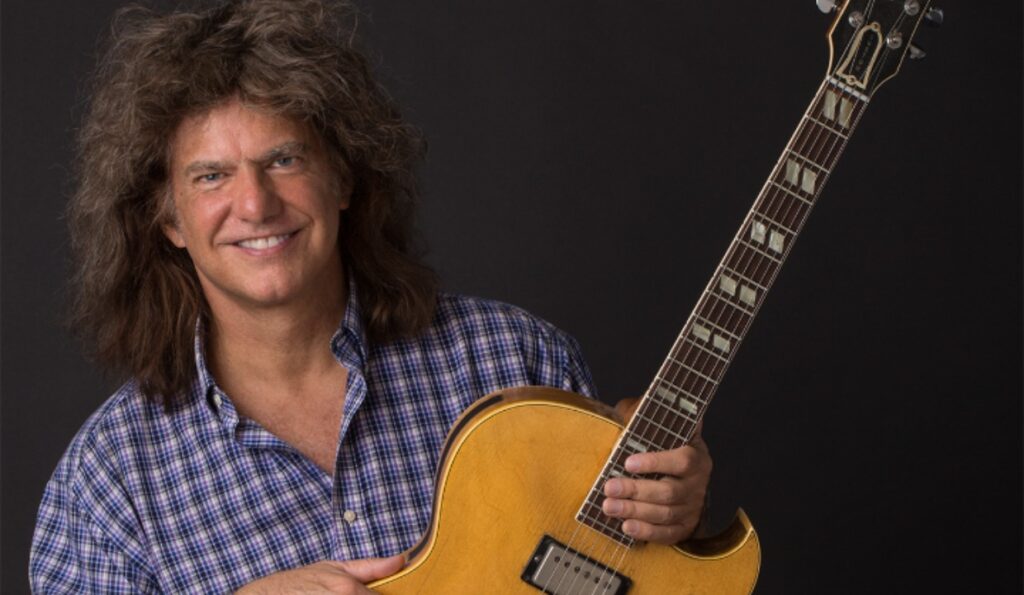 If you're looking for some great new music to discover this weekend, look no further than our weekly New Release Cheat Sheet. 
New Songs and Videos
Pat Metheny, "Better Days Ahead"
Pat Metheny offers up a beautiful reworking of his classic composition, "Better Days Ahead," which originally appeared on his GRAMMY-winning 1989 album Letter from Home. This live rendition is a new single from SIDE-EYE NYC (V1.IV), due out September 10 on BMG Modern Recordings, and interpreted by Metheny and his new trio with keyboardist James Francies and drummer Marcus Gilmore. "It's a natural and organic thing for me to play with them," says Metheny via a press release. "They have literally grown up listening to the recordings and playing those compositions as part of their early musical diets." Pre-order the album here.
Lucy Kalantari & the Jazz Cats, "Friendship Party"
Two-time GRAMMY-winning artist Lucy Kalantari will release What Kind of World, a new EP with her Jazz Cats ensemble, on September 17. This will be her first release on the newly formed 8 Pound Gorilla Records. "Friendship Party" is the new single and first track from the EP. It emphasizes joy and community in friendship and features the voices of Jazzy Ash and Joelle Lurie. It is also accompanied by a fun video shot in Brooklyn, where Kalantari and her family live. You can watch it via the player below.
Dan Berkson, "Maggie's Last Day" [Song Premiere]
Chicago-born, California-based composer/producer Dan Berkson has shared "Maggie's Last Day." This is the second single from his forthcoming jazz album, Dialogues, which features him on piano and with a band lineup bristling with talent. The LP is partly inspired by the vibrant London jazz scene and his love of groove-based music, from roots blues to ragtime and funk. "Maggie's Last Day" is accompanied by a visualizer created by Studio Nari, who also designed the album artwork. You can watch it via the player below and pre-order Dialogues HERE.
New Albums
Brandee Younger, Somewhere Different (Impulse!)
Innovative jazz harpist Brandee Younger pays homage to her predecessors on her new album, Somewhere Different, which is characterized by lush landscapes and a radiant blend of hip-hop, R&B, classical and jazz. This eight-track collection produced by Dezron Younger features a great lineup and a special appearance by none other than bass legend Ron Carter. It also marks Younger's major-label debut. Order Somewhere Different here.
PRISM Quartet, Heritage/Evolution, Volume 2 (XAS)
The PRISM Quartet, one of America's foremost chamber ensembles, returns with their second full-length celebration of the saxophone, Heritage/Evolution. This time, they are joined by saxophone icons Ravi Coltrane, Joe Lovano and Chris Potter. Together, they explore the instrument's dual lineages in classical music and jazz, via a program of works ranging from totally notated scores to completely free improvisation. Order Heritage/Evolution, Vol. 2 here.
Benn Clatworthy System 6, Tales From the Backyard (self-released)
Los Angeles-based saxophonist Benn Clatworthy tells personal tales and makes profound observations of a world in crisis on Tales from the Backyard, including a ballad composed for George Floyd, touching on such themes as veganism and more. The new album, out today, is performed with an updated iteration of his longstanding System 6 sextet and was recorded in its entirety in a single-day session after months of "workshopping." 
Like this article?  Get more when you subscribe.
Join thousands of other jazz enthusiasts and get new music, artists, album, events and more delivered to your inbox.