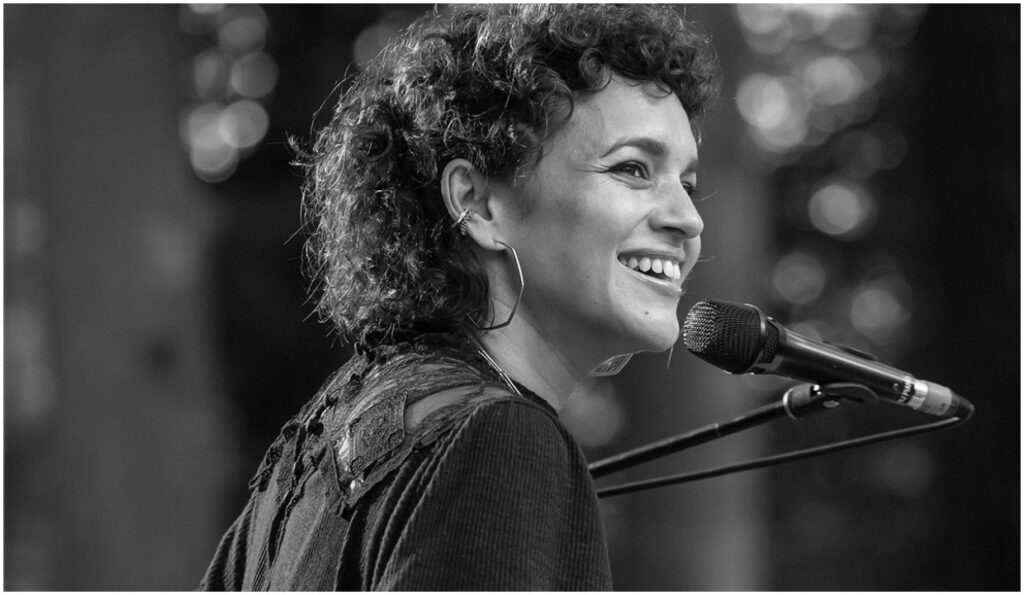 If you're looking for some great new music to discover this weekend, look no further than our weekly New Release Cheat Sheet. This week, we bring you new live releases from singer/songwriter Norah Jones and legendary ensemble Tower of Power. Plus a stunning track from Min Xiao-Fen's soundtrack to the 1934 silent film masterpiece The Goddess, the opening track from the new album by virtuosic trombonist Eric Goletz and more.
New Songs and Videos
Min Xiao-Fen, "Champaka (The Flower King)" [Song Premiere]
"Champaka (The Flower King)" is the first single from White Lotus, the forthcoming album by multi-instrumentalist/singer/composer Min Xiao-Fen. The album will be released on June 25. White Lotus is the original soundtrack that she composed for The Goddess, a 1934 silent film masterpiece from China's cinematic golden age. "Champaka (The Flower King)" features Min Xiao-Fen on ruan – a traditional Chinese plucked instrument – as well as acclaimed guitarist Rez Abbasi.
Norah Jones, "It Was You (Live)"
Singer/songwriter/pianist Norah Jones is set to release 'Til We Meet Again, her first full-length live album ever, on April 16 via Blue Note. The LP compiles 14 songs spanning her entire career, recorded in various parts of the globe between 2017 and 2019. The announcement comes with the release of the album's first single. "It Was You," recorded at the 2018 Ohana Festival in Dana Point, California, and performed with Pete Remm on organ, Christopher Thomas on bass, and Brian Blade on drums. Pre-order 'Til We Meet Again here.
Eric Goletz, "Say What??" [Song Premiere]
"Say What??" is the funky opener from virtuosic trombonist/composer Eric Goletz's forthcoming album, Into the Night. This 30 years in the making project finds Goletz featuring his trombone as the lead instrument in a fusion setting. The experiment works and is presented here within a program mixing funk, rock and jazz sounds into a unique sonic blend, performed with his fiery six-piece band. Into the Night is due out April 2 via Consolidated Artists Publications.
Aaron Frazer, "Lover Girl"
Brooklyn-based, Baltimore-raised songwriter Aaron Frazer made his late-night television debut on The Tonight Show Starring Jimmy Fallon, where he performed "Lover Girl" from his debut album, Introducing… out now on Dead Oceans/Easy Eye Sound. Frazer first rose to fame as the drummer/vocalist of Durand Jones & The Indications and this song is a delightful blend of doo-wop, jazz and funk. The charming performance is the first time Frazer performed "Lover Girl" live. Order Introducing… here.
https://youtu.be/FV-gEp_VBEY
New Albums
Dr. Lonnie Smith, Breathe (Blue Note)
Breathe is trailblazing Hammond B-3 organist Dr. Lonnie Smith's third album of dynamic music since his 2016 return to the Blue Note label. The record features him with his steady trio with Jonathan Kriesberg and Johnathan Blake, as well as an expanded septet and guest vocalist Alicia Olatuja. Six of the tracks were recorded during the NEA Jazz Master's 75th birthday celebration at the Jazz Standard in New York City in 2017 and the remaining two are captivating studio collaborations with rock icon Iggy Pop. Order Breathe here.
Floating Points, Pharoah Sanders and The London Symphony Orchestra, Promises (Luaka Bop)
Spiritual jazz pioneer and saxophone legend Pharoah Sanders teamed up with electronic producer Floating Points (a.k.a. Sam Shepherd) on a new album, Promises, out via Luaka Bop. Composed of nine movements of various lengths, Promises was recorded with The London Symphony Orchestra. This is the first time all three parties have collaborated on a project, which also marks Sanders' first new music in ten years. Order it here.
Tower of Power, 50 Years of Funk & Soul: Live at the Fox Theater – Oakland, CA – June 2018 (Mack Avenue)
In June 2018, legendary soul, funk and R&B outfit Tower of Power returned to their homeland of Oakland, California, to celebrate half a century of music over the course of two memorable nights. 50 Years of Funk captures the magic of this extravaganza for which bandleader/saxophonist Emilio Castillo invited some of the band's alumni to join its renowned modern 10-piece lineup. The full release comes in a variety of formats, including a 3-LP set, a 2-CD/DVD combo, a standalone DVD, as well as digitally. Order it here.
Like this article?  Get more when you subscribe.
Join thousands of other jazz enthusiasts and get new music, artists, album, events and more delivered to your inbox.