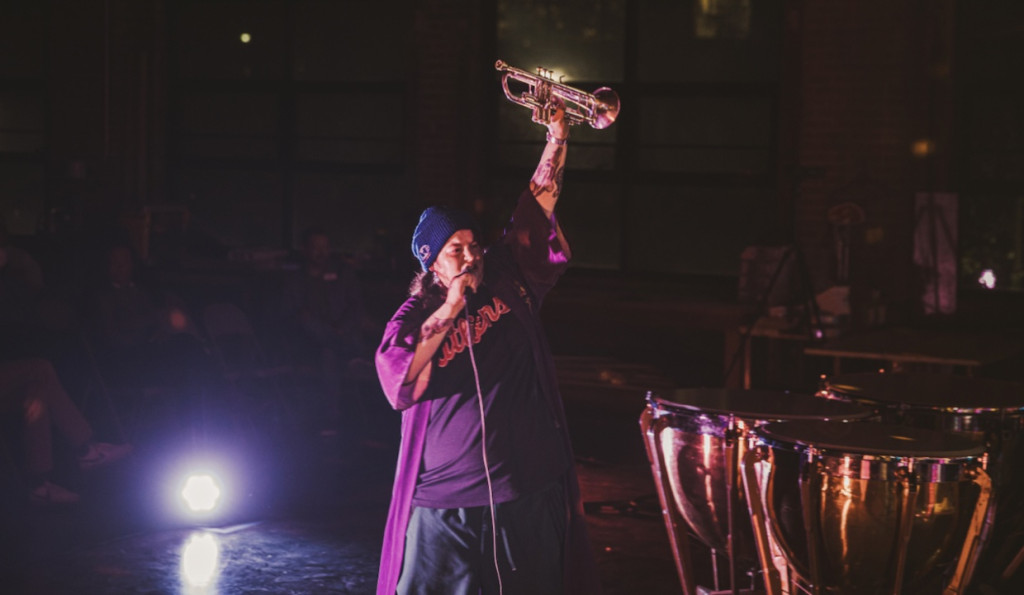 The Week in Jazz is your roundup of new and noteworthy stories from the jazz world. It's a one-stop destination for the music news you need to know. Let's take it from the top.
Noteworthy
Giant Steps Arts Launches Modern Masters and New Horizons Series: Giant Steps Arts will launch its new series, Modern Masters and New Horizons. Specially curated by Jason Palmer and Nasheet Waits, the series will feature original music by artists who have helped shape the modern jazz landscape along with rising voices sure to do the same for the next generation. The series will launch on September 8 with the release of the first-ever live album as a leader by saxophonist Mark Turner. Live at the Village Vanguard, recorded at the iconic New York City jazz venue, also features Palmer, bassist Joe Martin and drummer Jonathan Pinson.
Breezy March for jamie branch: Ahead of the release of jamie branch's final Fly or Die album, International Anthem shared a special video of a second line-style march that took place in honor of the much-missed artist on September 26, 2022, in Red Hook, Brooklyn. The march was led by jamie's brother Russell Branch and was captured in a short titled Breezy March by Cyrus Moussavi, shot in 8mm and 16mm film. Watch it via the player below.
Van Morrison and Jaco Pastorius Vinyl Reissues: Rhino has released Van Morrison's His Band and the Street Choir (1970) and Jaco Pastorius' World of Mouth (1981) as part of its Rhino High Fidelity series of limited-edition, high-end vinyl reissues. Each release is limited to 5,000 individually numbered copies and comes with exclusive content about each record.
The Gennett Suite in Premium Dolby Atmos: Patois Records and the Buselli-Wallarab Jazz Orchestra released a premium Dolby Atmos immersive mix version of the critically acclaimed The Gennett Suite on September 1 through Apple Music. This will be followed by a double-LP vinyl version of the recording later this fall. To find out more about this album, an invigorating and unique celebration of the legacy of the legendary Gennett Records of the early 1900s, listen to our JAZZIZ Podcast conversation with Brent Wallarab via the player below.
Steely Dan's Jazz-Rock Masterwork Returns to Vinyl: Steely Dan's 1977 multi-platinum jazz-rock masterwork, Aja, has been remastered from analog and will be reissued on vinyl for the first time in more than four decades on September 29 via Geffen/UMe. Aja marks the latest release in Geffen/UMe's extensive reissue program of Steely Dan's classic ABC and MCA Records catalog, which returns the band's first seven records to vinyl. The program is personally overseen by Donald Fagen.
New Albums
Allegra Levy, Songs for You and Me (Little Moon): Jazz singer/songwriter Allegra Levy brings her distinctive brand of sweet, swinging elegance on her first album for children and families, Songs for You and Me, released on April 7. "This album was written for everyone," Allegra notes via an official statement, "because the little kid in us still just wants to sing along." Click here to listen to our recent JAZZIZ Podcast conversation with Levy.
Iiro Rantala, Veneziana (ACT): Acclaimed Finnish pianist Iiro Rantala pays a very personal tribute to the beautiful city of Venice on his new album. Performed with members of the Berliner Philharmoniker, Veneziana was released on May 26 and brings together his jazz and classical influences, taking the listener through a kaleidoscope of different sound worlds.
Danny Fox Trio, Time Took Care of It (Adhyaropa): Pianist/composer Danny Fox reimagines some of the most poignant and creative compositions of his acclaimed career on his new album. Time Took Care of It was released on April 7 and employs his longtime trio comprising bassist Voorst van Beest and drummer Max Goldman, and showcases Fox's considerable talents, melding jazz and modern classical, as well as the group's signature sound.
Vince Mendoza & Metropole Orkest, Olympians (Modern Recordings): Vince Mendoza reunites with the acclaimed Metropole Orkest on Olympians, a select collection of the composer/conductor's works written for the orchestra over their 28-year collaboration. Released on March 3, the album is enriched by several guest appearances, including Dianne Reeves, Cécile McLorin Salvant, Chris Potter, David Binney, Alex Acuña and Ramon Stagnaro.
Live Music and Festival News
Nicholas Payton Wins Top Grant to Record Symphony: Nicholas Payton has been awarded a prestigious grant from South Arts to record his highly-anticipated symphony. Through this monumental project, Payton will revisit and re-orchestrate his first symphonic work, The Black American Symphony, which he wrote ten years ago, with the goal of reorganizing it to reflect who he is today. The symphony will be recorded at Sear Sound recording studio in New York City. More here.
John Stites Jazz Award Application: The John Stites Jazz Artist Organization has announced the opening of the 2023 John Stites Jazz Award application process, established for professional jazz musicians, jazz performances and special events. Award range in value from $5,000 to $25,000 and are given in two categories: artistic development and jazz events. The next application deadline is September 15. Click here for more information and to access the online application form.
Vijay Iyer, Shahzad Ismaily and Arooj Aftab Kick off U.S. Tour in New York City, September 14: Vijay Iyer, Shahzad Ismaily and Arooj Aftab, formally known as Love in Exile, will set off their headlining U.S. tour next month, starting with a show at The Town Hall in New York City, New York, on September 14. Check out all upcoming tour dates here. The album, Love in Exile, was released earlier this year and we included it in our list of ten new albums released in March 2023 that you need to know about. 
ASCAP Foundation Partners with DC Jazz Festival: The ASCAP Foundation has joined forces with the DC Jazz Festival to support the development of up-and-coming jazz artists. The festival will feature a performance by Chase Elodia with his band the Perennials. Elodia is a recipient of the 2023 ASCAP Foundation Herb Alpert Young Jazz Composer Award and will perform with his group on September 2 on the Transit Stage. DC JazzFest is set to take place from August 3-September 3, and feature performances by Gregory Porter, Samara Joy, Charles Lloyd, Terri Lyne Carrington and many more. Check out the full lineup here.
Jazz Festival for the Ages in Wantagh, New York, Sept. 2-4: The inaugural edition of Jazz Festival of the Ages is set to take place in Wantagh in Long Island, New York, from September 2-4. The three-day festival marks a harmonious convergence of the soul of New Orleans and the vibrant energy of New York City, and will take place at St. Markella Performance Hall and Festival Grounds, opening with a performance by the founder of the festival, Robert Torme, with Jazzmatazz! Headliners include Dave Liebman, Emmet Cohen and Chad LB. Tickets here.
Featured photo by Ben Semisch, courtesy of Bemis Center for Contemporary Arts.
Like this article?  Get more when you subscribe.
Join thousands of other jazz enthusiasts and get new music, artists, album, events and more delivered to your inbox.