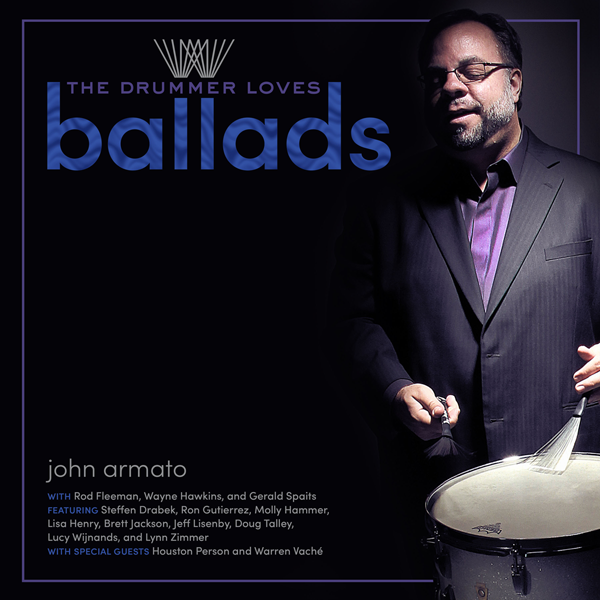 Forty years ago, John Armato played one of his first jam sessions. That's where the story of "The Drummer Loves Ballads," and the album itself, begins. Armato is a Kansas City native, New York City ex-pat, and Sacramento resident who has worked with jazz and smooth jazz artists such as Bob Kindred, Anne Phillips, Warren Vache, Paul Brown, Darren Rahn, and Steve Oliver, as well as the Dean-O-Holics Rat Pack tribute show. He appears as a sideman on various recordings. "The Drummer Loves Ballads" is his first release as leader.
Out Now
Listen Now
Watch Now
Visit Artist's Website
Personnel
QUARTET
John Armato (drums)
Rod Fleeman (guitar)
Wayne Hawkins (piano)
Gerald Spaits (bass)

SPECIAL FEATURED GUESTS
Houston Person (tenor sax)
Warren Vaché (cornet)

ADDITIONAL GUEST ARTISTS
Carol Bar (French spoken word)
Steffen Drabek (solo viola)
Ron Gutierrez (vocals)
Molly Hammer (vocals)
Lisa Henry (vocals)
Brett Jackson (baritone sax)
Jeff Lisenby (accordion)
Doug Talley (tenor sax)
Lucy Wijnands (vocals)
Lynn Zimmer (clarinet)

ENSEMBLE WINDS
David Chael (alto sax and flute)
Mark Cohick (alto flute)
Paul Roberts (trombone)
Brandon Wilkins (tenor sax and flute)

ENSEMBLE STRINGS
Alyssa Bell (viola)
Matt Bennett (violin)
Carmen Dieker (violin)
Zsolt Eder (violin)
Christine Grossman (viola)
Ezgi Karakus (cello)
Filip Lazovski (violin)
Susie Yang (cello)

Produced by John Cushon
Recorded by Justin Wilson, Sound81
Additional recording by Pete Millrose and Keaton Comiskey
Mixed and co-produced by Howie Lindeman, Howie's Mix House.
Mastered by Greg Calbi, Sterling Sound.
Strings and winds arranged, contracted, and conducted by Paul Roberts. Special assistance and oversight of Houston Person and Warren Vaché session by Anne Phillips.
"At the Trocadero" © 2018, lyrics by John Armato (ASCAP), music by Wayne Hawkins (ASCAP).
Track Listing
01 PRELUDE: "How 'bout a ballad?" -- featuring John Armato (dr and narration)
02 Dreamsville -- featuring Warren Vaché (crt)
03 Make Me Rainbows -- featuring Wayne Hawkins (p)
04 A Prologue to Paris (Brahms, Symphony No. 3, Third Movement) -- featuring TDLB strings
05 The Shadows of Paris -- featuring Lucy Wijnands (v), Jeff Lisenby (acc), Rod Fleeman (gtr) & Steffen Drabek (vla)
06 Memories of You -- featuring Lynn Zimmer (cl) in tribute to Steve Patke
07 INTERLUDE: "I can only imagine ..." -- featuring John Armato (narration) & Wayne Hawkins (p)
08 At the Trocadero -- featuring Lisa Henry (v) & Doug Talley (ts)
09 Messin' Around -- featuring Lisa Henry (v) & John Armato (dr)
10 Lonely Woman -- featuring Gerald Spaits (b)
11 Poinciana -- featuring John Armato (dr)
12 Night Lights -- featuring Brett Jackson (bs) in tribute to Kerry Strayer
13 Don't Worry 'bout Me -- featuring Houston Person (ts) & Warren Vaché (crt)
14 Moonlight -- featuring Ron Gutierrez (v) & Molly Hammer (v)
15 CODA: "No more new old friends" -- featuring John Armato (narration) & Wayne Hawkins (p)
16 For All We Know -- featuring Rod Fleeman (gtr)