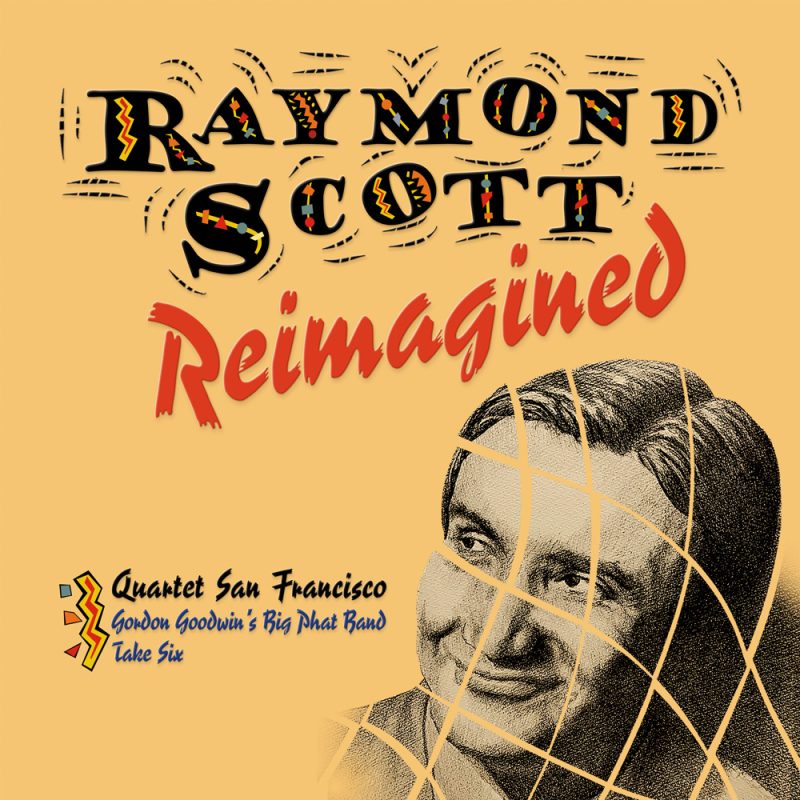 Violinjazz Recordings, the label of acclaimed Grammy-nominated musician Jeremy Cohen, principal violinist and founder of Classical Crossover specialists Quartet San Francisco, has crafted 'Raymond Scott Reimagined,' an unprecedented new collaboration teaming Quartet San Francisco with accomplished Grammy/Emmy Award-winning composer, producer, arranger Gordon Goodwin and revered Grammy-winning a cappella group Take 6.
The thrilling 14-track collection, which includes Goodwin's fresh arrangements of eight Scott classics, including mainstays "Powerhouse," "Twilight in Turkey," "Huckleberry Duck," "The Quintette Goes to a Dance" and "In an 18th Century Drawing Room," also introduces an entirely brand new composition, "Cutey and the Dragon," which was crafted from an unfinished sketch Scott made in 1982 with Goodwin completing the composition in a manner that honors the great composer's style and verve.
The album also contains several interstitials of Raymond Scott's voice, along with spoken word from audio historian Art Shifrin and Grammy-winning composer/conductor John Williams, excerpted from the documentary film, 'Deconstructing Dad' (directed by Raymond's son, Stan Warnow), has been two years in the making but, in actuality, is a journey of nearly 50 years.
Out Now
Listen Now
Watch Now
Visit Artist's Website
Personnel
Gordon Goodwin (piano, tenor sax, arrangements)
Wayne Bergeron (trumpet)
Ray Brinker (drums)
Joey De Leon (percussion, congas, bongos)
Justin Smith (guitar)
Andy Waddell (guitar)
Kevin Axt (bass)
Sal Lozano (alto sax)
Brett McDonald (alto sax, piccolo, clarinet)
Brian Scanlon (tenor sax)
Thomas Luer (tenor sax)
Jay Mason (baritone sax)
Daniel Fornero (trumpet)
Aaron Janik (trumpet)
Dan Savant (trumpet)
Andrew Martin (trombone)
Charlie Morillas (trombone)
Francisco Torres (trombone)
Craig Gosnell (bass trombone)
Wade Culbreath (marimba, vibes, xylophone, cowbell)
Meredith Clark (harp)
Don Williams (timpani, tom-toms)
Jeremy Cohen (violin)
Joseph Christianson (violin)
Chad Kaltinger (viola)
Andrés Vera (cello)
Claude V. McKnight III (vocals)
Mark Kibble (vocals)
Joel Kibble (vocals)
Dave Thomas (vocals)
Alvin Chea (vocals)
Khristian Dentley (vocals)
Track Listing
1. Powerhouse (Quartet San Francisco, Gordon Goodwin's Big Phat Band) [5:21]
2. Raymond Scott on the Creative Process (R. Scott, spoken word) [1:00]
3. Toy Trumpet (Quartet San Francisco, Gordon Goodwin's Big Phat Band) [3:41]
4. In an 18th Century Drawing Room (Quartet San Francisco, Take 6; Gordon Goodwin) [3:36]
5. Raymond Scott on Rehearsing the Quintette (R. Scott, spoken word) [0:36]
6. Cutey and the Dragon (Quartet San Francisco, Gordon Goodwin's Big Phat Band) [5:01]
7. Huckleberry Duck (Quartet San Francisco, Gordon Goodwin) [6:12]
8. "I Remember Nothing of That" (R. Scott and Art Shifrin, spoken word) [0:37]
9. The Quintette Goes to a Dance (Quartet San Francisco, Gordon Goodwin's Big Phat Band) [5:36]
10. Yesterday's Ice Cubes (Quartet San Francisco, Gordon Goodwin's Big Phat Band) [3:49]
11. Quintessentially American (R. Scott and John Williams, spoken word) [1:10]
12. Twilight in Turkey (Quartet San Francisco, Gordon Goodwin's Big Phat Band) [5:44]
13. "I'm an Experimentalist" (R. Scott, spoken word) [0:36]
14. Serenade (Quartet San Francisco, Take 6) [4:58]