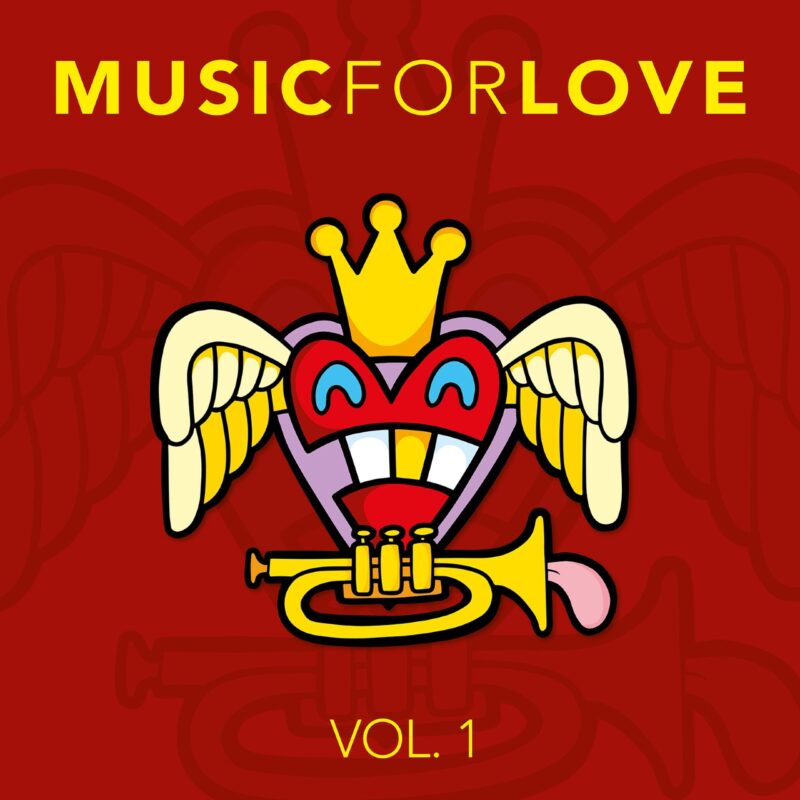 Music For Love Vol. 1 – 100% of Proceeds Goes To Humanitarian Efforts
Rap, Reggae, Jazz, Orchestral! Bob Marley Family Included!
29 Artists from 8 Countries!
100% Donation!
Founded by US-based textile entrepreneur Franco Nannucci, Music for Love is a charitable organization aimed at bringing tangible and effective economical support to different charity projects around the world. The goal is to ensure significant, immediate help to children and young adults living in contexts of extreme poverty where basic things such as survival and personal safety are questioned on a daily basis.
Out Now
Listen Now
Visit Artist's Website
Personnel
Fabrizio Bosso
Damian Marley
Julian Marley
Sonny King
Pablo Nannucci
Track Listing
This is the list of the tracks contained on the album:
1. CANTABILE 2.0 M. Petrucciani with Fabrizio Bosso Trumpet, Mario Rosini Piano, Pablo Nannucci (Aka Roc Flowers) Vocals, Francesco Cherubini Drums, Stefano De Donato Bass – Keyboards
2. MI HAVAS REVON DeDo/M. Catapano/K. Bracey with Marilena Catapano Vocals, Kayo Bracey Rap, Marco Caponi Sax, Francesco Cherubini Drums, Stefano De Donato Bass - Piano
3. SPEAK LIFE 2.0 D. Marley with Sonny King Vocals, Pablo Nannucci (Aka Roc Flowers) Rap, Riccardo Onori Guitars, Simone Papi Rhodes, Francesco Cherubini Drums, Stefano De Donato Bass - Keys
4. DREAMING MILES DeDo/F. Bosso with Fabrizio Bosso Trumpet, Francesco Cherubini Drums, Stefano De Donato Bass – Piano, Strings Arrangiament by Giuseppe Mazzamuto
5. EGO P. Nannucci/DeDo with Pablo Nannucci (Aka Roc Flowers) Rap, Marilena Catapano Choir, Andrea De Donato Keyboards, Marco Caponi Sax, Daniele Vettori Guitars, Francesco Cherubini Drums, Stefano De Donato Bass - Keyboards - Guitars
6. SEA NO STREET 2.0 R. Onori with Riccardo Onori Guitars, GianLuca Petrella Trombone, Sabina Sciubba Vocals, Rossano Gentili Rhodes, Francesco Cherubini Drums, Stefano De Donato Bass – Keyboards
7. LISTEN THE SOUND S. Ferraro/DeDo with Stefano Ferraro Vocals, Kayo Bracey Rap, Stefano De Donato. Beat Box
8. RAY CHARLES 2.0 K. Bracey with Kayo Bracey Rap, Andrea De Donato Piano – Keyboards, Francesco Cherubini Drums, Stefano De Donato Bass – Guitars
9. I AM A KING DeDo/S. King with Sonny King Vocals, Muhlis Berberoğlu Saz / Baglama, Tuğçe Albayrak Ney Flüte, Francesco Cherubini Drums, Stefano De Donato Bass - Keyboards – Piano
10. GOOD THINGS 2.0 DeDo/S. Bencini with Simona Bencini Vocals, Sonny King Rap, Alberto Marsico Hammond, Francesco Cherubini Drums, Stefano De Donato Bass - Guitars
11. HABANERA 2.0 G. Bizet/DeDo with Anastasia Boldyreva Vocals, Giuseppe Mazzamuto Vibraphone, Francesco Cherubini Drums, Stefano De Donato Bass - Guitars – Rhodes
12. UM AMOR ASSIM* C. Santana/H. Ferriera with Cecy Santana Vocals, Hugo Ferreira Vocals, Riccardo Onori Guitars, Daniel Fasano Drums, Stefano De Donato Bass - Key
13. GORE'E I. Mbaye with Ismaila Mbaye Vocals - Percussion, Duo Manibe':, Maurizio Lampugnani Vocals – Percussion; Leopoldo Sebastiani Bass
14. SPEAK LIFE 3.0 D. Marley with Sonny King Vocals, Pablo Nannucci (Aka Roc Flowers) Rap, Riccardo Onori Guitars, Francesco, Cherubini Drums, Stefano De Donato Bass - Keys