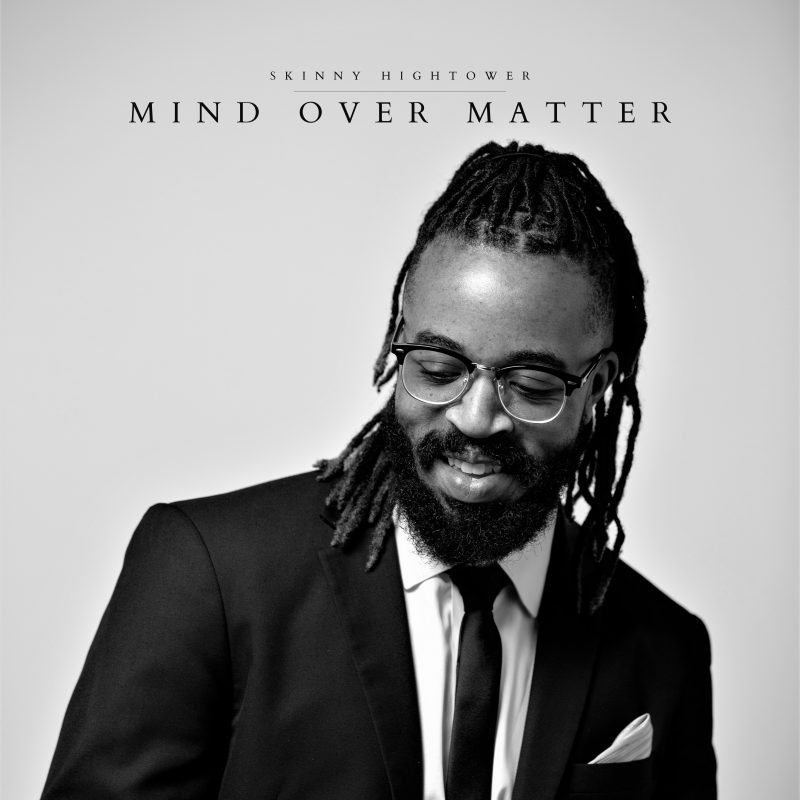 Mind Over Matter is chart-topping jazz pianist Skinny Hightower's fourth studio album on Trippin'N'Rhythm Records. A nod to his life philosophy, this body of work resumes the path started by the critically acclaimed album Retrospect while journeying somewhere further than Blue Moon.
"Much has changed since I recorded my last album," says Hightower. "The pandemic forced me to grow from the inside out. I had to look at myself in every respect and ask myself how I could improve. How could I become a better person as well as a more skillful musician? Initially, I realized that I needed to take my Christianity more seriously. As I drew closer to God and began working on who I am rather than simply what I do, I quickly realized the utter magnitude of thought. As your thoughts go, your life flows. That's the essence of Mind Over Matter."
As with his previous works, Mind Over Matter offers a much-needed change in direction, this time to embody the changes he's made within himself. It's jazz, but it's smooth, peppered with an intricate brand of playing that draws from the likes of Keith Jarrett, Michel Petrucciani, and Brad Mehldau. A touch outside but always returning home; this best describes Hightower in his current state.
"I studied under John Goering at the start of the pandemic," Hightower states coolly. "It changed my approach to the piano and my perspective on music completely. I practiced like a madman—eight hours a day. It was mainly due to the fact that I realized I had work to do. As I'd come to understand my place in the genre, it made me that much more determined to become the best version of myself. In that pursuit, I'd hope to become one of the best pianists in the genre."
Hightower's latest record takes off with the title track, wrapped in a joyful yet serious tone that sparkles with charisma. The album is modally charged, à la Kind of Blue, and the listener picks up on that notion quickly as they're submerged in a winding groove that seems to beckon the listener into a trance. That trance, however, is continuously challenged by Hightower's almost straight-ahead approach to the instrument he loves.
"Brazilian Nights" features acclaimed violinist and composer Josh Vietti (ESPN's Sunday NFL Countdown, Sway In The Morning Show, The Ellen DeGeneres Show) and accomplished saxophonist Gary Honor. The track, held upright by a thunderous 808 and shimmery strings, provides a glance at what could be a new way forward in jazz. Hip hop, classical, and jazz marry in a union that births a song that speaks to Hightower's ever-advancing approach to music. "The interaction between the flute, violin, and piano is one of the highlights on the album," Hightower said.
When speaking of Josh Vietti, Hightower said, "He's one of the most talented violinists I've heard, not because of what he plays but because of how he plays each note. It's as if each note he plays is one of his children—released with care. His attention to detail and dedication to a musical idea are astounding. And Gary provides a dynamic lightening-like approach to the flute that is always refreshing."
"Groove Factor" reminds us that groove is always the main factor. Doused in a somehow sultry and vigorous groove, the song features a soothing melody brought about by way of Skinny's new unmistakable piano tone. Improvisation gracefully makes its way to center stage, something he attributes to listening to more straight-ahead jazz. "Melody colors the canvas, while improvisation is my opportunity to add the necessary details to the painting. Without it, you're left with a mere vague figure."
The album later arrives at "Night Visions" which instantly sets the scene in a landscape of colors and bokeh lights attempting to futilely overthrow a cool, brisk night. With a melody that seems to tiptoe over the song, Hightower's innate ability improvise meaningful wordless lyrics takes the forefront throughout the entire body of the song. Fittingly, the album ends with a song that speaks of new beginnings in spit of an inevitable end: "Goin' Up Yonder." Originally released on Walter Hawkins' 1975 Love Alive, Skinny's rendition embraces the same upbeat and exuberant spirit with a jazzier and funkier twist. "I played the song at my grandmother's funeral," Hightower states. "Ever since then, it stuck with me. I decided to record it and add it to the album. Ministering to others often begins with what once ministered to us."
Mind Over Matter was recorded in just four weeks, but Hightower spent over a year practicing the songs before recording a single note. "I wanted to explore each song in a way that typically happens only when artists have toured after an album's release," said Hightower. "I wanted to capture that process on the record. I practiced each song fast, slow, in different keys, in every possible way I could." Despite this, his playing doesn't sound rehearsed. Spontaneity is ever present in spite of his purposeful and apparent familiarity with his songs. Among other musicians on the album are violinist Jessica Diamond, longtime percussionist "Bongo" Bobby Thomas, guitarists Brett Johnson and Rob Aitken, Cloudchord, Damien Nolan, vocalist Natalie Major, and DJ Quartz on turntables.
Tagged with his moniker by his fellow Army buddies when they found out he was a jazz musician, the (at the time) skinny Mr. Hightower satisfied his musical curiosity at only two years of age when he sat behind a drum set for the first time. This interest in drums would continue throughout his life and in later years transfer to the piano. He would go on to sign a record deal with Trippin'N'Rhythm Records while in the military with intentions to only be a producer. However, the allure of the piano drew his attention late in his career, as recently as 2020.
Despite his late arrival to the love of piano, Hightower has acquired numerous Billboard singles, three of which ascended to the number one spot on the US Jazz (Smooth) chart.
Skinny Hightower believes that his career has started anew with his most recent work.
Hightower's musical personality stems greatly from his approach to life. He is prominently one who enjoys the task of improvising and relishes the opportunity to evoke spontaneity as he unravels a musical idea in real time. Simultaneously, he is a workhorse, driven by the internal resolve to master a thing which he sets his mind to do. In this sense, he is prone to routine and structure which creates a divergence with his need to improvise and be spontaneous. Each tune firmly exemplifies this approach as they often start with a sense of structure and eventually arch into an improvised narrative. Therein, we find the two sides of Hightower's musical persona—the inventor and the structured workhorse—playing in an amalgamation that eventually and almost inevitably leads to organized chaos.
On stage, Hightower prefers the purity of the trio—drums laying the rhythmic foundation, bass establishing the needed groove, and the piano splitting the roles of accompaniment and melody. "The trio is the ultimate setting for a pianist," says Hightower. "It allows for supreme freedom. The drummer's freedom is rhythmic, the bassist's freedom is tonal, and the pianist's freedom is harmonic. In unison, they create a work of art that is planned from the beginning but becomes something greater than intended."
Out Now
Listen Now
Visit Artist's Website
Track Listing
1. Mind Over Matter
2. Groove Factor
3. After Sunset
4. Labyrinth
5. Lighthouse
6. Brazilian Nights feat. Josh Vietti and Gary Honor
7. Patience
8. Full Moon feat. Gary Honor
9. Square One
10. Zenith
11. Night Visions
12. Equilibrium
13. Goin' Up Yonder