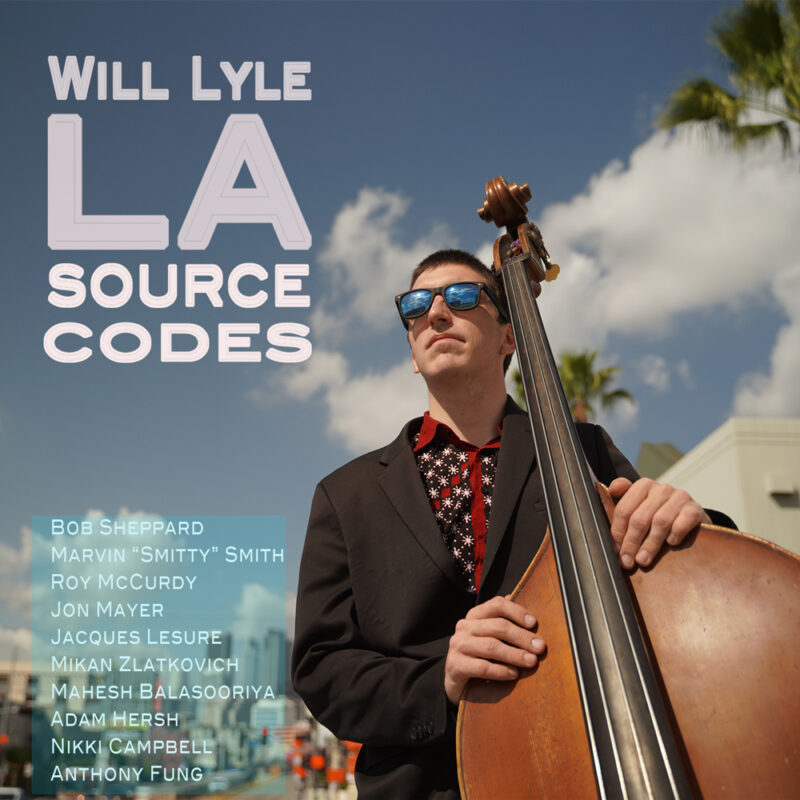 Based in Los Angeles, Will Lyle (born 1994) is an upright and electric bassist, bandleader, composer, arranger, producer, and educator.
With a degree from Berklee College of Music and a Presidential scholarship to study with bassist Ron Carter at the Manhattan School of Music, he's toured Japan with Billy Kilson's quartet, Jakarta, Indonesia with Ron King Big Band and is a member of hard bop pianist Jon Mayer's trio.
His debut record 'L.A. Source Codes,' featuring eight standards and four originals, is dedicated to the memory of his mentor in jazz, the great Ralph Peterson, Jr.
Out Now
Listen Now
Visit Artist's Website
Personnel
Will Lyle - Bass
Bob Sheppard - Tenor Saxophone (#1, #4, #8, #10)
Marvin "Smitty" Smith - Drums (#1, #4, #8, #10)
Mahesh Balasooriya - Piano (#1, #4, #8, #10)
Jon Mayer - Piano (#3, #5)
Roy McCurdy- Drums (#3, #5, #9)
Adam Hersh - Piano (#2, #6, #7, #12)
Anthony Fung - Drums (#2, #6, #7, #12)
Mikan Zlatkovich - Piano (#9)
Nikki Campbell - Conga (#7)
Jacques Lesure - Guitar (#11)
Track Listing
1. Forasteira (Will Lyle) 5:41
2. Above the Clouds (Will Lyle) 5:16
3. Be My Love (Sammy Cahn and Nicholas Brodszky) 6:36
4. So in Love (Cole Porter) 6:46
5. Two For the Road (Henry Mancini) 4:11
6. rains_of_change (Will Lyle) 2:45
7. La Cumbia de MacArthur Park (Will Lyle) 5:04
8. No. 1 Green Street (Grant Green) 5:08
9. Beginner's Luck (George and Ira Gershwin) 4:47
10. I Believe in You (Frank Loesser) 4:46
11. It Ain't Necessarily So (George Gershwin) 6:47
12. You Stepped Out of a Dream (Nacio Herb Brown, Gus Kahn) 7:19