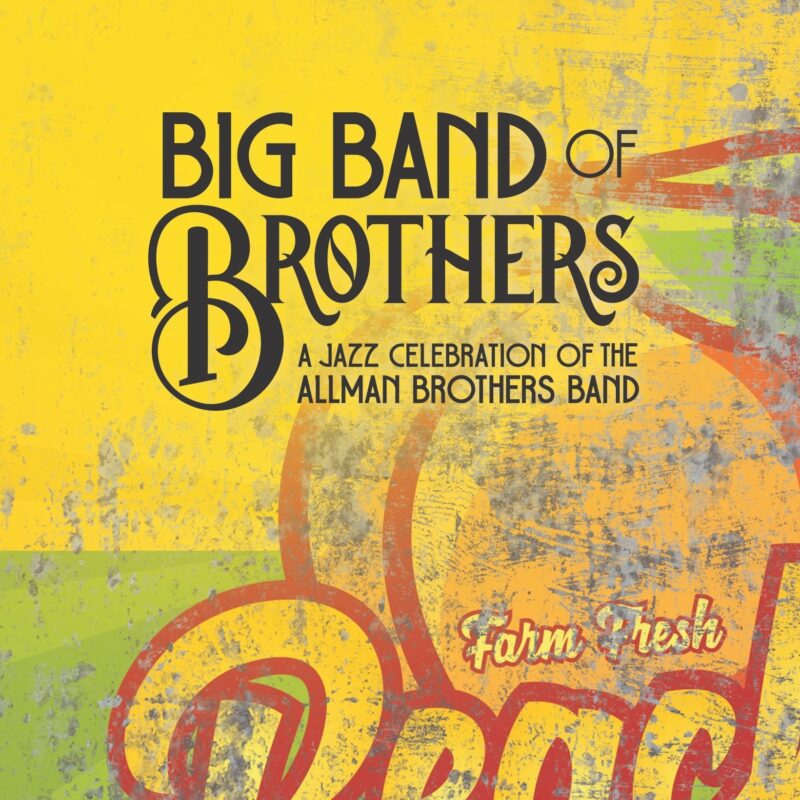 10-song set of jazz interpretations of Allman Brothers classics performed by a 15-piece Big Band jazz ensemble.
It aso features vocalists Marc Broussard and Ruthie Foster, slide guitarist Jack Pearson (ABB member '97 – '99) and Wycliffe Gordon, celebrated trombonist of Jazz at Lincoln Center fame, who also wrote the arrangement for "Statesboro Blues."
JAZZIZ premiered the single "It's Not My Cross To Bear" in October 2019.
The album debuted at #2 on Billboard's jazz charts and quickly earned critical acclaim from DownBeat, Jazz Times, Blues Music Magazine, Rock & Roll Globe, Rock and Blues Muse, and many others.
Out Now
Listen Now
Visit Artist's Website
Personnel
Personnel

Jimmy Bowland — alto saxophone (tracks 1, 4, 6, 9)
Mace Hibbard — alto saxophone (tracks 3, 5, 7)
Kelley O'Neal — alto saxophone (tracks 2, 8, 10)
Dick Aven — tenor & soprano saxophone
Nathan McLeod — tenor saxophone
Steve Collins — baritone saxophone
Rob Alley — trumpet & flugelhorn (tracks 3, 5, 8, 10)
Mart Avant — trumpet & flugelhorn (tracks 1, 2, 4, 6, 7, 8, 9, 10)
Barney Floyd — trumpet & flugelhorn
Chris Gordon — trumpet & flugelhorn
Billy Bargetzi — trombone
Chad Fisher — trombone (tracks 1, 3, 4, 5, 6, 7, 9)
Bill Huber — trombone (tracks 2, 8, 10)
Brandon Slocumb — bass trombone
Andy Nevala — piano, Hammond B-3, Rhodes
Matt Casey — electric slide guitar (tracks 1, 9)
Tom Wolfe — electric guitar (tracks 1, 2, 3, 4, 5, 7, 8, 10)
Abe Becker — acoustic & electric bass (tracks 3, 5, 7)
Chris Kozak — acoustic & electric bass (tracks 1, 4, 6, 9)
David Ray — acoustic & electric bass (tracks 2, 8, 10)
Mark Lanter — drum set
Dave Crenshaw — congas & other percussion (tracks 2, 4, 8, 10)

Guest artists

Marc Broussard — vocals (tracks 1 and 5)
Ruthie Foster — vocals (tracks 3 and 9)
Wycliffe Gordon — soprano trombone (track 2)
Jack Pearson — electric slide guitar (track 6)
Track Listing
1. "Statesboro Blues"
Willie McTell / arr. Wycliffe Gordon 5:14
2. "Don't Want You No More"
Spencer Davis, Edward Hardin / arr. Tom Wolfe 3:48
3. "It's Not My Cross to Bear"
Gregg Allman / arr. Shane Porter 7:52
4. "Hot 'Lanta"
Duane Allman, G. Allman, Dickey Betts, Butch Trucks, Berry Oakley, Jai Johanny Johanson / arr. Wolfe 5:15
5. "Whipping Post"
G. Allman / arr. Porter 5:11
6. "Stand Back"
G. Allman, Oakley / arr. Porter 5:35
7. "Dreams"
G. Allman / arr. Wolfe 6:39
8. "In Memory of Elizabeth Reed"
Betts / arr. Mart Avant 7:11
9. "Don't Keep Me Wonderin'"
G. Allman / arr. John Burr 4:08
10. "Les Brers in A Minor"
Betts / arr. Porter 12:03