It's no easy road for an independent artist to record a debut album. It requires unwavering ambition and indefatigable artistic vision, not to mention financial savvy. But for those who choose to make their entrance into the jazz world on their own terms, the rewards are often well worth the effort. Just ask saxophonist Michael Alan: He's done it twice.
Distant Worlds is the official debut album for Alan, coming not long on the heels of an earlier project that was recorded but ultimately shelved. Alan — who is currently based in Duchess County, New York, after 22 years in Nashville — regards that original project as the first draft of a more refined product: "I used my previous album as a learning experience," he told me in a phone interview from his home in Beacon. "What came out of that experience was even better."
That new album, Distant Worlds, is indeed a finely honed project, demonstrating sterling production value and a well-calibrated balance of smooth grooves, catchy melodies and sizzling improvised solos. Alan himself served as the album's sound engineer, mixing and mastering the project himself, and the resulting album captures his musical personality with crystal clarity.
Alan grew up steeped in the sounds of '60s and '70s pop — his favorite musical group of all time is The Beatles — and the sound of that era has a profound influence on his craft. The 11 tracks on Distant Worlds resonate with allusions to early soul music, R&B, prog, disco and even psychedelic rock. The fusion of Spyro Gyra and Steely Dan are also aesthetic touchstones, and Motown has a heavy stylistic presence as well (the album includes a cover of The Spinners' "I'll Be Around").
Alan was also an early advocate of computer music – he received his first synthesizer in high school – and much of Distant Worlds' soundscape is shaped by his interest in and proficiency with electronics. In addition to saxophone, Alan played or programmed the majority of the album's keyboards, bass synths, loops and drum samples. He also contributed flute and EWI (electronic wind instrument). Accompanying Alan on the disc are guitarists Michael Vince and Tony DePaolo, and accordionist Ron Oswanski makes an excellent guest appearance on the chanson-inspired "Mon Seul Amour."
JAZZIZ spoke with Alan about the recent release, as well as his musical influences and his long history with music technology. Below is an edited and condensed version of the conversation.
Tell me about your musical role models. I understand the "Fab Four" had quite the impression on you.
Yeah, I guess I like The Beatles because they were the first band that got me seriously into music. I was young when I first heard them, probably 8 years old. My parents eventually figured out that I loved The Beatles and bought me a bunch records that I would listen to constantly. In terms of production and songwriting, if you want to learn about music on several levels, just study the Beatles. They teach you the whole package. Just study that. It's the foundation.
What other musical styles were present in your childhood?
As I got older, say like in the 1970s, my mom used to put on pop radio all the time, so I got into all the Top 40 music that would play, anything from Motown to the typical '70s rock to whatever. So I kind of have a lot of that influence. My dad was always into '50s music, and Broadway show music too. Being in New York he would bring me to shows. I also liked a lot of the progressive bands like Yes and Kansas. I was into Emerson, Lake & Palmer – all the art-rock type stuff. And I really dug bands like Boston, Pink Floyd, and Zeppelin. I was in a band in high school and I played a lot of their music. It was a whole mishmash of all that.
What ultimately drew you toward jazz?
In high school, I had a teacher, Marc Elbaum, who got me into all the '60s-type jazz, like Coltrane and Eric Dolphy. I started listening to them a lot. I couldn't play like them, but I started developing an appreciation for them. And then around that time, Spyro Gyra came out. And then George Benson and Grover Washington Jr. I started to listen to those guys because that was more electric and had more of a pop groove. The production was like rock production. It spoke to me, and I gravitated toward it.
I don't even think they called it smooth jazz back then. I'm not sure when that trend came out, but it was smooth jazz. I mean, Wes Montgomery was doing it. Early Herbie [Hancock] was doing it. People didn't call it smooth jazz, but he was doing it, you know? I loved that fusion between those two styles.
Then I went to Berklee and got into all kinds of stuff. I had teachers like Bill Pierce and Peter Gordon, who were amazing. They started teaching me the art of improvisation in jazz, and that's really when I got heavily into jazz.
And what about your first encounters with music technology?
Where I went to high school, they had this modular synthesizer. I think it was a Moog, but I'm not sure. We had a class where this guy taught basic electronic music. I thought it was pretty advanced that the school had that. I start playing around with it a lot and, you know, this thing just blew my mind.
Eventually, I started looking for a synthesizer of my own, and my dad let me get a Korg MS-20. It was a little mono synthesizer with a patch bay. It didn't have any presets, so you had to learn basic elements of analog synthesis. And then [music software] Mark of the Unicorn Performer came out on the Mac when I was in college. I saw a demo of it at a music store, and it blew my mind. It changed my life in a way that made me say, "That's where I want to go. I want to make music that way, with MIDI sequencers."
Let's go to Distant Worlds. You bring a lot to the table musically. How many instruments are you playing on this disc?
Let's see: Drums, keys, guitars. All the synth basses. Basically, everything is me except for a couple of guitar players: Michael Vince playing guitar on "Whenever You Are Near" and "Don't Worry." Then Tony DePaolo plays a solo on "On a Good Day," and I'm playing the rhythm guitar on that song. Tony also plays nylon guitar on "Morning in Tunisia." And the rest is me playing guitar. I'm kind of a frustrated guitarist (laughs). When I need to play guitar, I'll pick it up and shed it really hard for a week or two and record my parts. Then I'll put it down and move on to something else. (laughs)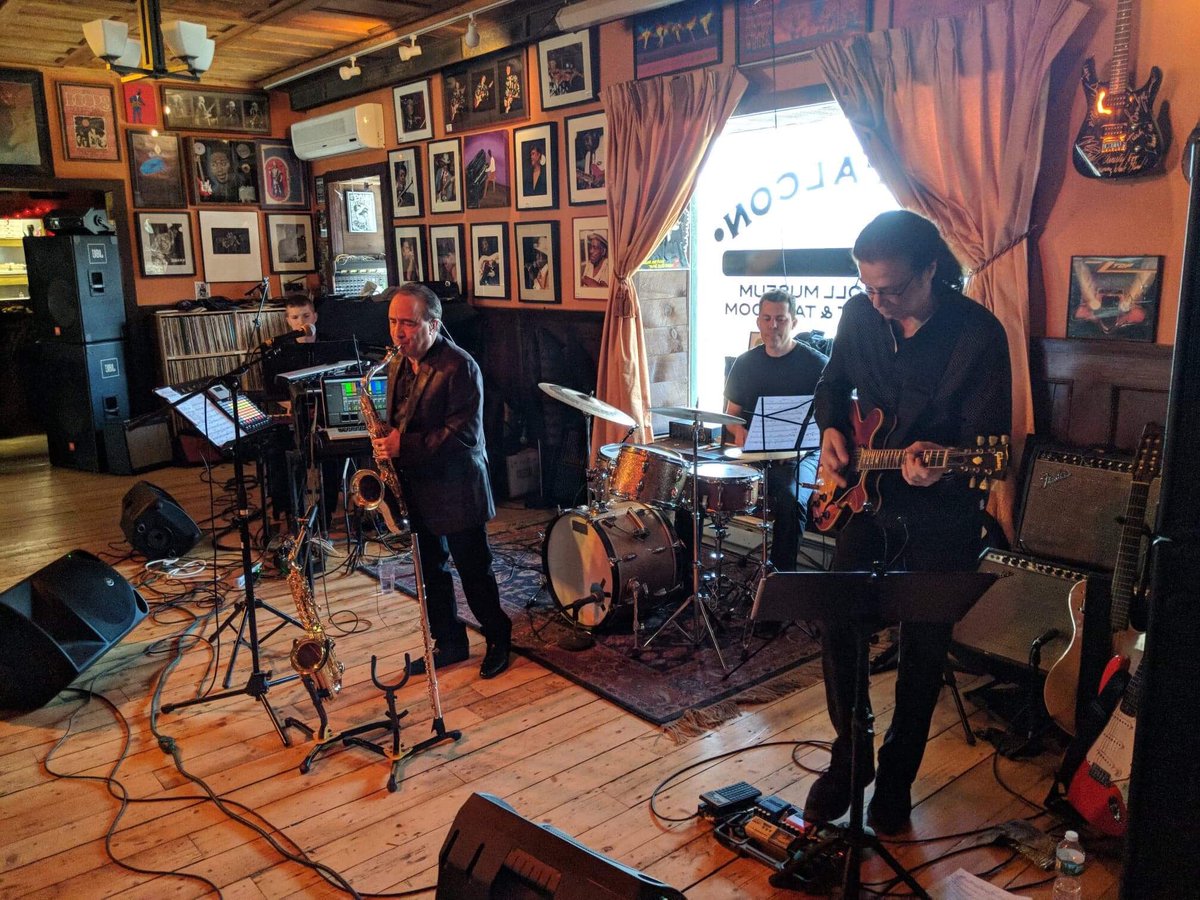 You were also involved in the sound design and production of this album. 
Yeah, I've done a lot of that over the years, so I was able to put those skill sets into this album. Plus I couldn't really afford to pay anybody to do it, so I had to do it myself (laughs). But aside from the budget, I'm glad I was able to do it myself because I wanted it to sound the way I wanted it. I recorded it, edited it and mixed it with Steinberg Cubase Pro. I mastered it with Steinberg Wave Lab.
You've been on the scene for a while. You're a veteran player. But this is your debut album.
As a leader, yes.
How did this project finally come together? What was the impetus behind deciding to record an album under your own name?
Well, I've wanted to record this album for a long, long time. But for one reason or another, life got in the way. The timing just wasn't right. But around 2011 or 2012 was when I started getting serious about recording an album of my own music.
Actually, Distant Worlds is kind of like the second album I did. I had all the tunes for my first album, and it was mostly live musicians in my friend's studio, but after I recorded everything and brought it back to my house to listen, I just decided that it wasn't the album I wanted to put out. It just wasn't working for me. There were too many things I didn't like about it. So I scrapped it.
The idea to do this new album grew out of me wanting to do it myself, without studio musicians. I had this concept of how I wanted it to feel. It just came to me. It was a lot more consistent. The ideas were better – and better put together – than what I had before. I made my mistakes. You know how people make a first album and say they'll rebound on the second album? Well, I kind of did that but without releasing the first album (laughs).
"Talk To Me" is the big single from this disc. You even made a music video for it. How'd that come together?
As a new artist, I thought I would generate more of an impact if people saw a video of my music. In jazz, a lot of artists don't even bother making videos anymore. I found a company that could do it for a reasonable price and we shot the video The Falcon Underground in Marlboro [New York]. It came out pretty well, and I thought it was a good promotion tool. It was a way to show people what my music looks like – the band, the vibe. It put me out there in a good way.
There's a tune on your album called "Morning In Tunisia." It's a fun play on the great Dizzy Gillespie tune "Night In Tunisia," but in a roundabout sort of way. Walk me through your compositional process for that tune?
Starting out, I've always been a big fan of Brazilian music, bossa, Afro-Cuban – Latin jazz in general. I love playing Jobim. It's so melodic, and I love melody. So "Morning In Tunisia" actually started as a tribute to Jobim, in a way. I don't say that on the album, but that's how it started. I think it was subconscious.
I had the idea right from the get-go of making it a duet with nylon string guitar. The actual song flowed easily as I was writing it. Everything just came out the way I heard it in my head. It's actually my favorite composition on the album, from a compositional standpoint.
And the Dizzy connection?
As I was writing it, I was thinking, "This song sounds like the morning, like you're waking up, starting your day." I thought about how "Night in Tunisia" was about nightlife and commotion. And since I felt that my song represented the morning, I thought "Well, it's the next day. When you're all hungover from the previous night of listening to music in Tunisia, this is the morning!"
What's coming up next for you? 
I'm going to start production on my second album in July. I've got some ideas for it, and it's going to be different from Distant Worlds for sure. I don't want to get too much into that –  because things change – but I have a pretty good idea of what I want. It's going to be a lot of fun. I'm going try to stick with good melodies, but have some variety as well.
To learn more about Michael Alan, and to order a copy of his album, visit michaelalanjazz.com.
Join thousands of other jazz enthusiasts and get new music, artists, album, events and more delivered to your inbox.