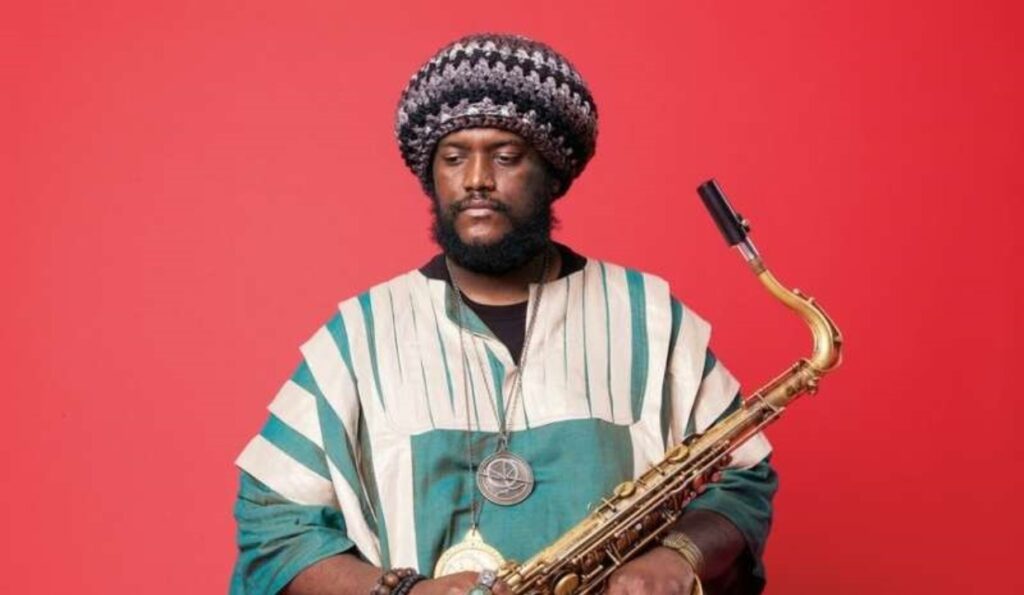 If you're looking for some great new music to discover this weekend, look no further than our weekly New Release Cheat Sheet. This week, we bring you new music from Kamasi Washington and Curt Ramm, a previously unreleased Miles Davis live recording and more.
New Songs and Videos
Kamasi Washington, "Sun Kissed Child"
Kamasi Washington has shared a new song from Liberated, the third EP of the Music for the Movement series curated by The Undefeated, a magazine exploring the intersections of race, sports, culture and more. "Sun Kissed Child" also features vocalists Dwight Trible and Patrice Quinn, as well as Thundercat's older brothers Ronald Bruner Jr. on drums. It comes three years after the saxophonist's last album, Heaven and Earth, and about one year after his participation in the supergroup Dinner Party's self-titled debut LP.
Curt Ramm, "Pontchartrain"
Curt Ramm, one of the preeminent horn players in rock and roll, has released the fourth single off his island-influenced, reggae instrumental album Rogue Island, due out July 2 on Rocktorium. "Pontchartrain" mixes swinging horns with classic reggae riffs and is an ode to New Orleans and the resilience of its people, particularly drawing on his experience of performing at a Big Easy jazz festival shortly after the devastation of Hurricane Katrina in 2006. "I was able to take a contemplative walk around the downtown area and you could feel not only deep loss and sorrow, but also hope and confidence that the people of New Orleans would rebuild and once again celebrate their own style of jazzy, bluesy music," he recalls via a press release. Pre-save Rogue Island here.
Jaga Jazzist, "Tomita"
Last week, acclaimed Norwegian eight-piece Jaga Jazzist premiered their new film and live album, The Tower, on Brainfeeder's weekly Twitch show, The Hit. The Tower comprises live recordings of the four compositions that make up their ninth studio album, Pyramid, including this take on its opening track, "Tomita," composed by bandleader Lars Horntveth as a nod to Japanese composer/synth player Isao Tomita. It was filmed at the top of Økern Kulturtårn in Oslo, capturing the transition from day to night as the sunset over Norway's capital city. Order The Tower here.
New Albums
Marc Ribot's Ceramic Dog, Hope (Northern Spy)
Marc Ribot and his Ceramic Dog trio with bassist/multi-instrumentalist Shahzad Ismaily and drummer Ches Smith reflect the era's uncertainties on their powerful new record, Hope. The new album's eight originals feature a wide range of styles and influences, from noise rock to psych-folk and spoken word, and find the guitarist flexing minimalist storytelling skills to reflect the tumult of contemporary times, including, as he explains, "the effects of political burnout." Order Hope here.
Miles Davis, Merci, Miles! Live at Vienne (Rhino)
Merci Miles! Live at Vienne is a recording of one of trumpet legend Miles Davis' final live performances, recorded at the Jazz à Vienne festival in France in July 1991. This was the same month he became a Knight of France's Legion of Honor and just a few months before his passing. This electrifying, previously unreleased set also includes two songs written by Prince, "Penetration" and "Jailbait," and is out as part of Rhino's Black Music Month celebration. Order it here.
Brian Simpson, All That Matters (Shanachie)
Pianist/composer/producer Brian Simpson surrounded himself with top-rate musicians for his forthcoming tenth album, All That Matters. The record is today on Shanachie and, recorded during the pandemic, it is an amalgamation of the jazz, R&B, funk and soul influences that are close to his heart. You can listen to its new single, "So Many Ways," via the player below and order the album HERE.
Like this article?  Get more when you subscribe.
Join thousands of other jazz enthusiasts and get new music, artists, album, events and more delivered to your inbox.