As we look for silver linings in the maddening year that was 2020, it's heartening to see prolific artists like bassist Brian Bromberg on a freewheeling creative roll, releasing a remixed and remastered version of his 2012 album Bromberg Plays Hendrix, gracing us with his first-ever Christmas album and recording his festive, funky, forward-thinking (and aptly titled) new smooth jazz collection A Little Driving Music, due out May 21, 2021, on Artistry Music/Mack Avenue Records.
Like his holiday set, it's a socially distanced recording, with all participants contributing their parts from their individual quarantines. A master on acoustic, electric and the piccolo bass guitar, among others, Bromberg as a solo artist and sideman for hundreds of artists has, over the past three and a half decades, seamlessly swung between straight ahead, fusion and pop/urban/funk.
Bromberg spoke to JAZZIZ in mid-December. Below is an excerpt of the conversation, which covers the new album, Hendrix's influence and more.
JAZZIZ: I looked at your discography and realize that A Little Driving Music marks 35 years since you released your debut album A New Day. As a bassist and artist, what do you think your greatest accomplishment is?
Brian Bromberg: That's a challenging question, like which toe do you like best. One thing about being a musician who can document his life and art via recording is that I can clearly see where I started and how I've grown and evolved. What I'm most proud of is that growth. When I compare A New Day to the quality and power of the production and arrangements, cleanliness and intent of the music on A Little Driving Music, it's truly night and day.
To what do you attribute your longevity as both a sideman and recording artist?
The key is a commitment to my musicianship, expertise, honing my skills and craft as a bassist and learning not just what to do, but what not to do. One of the lessons I impart when I teach is that the space in between the notes is as important as the space of the notes. As a sideman, it's important to have a correct understanding what the artist and producer wants. In that role and as an artist myself, it's all about putting the music first, getting out of your head and understanding the big picture. That comes from years of experience.
You recently re-mastered and re-released your Jimi Hendrix tribute. What was it missing the first go-round and what's better about the new version?
The original version came out really well, but the quality of the recording equipment in Pro Tools, home recording, mixing and mastering, has improved so much that I knew I could make it sound better sonically. The new release features the same performances, but the sound is much improved. There's more air now, more separation, width and much more bottom, clarity and less distortion. Everything is warmer, fatter and more powerful. That goes for Vinnie Colaiuta's drums and tom-toms too! It's a hardcore hybrid hard rock-funk fusion, approached through the ears of a jazz musician. Like playing pissed off bebop with a smile.
Now to the new album. What's the story behind the title A Little Driving Music? Is there an overall concept?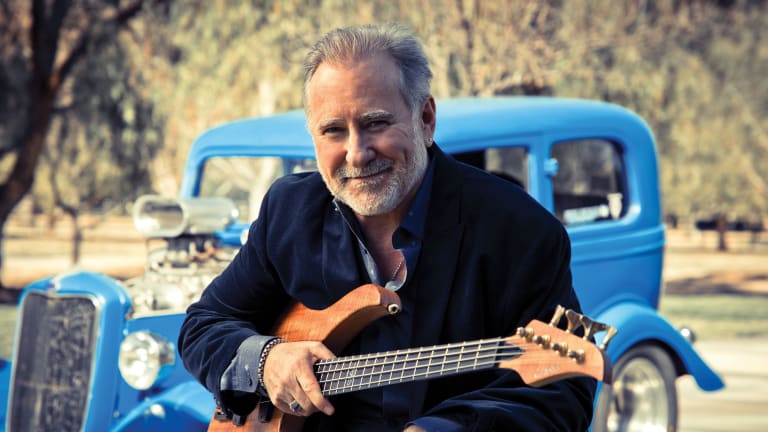 I mean this in a positive way, it's a very commercial accessible record, and one of the only ones I've ever made where every song is strong and memorable and invites you to sing along. For me, this is saying a lot because I have a tendency to go crazy soloing on the bass at the expense of the song itself. It's all original music, and I wrote and arranged everything, starting with "Quarantine," the first tune I wrote during the shutdown. I feel like it's feel good, happy music that just showed up, and during this darker time, it's one of those albums that would make anyone in Southern California want to hit the road and listen to while enjoying the sunshine. That's even more literal on the cover of "Walking on Sunshine" with Dave Koz. I dedicate two songs to Bado, an incredible cat that my fiancé and I rescued, with the help of Elan Trotman, from Barbados when we went down for a festival. He was with us at home for a year till he passed. Every song as a unique personality and identity. It feels like a group of short stories that are all designed to put you in a good mood.
Feels like a lot of funky grooves, horn sections and killer bass soloing. Is it about creatively liberating yourself come what may during quarantine like you did on the Christmas album?
In this COVID limited world, artists like myself really had no choice but to bring joy into our lives and into the lives of listeners. Music is one way to get out of our funk. It would be easy to make music that's dark and depressing, but that would just sink you further into depression. I wanted to do anything I could to get out of that mode, so writing and recording these songs was cathartic. The positive energy of A Little Driving Music helped me break through to a better head space and I think it will do the same for others. It felt like I was trying to save myself from those dark feelings and looking at all my instruments and equipment, it was like I had no excuse.
Because of our digital capabilities, artists are making incredible socially distanced albums now. But does something get lost when you're not in the same room creating that live chemistry?
As great sounding as it is, most of the organic stuff gets lost along with the sense of brotherhood that happens when jazz musicians are improvising and bouncing off each other live. Playing with others, especially in front of an audience, allows for a spontaneity and creativity that can't be felt or achieved any other way. There's an energy and humanity being documented there that can't be equaled by quarantine-created projects. Unfortunately, we're stuck in this weird time where if you want to be creative, you have to work within these boundaries. We're making it viable, but we're missing the sounds that happen organically, which to me is the basis of jazz.
How does this album reflect who you are as a person and artist right now?
Brian Bromberg: This is a timepiece record that comes from my soul and the universe, a very positive light that emerged from quarantine, and the music felt like it wrote itself. It's an important part of my journey, a transitional collection that got me through this difficult period. I don't consider myself a smooth jazz artist, but this one's got a nice balance of intense music that will appeal to the "musos" and great hooks and melodic and grooving sensibilities that everyone else will appreciate.