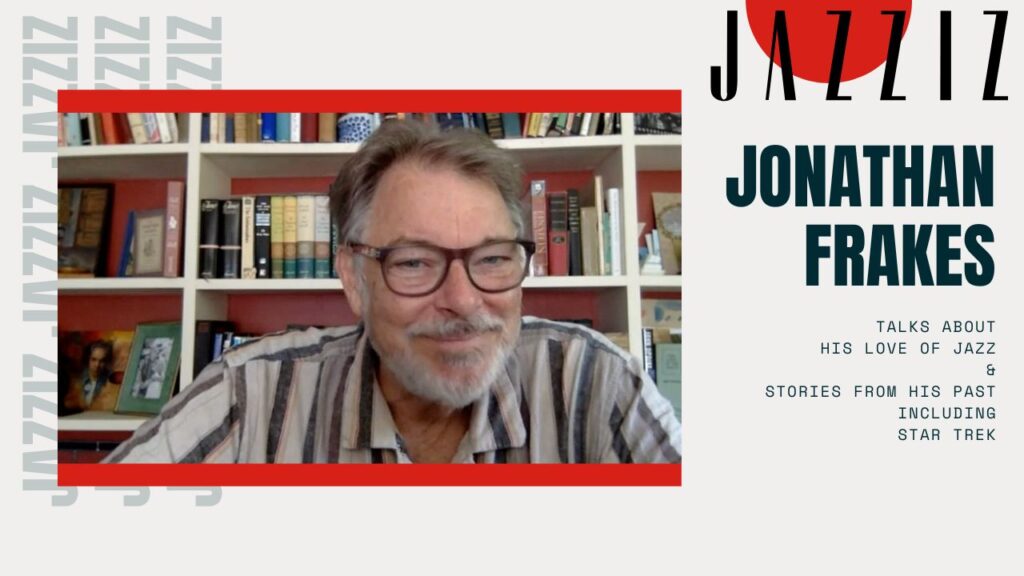 Better known around the world as Commander William Riker on Star Trek: The Next Generation, actor and director Jonathan Frakes is an enthusiastic – close friends might say insufferable – jazz fan and a trombonist. With a taste that gravitates more towards Roswell Rudd than Glenn Miller, Frakes has incorporated his trombone and his love for jazz into Star Trek episodes on several occasions. He's also performed on Phish's album Hoist on a song titled "Riker's Mailbox" and recorded with cast member Trek-mates LeVar Burton (Geordi LaForge), Michael Dorn (Worf), and Patrick Stewart (Captain Jean-Luc Picard) in the vocal group the Sunspots (a nod to the Inkspots). In 1991, during a break from interstellar travel, he appeared on Brent Spinner's album of American standards, Ol' Yellow Eyes is Back. In this episode of JAZZIZ NOT WHAT YOU THINK, Jonathan Frakes sits down with Publisher Michael Fagien, talks about jazz and a lot of things you might not have known about this screen legend and sci-fi icon.
For even more jazz-meets-sci-fi analysis, check out Dennis W. Green's insightful article "The Jazz of Star Trek" on his website. We've included a brief excerpt below:
The Jazz of Star Trek
At first listen, the original Star Trek Theme seems to be a pretty conventional orchestral piece. But Alexander Courage's composition has its roots in jazz.
In a 2000 interview, Courage explained that his inspiration for the main part of the theme is from "Beyond The Blue Horizon," a pop tune from the 1930s. Courage said it gave him the idea for a song which was a "long thing that…keeps going out into space…over a fast moving accompaniment."
See if you make the connection when you listen to this swing version of the song, by Jack Hylton and his Orchestra.
But the most interesting musical parallel is coincidental. The Star Trek theme shares a harmonic progression with the jazz standard, "Out of Nowhere." That is to say, the two songs share the same several notes, played in the same order, to form each tune's main melody ("The Hook" in music parlance).
"Out of Nowhere" was Bing Crosby's first Number One hit. You can definitely hear the melodic similarity in Bing's original version, but when Charlie Parker and Miles Davis slowed it down and made a ballad out of the tune in 1947, the resemblance is downright eerie…
Read more here.
Join thousands of other jazz enthusiasts and get new music, artists, album, events and more delivered to your inbox.