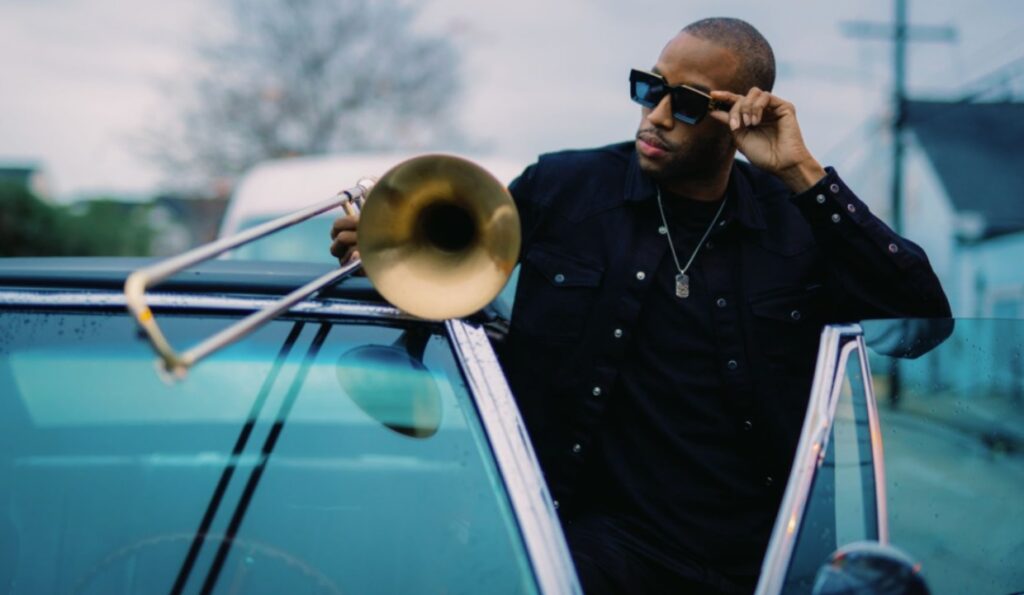 The Week in Jazz is your roundup of new and noteworthy stories from the jazz world. It's a one-stop destination for the music news you need to know. Let's take it from the top.
Noteworthy
Innovative Record Label Releases Album in App for Practicing Musicians: New record label Jazz Master Tracks has released the first volume of its Standards Sessions series, featuring top instrumentalists indulging in the rich jazz repertoires. The album will be released on all platforms and will also be available as an Album in an App, tailored for practicing musicians as an ideal tool for learning, analyzing, transcribing and playing along. 
Craft Celebrates Savoy Records With The Birth of Bop: Craft celebrates the enduring legacy of Savoy Records and the bebop era with The Birth of Bop. The new 30-track collection spans 1944-49 and features seminal recordings from many of the genre's pioneers, including Charlie Parker, Stan Getz, Milt Jackson, Dexter Gordon, Fats Navarro and more. The Birth of Bop will be available as a 5-LP set, a 2-CD set and on digital platforms on February 10.
San Jose Jazz Announces New Round of SJZ Jazz Aid Fund Grants: San Jose Jazz Board of Directors has announced a new round of funding to provide $20,000 for individual grants to 20 San Francisco Bay Area musicians with its continuing commissions-based initiative, the SJZ Jazz Aid Fund 2023. Each of the grantees receives $1,000 and in Spring 2023, six of them will premiere their commissions live at the 3rd SJZ New Works Fest at the SJZ Break Room in downtown San Jose, California, from April 14-30. More here.
Richard Williams Shares "White Christmas": Multi-instrumentalist/composer Richard Williams offers takes on a dozen festive classics on his recently-released new album, Hollywood Christmas. Among them, is "White Christmas," featuring Rebecca Lopez on vocals. You can check out the music video for the song via the player below.
JAZZIZ Podcast with Iwan VanHetten: Our latest JAZZIZ Podcast is a conversation with UK-based trumpeter/keyboardist Iwan VanHetten. Click here to listen to the podcast conversation. Among the topics discussed is his latest album, Parabbean Tales, which was released earlier this year and is available now on Blue Canoe Records.
New and Upcoming Album
John Beasley, Holidaze (self-released): Holidaze is the first Christmas album by pianist/composer John Beasley and a joyous collection and reimagination of Christmas songs. Beasley's signature sound can be heard in these fresh arrangements, alongside drummer Christian Euman and bassist Edwin Livingston.
Davis Causey & Jay Smith, Pickin' on Christmas (Strolling Bones): Master guitarists Davis Causey and Jay Smith offer a beautiful collection of instrumental Christmas classics and one original on Pickin' On Christmas. This holiday-themed album, released on November 11, also features musicians Randall Bramblett, and Jeff Reilly, and marks Causey's first release on Strolling Bones Records.
Jane Monheit, The Merriest (Club44): Jane Monheit continues to imbue timeless music with her unique vocal and jazz stylings on her second holiday-themed album, The Merriest. The release features a program of festive compositions handpicked by Monheit herself, including such treats as a duet with John Pizzarelli on "That Holiday Feeling," as well as the first-ever recording of Cy Coleman's composition, "Christmas) Stay With Me."
Bill Ortiz, Points of View (Left Angle): Longtime Santana collaborator Bill Ortiz draws from his eclectic multi-genre 40-year career on his third album as a leader. Points of View, released on June 17, features ten overlooked or forgotten pieces reimagined by the dynamic trumpeter and showcasing his unique voice on his instrument of choice.
Live Music and Festival News
Fred Hersch and esperanza spalding Album Release Concert at NJPAC, January 29: Pianist/composer Fred Hersch and vocalist/bassist/songwriter esperanza spalding will celebrate the release of their album, Alive at the Village Vanguard, with a special performance at The New Jersey Performing Arts Center (NJPAC) on January 29. Tickets here. The album, recorded at the legendary Village Vanguard club, will be released on January 6 via Palmetto Records.
Trombone Shorty to Lead Cultural Exchange Trip to Cuba: The Trombone Shorty Foundation and Cuba Educational Travel will present The Havana Funk Exhibition, a five-day cultural exchange trip that will take place on January 12-19. The trip will see Trombone Shorty leading Orleans Avenue, a group of young New Orleans musicians, and will also feature Cimafunk and Galactic. More here.
Chris Botti Blue Note New York Residency Kicks Off: Chris Botti's 18th Annual Holiday Residency at Blue Note New York last week. The residency will continue through January 1 and feature the acclaimed trumpeter alongside several great guests, including Caroline Campbell, Sy Smith, Andy Snitzer and Alita Moses, among others. More here.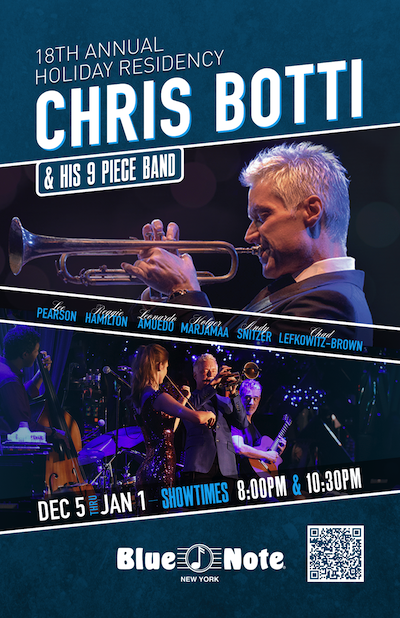 Joëlle Léandre to Receive Lifetime Achievement Award at Vision Festival: Arts for Art will honor master improviser/contrabassist Joëlle Léandre with the Lifetime Achievement Award at the opening night of the 27th Vision Festival at Roulette in Brooklyn, New York. The event will take place on June 13, 2023. The Lifetime Achievement Award is presented annually by Arts for Art to artists who have attained preeminent status in the world of FreeJazz. 
Smoke Jazz Club 80th Birthday Celebrations for Billy Harper and Al Foster: New York City's Smoke Jazz Club will begin 2023 with a run of shows celebrating the 80th birthday of saxophonist Billy Harper (January 5-8) and drummer Al Foster (January 19-22). Click here to find out about all upcoming shows, including the venue's upcoming 10th Annual Coltrane Festival here.
Featured photo by Justen Williams.
Like this article?  Get more when you subscribe.
Join thousands of other jazz enthusiasts and get new music, artists, album, events and more delivered to your inbox.