Our Winter 2019-'20 issue, which is available in print and digital versions now, casts all eyes on London. In it, we talk to five luminaries of the London jazz scene about the city's heyday of experimentation in the 1960s, and recommend a handful of jazz clubs that are continuing that tradition today.  We also catch up with six young jazz artists that are reshaping the sound of London jazz. Plus, we recommend 10 London-centric albums that any serious jazz fan should have in his or her collection. You'll find music from all these artists and more in this playlist, which features up and comers like Jacob Collier alongside jazz legends like Oscar Peterson, Duke Ellington and Dizzy Gillespie. This is the sound of JAZZIZ Winter 2019-'20.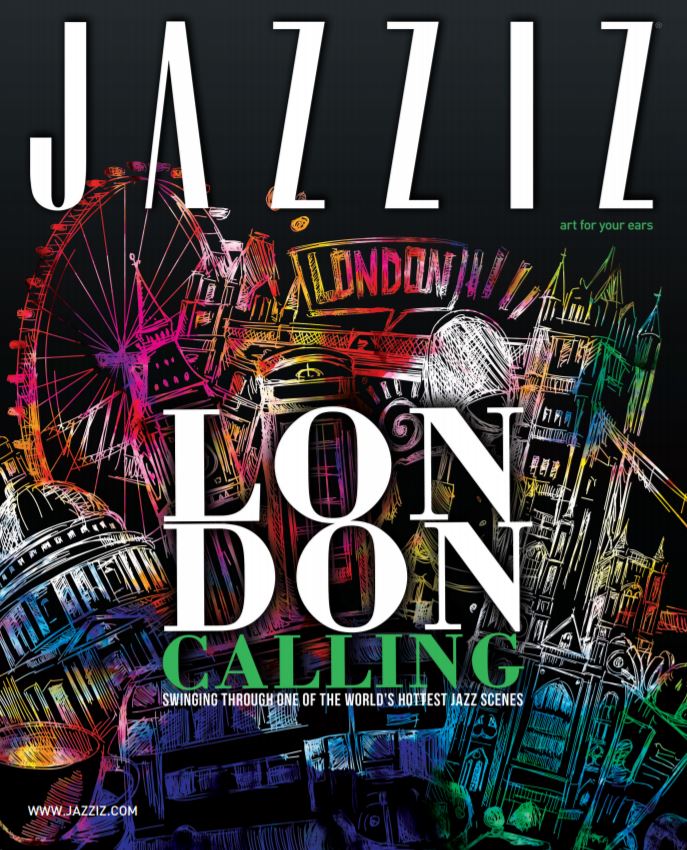 There In A Dream
Bill Frisell
HARMONY
Mirage
Billy Cobham, Frankfurt Radio Bigband
Broad Horizon
Jazz On TV
Carmen Lundy
Modern Ancestors
Giant Steps
Poncho Sanchez
Trane's Delight
The Nearness of You
Kevin Mahogany
The Vienna Affair
From the East to the West
Kirk Whalum, Heavenese
Humanité
Love
Terri Lyne Carrington, Social Science, Debo Ray
Waiting Game
Time Alone With You (feat. Daniel Caesar)
Jacob Collier, Daniel Caesar
Time Alone With You (feat. Daniel Caesar)
Timewave Zero
The Comet Is Coming
Trust In The Lifeforce Of The Deep Mystery
Strange-Beautiful Remembered
Binker Golding
Strange-Beautiful Remembered
Deeds Not Words
Yazz Ahmed
Polyhymnia
When We Are
Nubya Garcia
When We Are
LDN's Burning
Theon Cross
Fyah
October
Victor Gould
Thoughts Become Things
Habana De Noche (Havana At Night)
Jane Bunnett, Maqueque
On Firm Ground/Tierra Firme
Looking In Your Eyes
The Bad Plus
Activate Infinity
Divine Timing – Live
Enrico Rava, Joe Lovano
Roma (Live)
Kaleidoscope
Hiromi
Spectrum
Venus Rising
Wallace Roney
Blue Dawn – Blue Nights
Relaxin' with Nick
Nicholas Payton
Relaxin' with Nick
Mvt. 6 Time Present Time Past
Joel Harrison
Still Point: Turning World
Not for Me
Daymé Arocena
Sonocardiogram
Phi
The Curtis Brothers
Algorithm
Traneing In
John Coltrane
Blue World
Overture
The Joe Harriott-John Mayer Double Quintet
Indo Jazz Suite
Andromeda
Chris McGregor's Brotherhood Of Breath
Chris McGregor's Brotherhood of Breath
Invitation – Live
Stan Getz
Dynasty
Alone Together
Oscar Peterson, Dizzy Gillespie
Oscar Peterson & Dizzy Gillespie
Making A Song And Dance
Bill Bruford Earthworks
Earthworks
Join thousands of other jazz enthusiasts and get new music, artists, album, events and more delivered to your inbox.