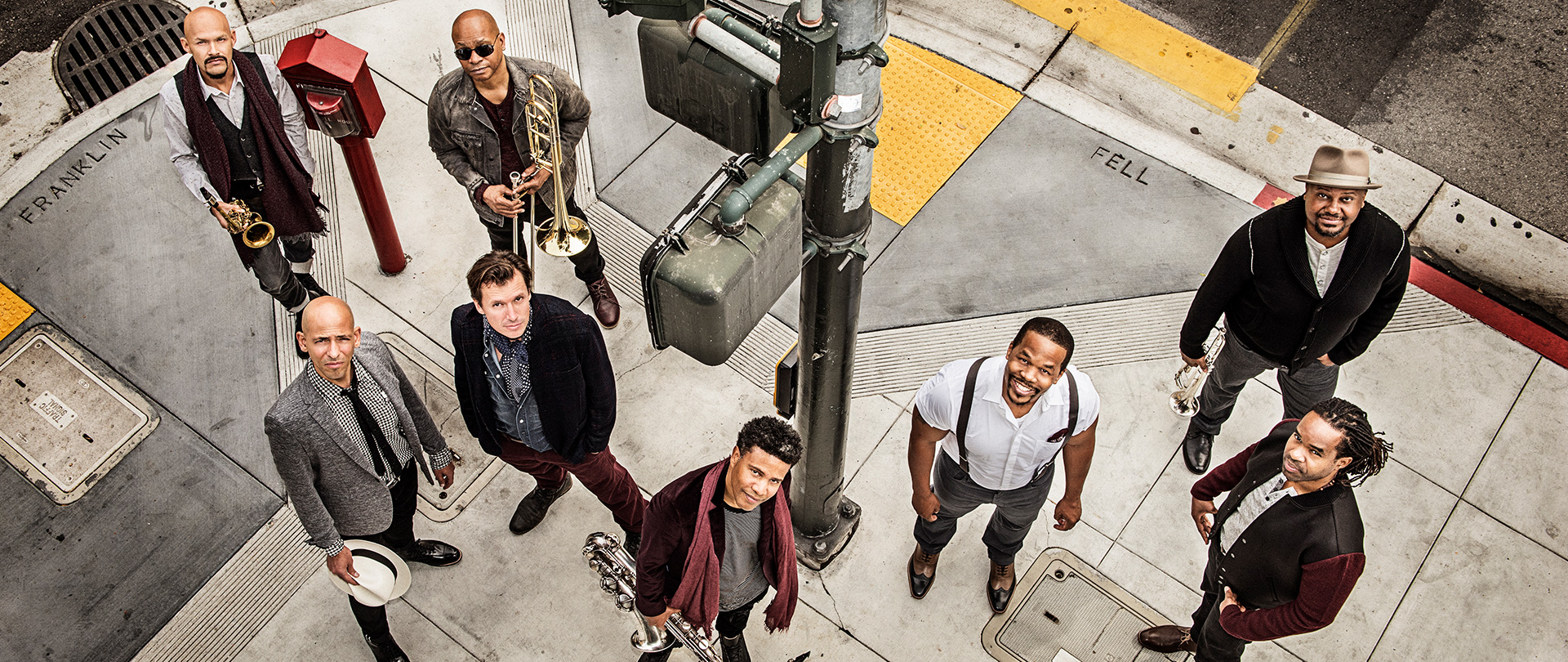 JAZZIZ Hear & Now playlists shine a spotlight on jazz scenes around the world, bringing you new music from local artists who rep their cities proudly. Think of it as your sonic passport to a global jazz destination. Step into a jazz club or turn on the jazz station in your new city, and this is the music you'd be hearing now.
Our latest stop is California's Bay Area, birthplace to jazz legends like Dave Brubeck and Vince Guaraldi, and easily one of the most breathtakingly scenic areas of the United States. But the Bay Area's natural beauty has always been matched by its cultural beauty. From the dawn of the 20th century through the 1960s and on to today, the region has been a hotbed of creativity, home to countless musicians, artists, writers and thinkers that push boundaries and challenge norms. The musicians in this playlist follow that tradition in their music today. Some were born in the Bay Area and made their names elsewhere. Others found their voices only after arriving in the Bay. Still others (like Tony Bennett) found inspiration and lasting influence in the region's coastal charm. This playlist is meant to provide a snapshot of the contemporary Bay Area scene. The focus is on living artists with ties to the Bay Area, but the stylistic breadth of these artists is astounding. Jazz, funk, blues and the avant-garde coexist side-by-side, but what unites each one of these artists is a commitment to using groove and melody to pursue the cutting edge. San Francisco, Oakland, Berkley, San Jose and points beyond — this is what the Bay Area sounds like today.
Another Side – Live
SFJAZZ Collective
Music of Antônio Carlos Jobim & Original Compositions Live: Sfjazz Center 2018
Jaya
Ambrose Akinmusire
When The Heart Emerges Glistening
Lover Man
Mary Stallings
Songs Were Made to Sing
Oxide
Ralph Alessi, Ravi Coltrane, Andy Milne, Drew Gress, Mark Ferber
Imaginary Friends
Pettiford
Larry Grenadier
The Gleaners
Blue Train
Poncho Sanchez
Blue Train
Paraísos Quemados
Santana, Buika
Africa Speaks
Oakland n da House
Sheila E., Eddie M
Icon
Baby
Bobby McFerrin
Medicine Music
Hangin' with My Baby
Tower Of Power
Soul Side of Town
Autumn in Our Town
Darius Brubeck
Years Ago (feat. Dave O'Higgins, Matt Ridley & Wesley Gibbens)
Mood Indigo
Marcus Shelby
Transitions
The Inferential Poem
Ben Goldberg, Carla Kihlstedt, Nels Cline
Orphic Machine
The Moontrane
Eddie Henderson
Be Cool
Circle of Life
Joshua Redman Quartet
Come What May
Summertime
Kim Nalley
Blues People
Slick It
Paul Jackson Trio
Groove or Die
Hope Is a Thing with Feathers
David Murray, Gregory Porter
Be My Monster Love
Honeysuckle Rose
Count Basie Orchestra, Carmen Bradford
All About That Basie
Split Kick
Benny Green
Then and Now
The Distance
Michael Formanek, Ensemble Kolossus
The Distance
I Left My Heart in San Francisco
Tony Bennett
Duets An American Classic
Join thousands of other jazz enthusiasts and get new music, artists, album, events and more delivered to your inbox.