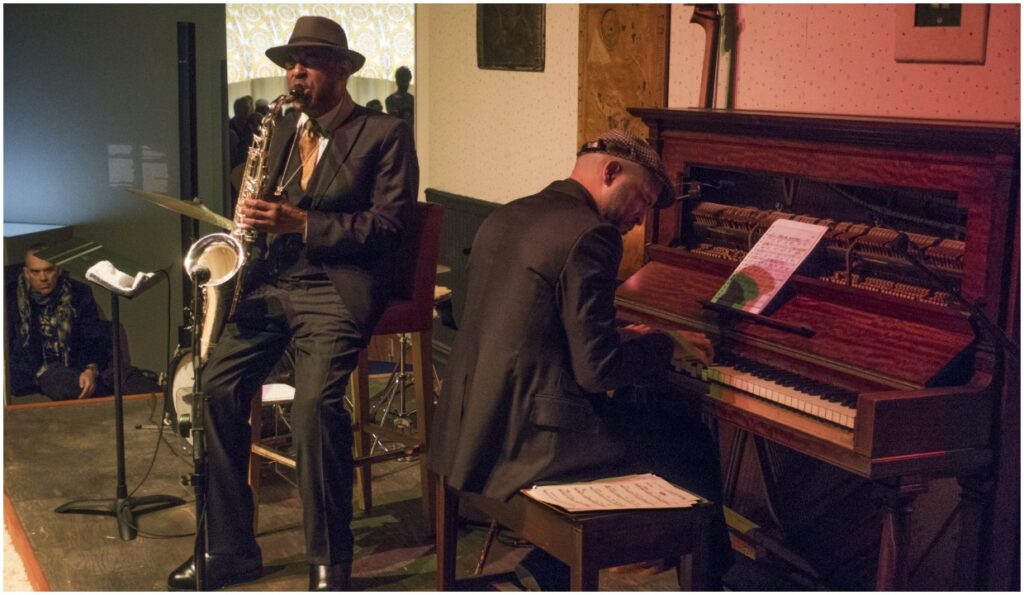 Discover great new music this weekend with our weekly roundup of new songs and albums! This week's New Release Cheat Sheet features new music by Archie Shepp and Jason Moran, a new video by Gustavo Cortiñas and more.
New Songs and Videos
Gustavo Cortiñas, "III. Pachacuti – The World Upside Down"
Chicago drummer/percussionist Gustavo Cortiñas will release his new visionary and visual album, Desafío Candente, on March 24 via Woolgathering Records. This work is inspired by Eduardo Galeano's The Open Veins of Latin America and explores the history of colonialism, imperialism and neoliberalism with several musicians and speakers from eleven different countries. Each of its tracks is also accompanied by a video, each of which will be shared over the coming months. The latest of these has been shared today, and it is for the third movement from the piece, titled "III. Pachacuti – The World Upside Down." Pre-order Desafío Candente here.
Sylwester Ostrowski, "No You? No Me" [Song premiere]
Accomplished Polish tenor saxophonist Sylwester Ostrowski is joined by rising star pianist Kasia Pietrzko and jazz icon Tomasz Stańko on this special quintet performance of drummer Eric Allen's composition, "No You? No Me," recorded live last October 17 at the Jazzmine Jazz Club in Warsaw City, Poland. Ostrowski and Allen appeared together on Jammin' With KC, a new album released last year with the Jazz Forum talents and also featuring Bobby Watson and Keyon Harrold. Order it here.
Dee Daniels, "Let Freedom Ring (The Ballad of John Lewis)"
Vocalist Dee Daniels shared a new video for her forthcoming single, "Let Freedom Ring (The Ballad of John Lewis)," which will also be available on all streaming outlets on February 18. This poignant, modern-day anthem features the words of the late great Civil Rights Leader and House Representative John Lewis, written in light of his death on July 17, 2020, and produced with the blessing of his estate. This is the first single from Daniels' new album, The Promise, due out in May, and it will be available on all streaming sites on February 19. Pre-save it here.
New Albums
Archie Shepp and Jason Moran, Let My People Go (Archieball)
Let My People Go gathers a number of live duet performances by two jazz masters: saxophonist Archie Shepp and pianist Jason Moran. This is also their first album together. Gathering their live versions of Negro spirituals and classics from 2017 and 2018, with Shepp on vocals on several of its tracks, the record documents two deeply connected souls bonding musically over their shared love of the jazz tradition. Order Let My People Go here.
Delvon Lamarr Organ Trio, I Told You So (Colemine)
Having introduced their fresh take on the organ jazz tradition on their acclaimed 2018 debut album, the acclaimed Seattle-based Delvon Lamarr Organ Trio returns with their sophomore effort, I Told You So. As suggested by its title, the new album reaffirms and strengthens the impact of their fresh blend of jazz, soul and blues, as well as the explosive chemistry shared between Delvon Lamarr on Hammond, Jimmy James on guitar and Dan Weiss on drums. Order I Told You So here.
Emmet Cohen, Future Stride (Mack Avenue)
Acclaimed pianist Emmet Cohen takes the stride tradition into our century's second decade. Future Stride is a forward-looking and personal take on the lessons learned from such greats as Art Tatum and Willie "The Lion" Smith. The music is performed with a band of Cohen's venerable peers, including longtime rhythm section partners Russell Hall and Kyle Poole, as well as Marquis Hill and Melissa Aldana, two of the most progressive voices in jazz. Order Future Stride here.
Featured photo: Accra Shepp.
Like this article?  Get more when you subscribe.
Join thousands of other jazz enthusiasts and get new music, artists, album, events and more delivered to your inbox.