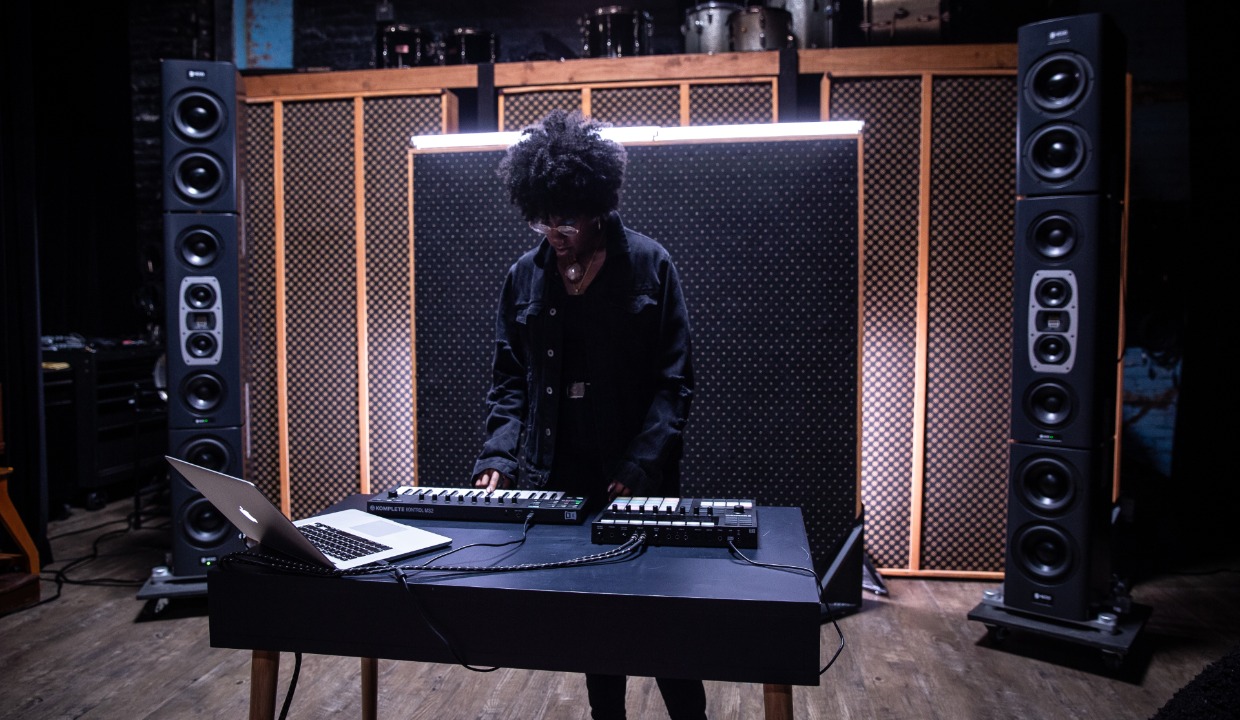 If you're looking for some great new music to discover this weekend, look no further than our weekly New Release Cheat Sheet. This week, we bring you new music from Georgia Anne Muldrow's latest project, a new live version of a Norah Jones hit classic from her forthcoming first-ever live album, the new single from Damon Locks & Black Monument Ensemble, and more!
New Songs and Videos
Norah Jones, "Don't Know Why (Live)"
Norah Jones has shared a new live version of "Don't Know Why" from her forthcoming first-ever live album, 'Til We Meet Again, due out April 16 via Blue Note Records. Written by Jesse Harris, this was the hit song from the singer/songwriter/pianist's fabled 2002 debut, Come Away With Me. This new live version of the song was recorded at Live au Campo in Perpignan, France, in 2018 and features Jones alongside organist Pete Remm, bassist Christopher Thomas and drummer Brian Blade. Pre-order 'Til We Meet Again here.
Georgia Anne Muldrow, "Mufaro's Garden"
Georgia Anne Muldrow will release VWETO III on May 21 via FORESEEN/Epistrophik Peach Sound, and has shared "Mufaro's Garden" from the record. The song is inspired by a folktale book called Mufaro's Beautiful Daughters, the John Steptoe illustrations of which captivated Muldrow as a young girl. Speaking about the concept of her forthcoming LP, Muldrow explained via an official statement: "VWETO III is intended for movement. It's to be played when you birth yourself back outside after a long introspective period to get the things you need. It intends for you to be your own superhero and wants to be your theme for power." Pre-order VWETO III here.
Damon Locks & Black Monument Ensemble, "Keep Your Mind Free"
Damon Locks and his multi-generational Chicago-based Black Monument Ensemble renew their mission for creating uplifting activist music with their new single, "Keep Your Mind Free." This is an infectious, captivating song featuring choral chants and a Ben LaMay Gay trumpet solo over a complex soundscape and ominous sample loop. "Keep Your Mind Free" is the second single from Damon Locks & Black Monument Ensemble's forthcoming album, NOW, out April 9 digitally and July 9 physically on International Anthem. Pre-order it here.
WRD, "Sleep Depraved"
"Sleep Depraved" is the latest single from the new organ trio WRD, featuring organist Robert Walter, guitarist Eddie Roberts and drummer Adam Deitch. It's included on their forthcoming debut album, The Hit, out April 30 via Color Red. The track is heavily influenced by mid-'70s jazz-funk artists like Roy Ayers, Donald Byrd and Grant Green's 1972 album Live at the Lighthouse. Encapsulating the group's chemistry and high-level artistry, "Sleep Depraved" was recorded during a one-day session at Color Red Studios in Denver, Colorado. Pre-order The Hit here.
New Albums
Lorne Lofsky, This Song Is New (Modica)
Legendary Canadian guitarist and former Oscar Peterson collaborator Lorne Lofsky releases today his first studio album in almost 25 years. This Song Is New is a seven-track collection featuring five new originals and stellar arrangements of Miles Davis and Victor Feldman's "Seven Steps to Heaven" and Benny Golson's "Stable Mates." The music is performed by Lofsky alongside his tight-knit quartet of longtime musical associates saxophonist Kirk MacDonald, bassist Kieran Overs and drummer Barry Romberg. Order it here.
Gary Bartz, Ali Shaheed Muhammad and Adrian Younge, Gary Bartz JID 006 (Jazz Is Dead)
Gary Bartz, who recently turned 80, has released Gary Bartz JID 006, his first album in eight years.  The legendary saxophonist's new record will be a collaboration with producers Adrian Younge and Ali Shaheed Muhammad for their Jazz Is Dead label, and is due out on April 2. "He's a luminary that has contributed so much to music culture, for decades," says Young about Bartz. "His musical ability is expanding with age and we're honored to be a part of his world." Order it here.
Steve Gadd Band, At Blue Note Tokyo (BFM Jazz)
Jazz fusion drum legend Steve Gadd positively grooves alongside members of the Steve Gadd Band old and new on his latest live recording. At Blue Note Tokyo features tracks handpicked and mixed from two sets they played at the legendary venue in December 2019, and three of its nine tracks are original compositions that have never been recorded or released by this band. "I just love to groove," Gadd says. "It's all about just sharing something that feels good." Order At Blue Note Tokyo.
Featured image by Antoinette A. Brock.
Like this article?  Get more when you subscribe.
Join thousands of other jazz enthusiasts and get new music, artists, album, events and more delivered to your inbox.