WE HAVE IRÉ ORIGINAL CAST RECORDING ALBUM RELEASE LIVESTREAM EVENT
September 18 @ 7:30 pm

-

9:00 pm

Free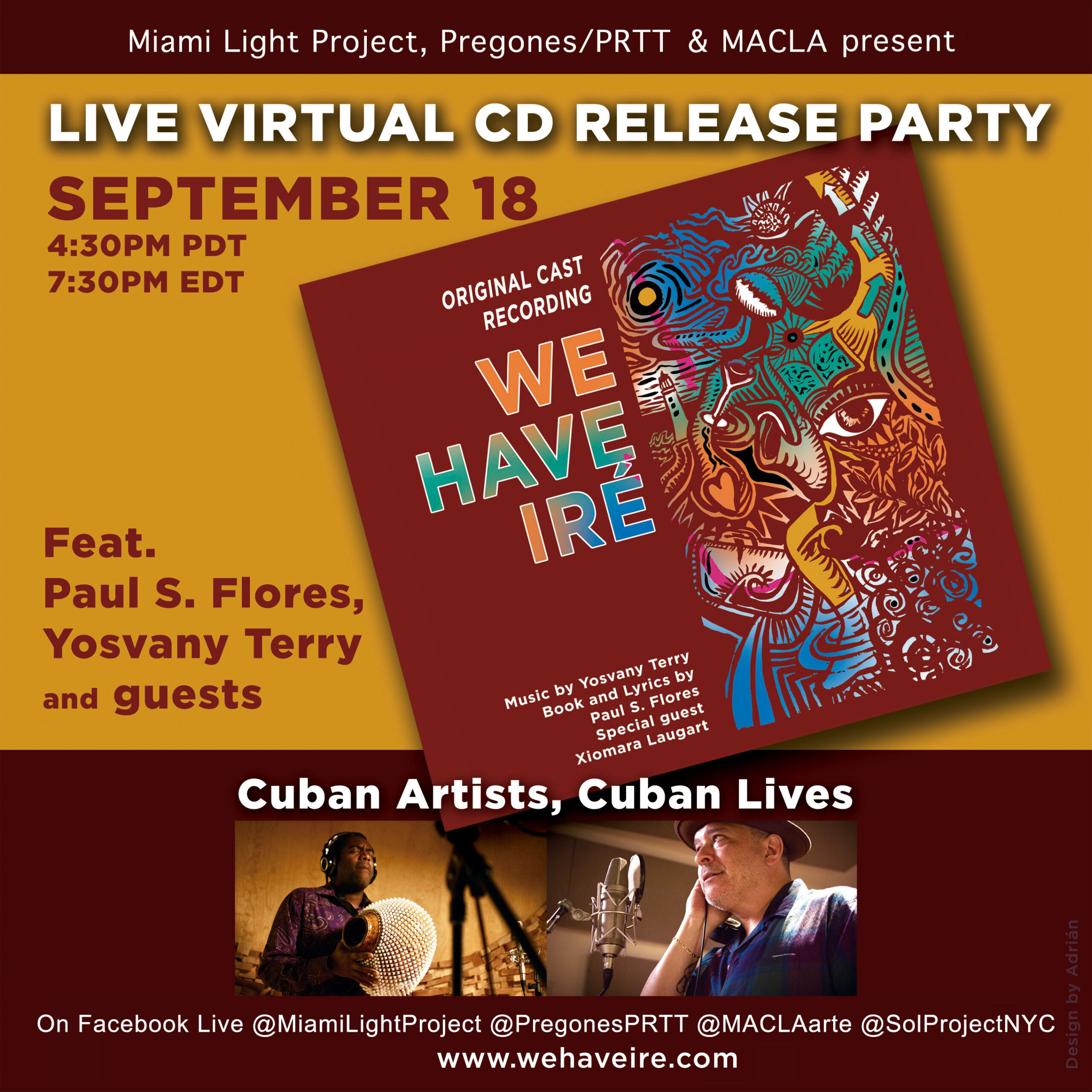 WE HAVE IRÉ  | ORIGINAL CAST RECORDING
music by YOSVANY TERRY words by PAUL S. FLORES with special guest XIOMARA LAUGART
featuring the voices and real-life stories of
DJ LEYDIS
CHRISTIN EVE CATO
DENMIS BAIN
RAMÓN RAMOS ALAYO
available from IRÉ Records on
iTunes, Spotify, Amazon, and other digital platforms
MEET THE ARTISTS at a LIVESTREAM EVENT 4:30pm PST/ 7:30 pm EDT Sept 18
featuring the Making-Of video by filmmaker AMÍLCAR NAVARRO
WATCH the Livestream on Facebook @miamilightproject @pregones/PRTT
 @MACLAarte and @solprojectnyc
IRÉ Records proudly announces the release on of the original cast recording album of We Have Iré, by poet / performance artist / playwright Paul S. Flores with original music by Grammy-winning alto saxophonist / percussionist / composer Yosvany Terry. A Facebook release Livestream party is set for Saturday, September 18, 2021, at 4:30 p.m. PDT/ 7:30 p.m. EDT featuring a 28-minute "Making of" video by filmmaker Amilcar Navarro, followed by a talkback with the artistic team, cast members, and producers' representatives.
Directed by Rosalba Rolón of Pregones/PRTT in New York, We Have Iré is a multimedia theater work that portrays real-life stories of the Cuban emigré artists who appear in it, framed by Flores's own exploration of his roots as a Cuban-American as he traveled back to Cuba with them. Through the medium of music — always an essential element in the Cuban story – We Have Iré relives their struggles to relocate to the US and explores the new identities they constructed in the process. The audience meets:
*) DJ LEYDIS, aka "Nené" from Camagüey, who took to the sea in an overcrowded motorboat to pursue her dream of being a Hip-Hop DJ.
*) PAUL S. FLORES, who plays "Christian," a Cuban American spoken word poet from San Francisco travelling to Cuba looking to connect with his grandmother's roots.
*) YOSVANY TERRY, aka "Jony," born into a famous Cuban musical family in the province of Camagüey, who dreams of playing jazz in the New York City scene.
*) RAMON RAMOS ALAYO aka "Monchi," a rambunctious rascal from the countryside of Santiago de Cuba sent to learn modern dance and ballet in Havana.
We Have Iré was commissioned and sponsored by a Who's Who of contemporary American theater, including the National Performance Network, Yerba Buena Center for the Arts (YBCA) in San Francisco, Pregones/PRTT in New York City, GALA Theatre in Washington D.C., MACLA/Movimiento de Arte y Cultura Latino Americana in San José, MECA-Houston, Miami Light Project in Miami, Creative Capital, Creative Work Fund, the MAP Fund and Center for Cultural Innovation.
WE HAVE IRÉ was recorded in May 2021 at the Samurai Hotel Recording Studio in Queens, New York, by Terry's quartet, consisting of first-call New York musicians: JAVI SANTIAGO (piano), MATT BREWER (bass), and MARK WHITFIELD, JR. (drums / percussion), with a special-guest turn by legendary Cuban diva XIOMARA LAUGART. Additional recording was done in June at Patio de Ochún Studio in Alameda, CA.
"I wanted the ancestors and the musical traditions of Cuba to shine throughout," says PAUL S. FLORES of his decision to collaborate with composer YOSVANY TERRY, whose own story of reinvention through emigration is one of the basic threads of the work. One of the leading lights of a generation of Cuban jazz musicians, now at the height of their powers, who came to the United States in the 1990s and supercharged New York music in the process, Terry not only possesses a personal and identifiable saxophone voice but is a busy composer / producer who also directs the Harvard Big Band. His score, says Flores, "conveys the emotional arc of the story through the music, jazz, AfroCuban songs and verse. 'Camagüey Blues' and 'Idea Of Harlem' lead us through the naïveté and struggles of the characters to the dazzling destiny realized by these talented immigrant artists. By the time we hear the song 'Subversive,' we feel like we have survived the storm, arrived on the beach, ready to face the next challenge."
#