VIRTUAL PERFORMANCE: Symphonic Swing – Jazz Meets the Classics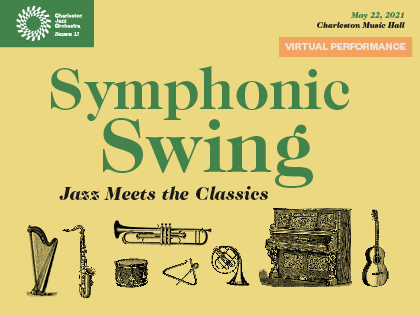 Although Jazz and Classical music are different in many ways, the border between the two genres is a fluid one. America's Classical music (Jazz) lives and breathes spontaneity while being contained within the technical mastery of a composition. With SYMPHONIC SWING Jazz Meets the Classics, your Charleston Jazz Orchestra will bring the world of improvisation and swing to notable Classical compositions, bridging the gap, bending the genres, and introducing the styles of Miles Davis, Thelonious Monk and Billie Holiday to Mozart, Tchaikovsky and Beethoven to name a few.
Virtual Performance available ON DEMAND beginning June 5, 2021.