JOANIE PALLATTO — ACCIDENTAL MELODY CD RELEASE PARTY
June 11 @ 4:00 pm

-

6:00 pm

Sunday, June 11, 2023
The Green Mill
4pm — 6pm (CST)
TWO SETS
with
Joanie Pallatto — vocal
Fareed Haque — guitar
Bradley Parker-Sparrow — piano
Clarenda Gaudio Johnson — Sign Language Singer

Emcees: The Jazz Twins from 88.5FM WHPK
Linda Hall and Brenda Phillips

$10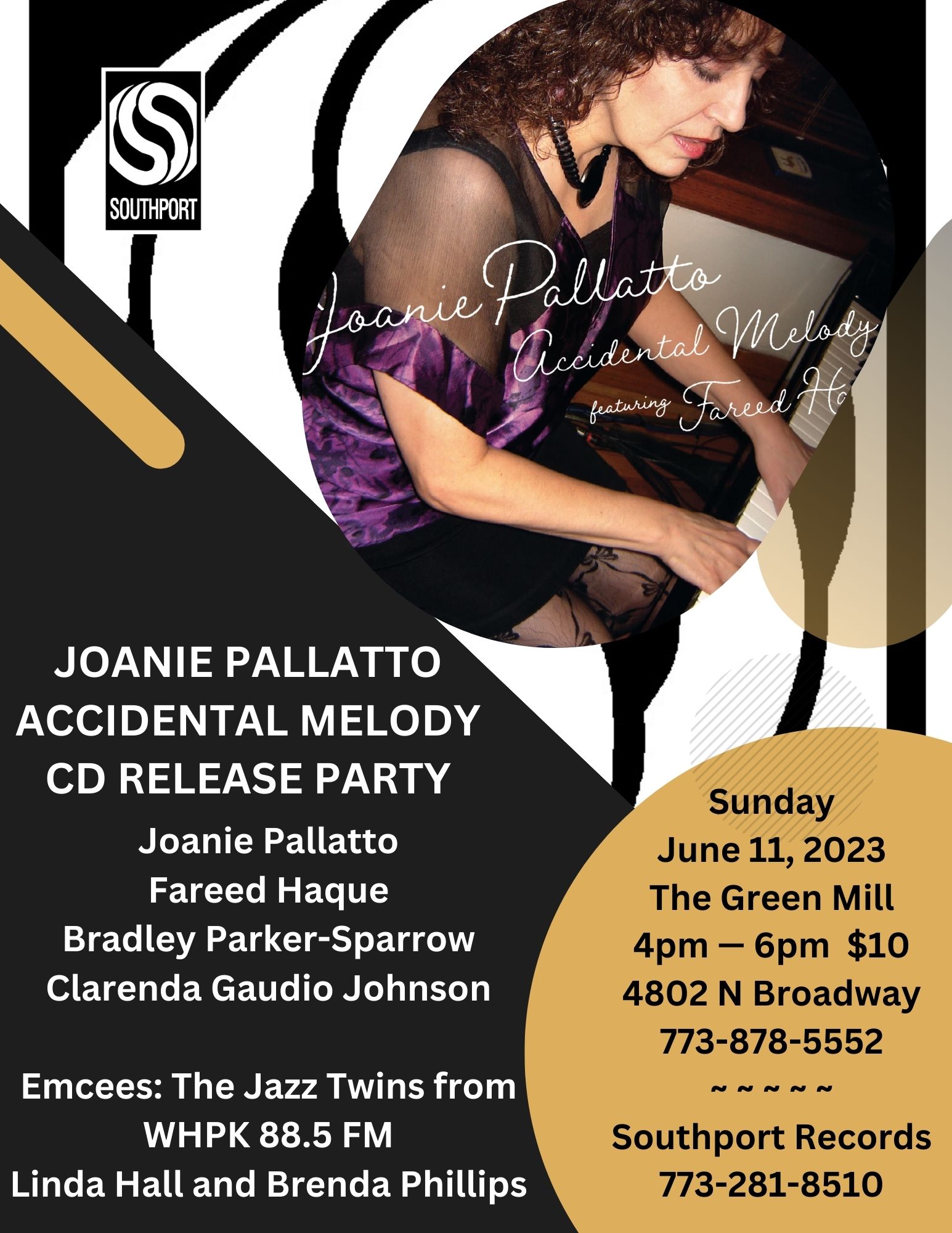 JOANIE PALLATTO — ACCIDENTAL MELODY
CD RELEASE PARTY
AT THE LEGENDARY GREEN MILL
Sunday, June 11, 2023
The Green Mill
4pm — 6pm (CST)
$10 cover (Cash at the Door)
4802 N Broadway, Chicago, IL 60640
773-878-5552
Joanie Pallatto's Accidental Melody featuring:
Joanie Pallatto — vocal
Fareed Haque — guitar
Bradley Parker-Sparrow — piano
Clarenda Gaudio Johnson — Sign Language Singer
Emcees: The Jazz Twins from 88.5FM WHPK
Linda Hall and Brenda Phillips
Journey Into Jazz with the Twins, every other Sunday from 2 – 4 pm!
ACCIDENTAL MELODY is the fourth album JOANIE PALLATTO has recorded with all original music and features co-producer and esteemed jazz guitarist FAREED HAQUE. With thirteen new songs from Vocalist and Songwriter Joanie Pallatto, the recording features an acoustic ensemble, with modern guitar virtuoso Fareed Haque, percussionist Eric Hines, Juan Pastor on cajon and percussion, the acoustic bass of John Christensen and pianist Bradley Parker-Sparrow. Described by Rick Kogan of the Chicago Tribune as having "a stirring and special voice," vocalist and songwriter Joanie Pallatto has been a mainstay on the Chicago music scene for over 44 years. A studio singer and an independent recording and performing artist, she is the co-owner with Sparrow of Southport Records, which has produced hundreds of recordings for Chicago musicians.
Southport Records
Real Jazz Made In Chicago