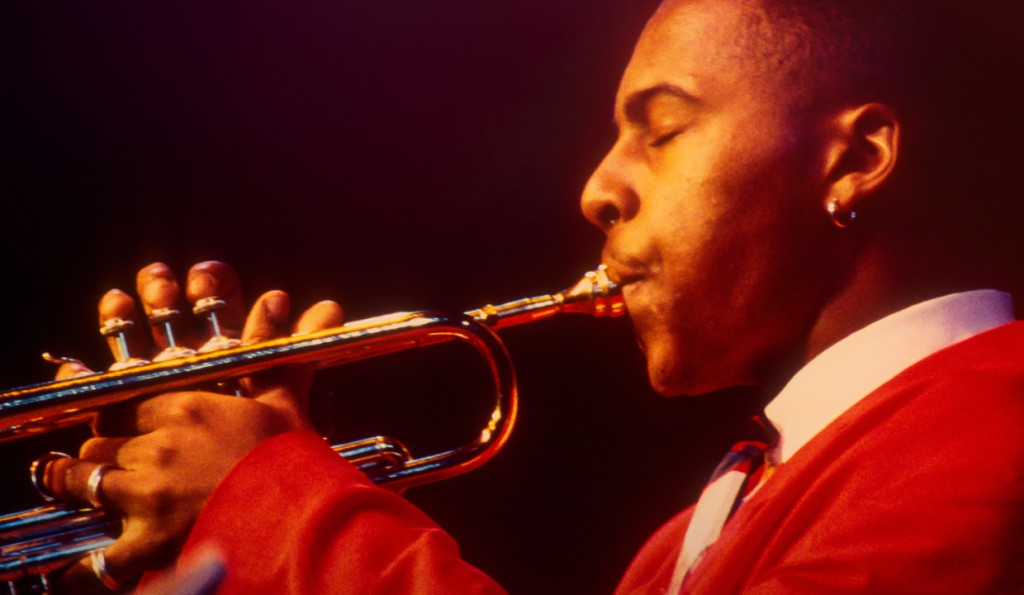 The Week in Jazz is your roundup of new and noteworthy stories from the jazz world. It's a one-stop destination for the music news you need to know. Let's take it from the top.
Noteworthy
Unearthed Roy Hargrove Gem: On October 13, Blue Engine Records will release a recently unearthed gem from the Jazz at Lincoln Center (JALC) archives. The Love Suite: In Mahogany – Live from Jazz at Lincoln Center is a live performance of a JALC-commissioned suite composed and performed by a then-23-year-old Roy Hargrove. The piece, which Hargrove never performed again, was captured at the Alice Tully Hall in 1993 and showcases the much-missed trumpeter's virtuosity and soulful songwriting, playing with his sextet and produced by his longtime collaborator, Willie Jones III.
Craft Celebrates Wes Montgomery's Centennial: Craft Recordings celebrates the centennial of legendary jazz guitarist Wes Montgomery and Riverside Records' 70th anniversary, with The Complete Full House Recordings. Available on November 10 on 3-LP, 2-CD and digital formats, this remastered and expanded collection presents the entirety of Montgomery's classic 1962 Berkeley concert, released initially as Full House, with outtakes and two previously unreleased performances for the very first time.
Public Media Host H. Johnson To Be Honored By National Black Radio Hall of Fame: Veteran radio host and jazz and blues aficionado H. Johnson will be honored with a Presidential Volunteer Service Award at the National Black Radio Hall of Fame Induction Ceremony on October 7 in Atlanta. Johnson has been a fixture on WABE 90.1FM for more than 40 years, spinning blues records on Friday nights and jazz tracks on Saturday nights. "I am honored to be recognized by the National Black Radio Hall of Fame for my work in keeping jazz and the blues alive," said Johnson via an official statement.
Verve Shares New Ella Fitzgerald Visualizer: Verve has released a new official visualizer for Ella Fitzgerald's rendition of "Good Morning Blues." Watch it via the player below. The song is included on the First Lady of Song's 1960 festive album, Ella Wishes You a Swinging Christmas, which will be reissued on October 27, including on ruby red vinyl with a collectable cover.
Héctor Lavoe and Willie Colón Vinyl Reissue: Craft Latino honors one of salsa's most iconic duos, Héctor Lavoe and Willie Colón, with a vinyl reissue of their final album together, 1983's Vigilante, which served as the soundtrack to the 1982 film of the same name and celebrates its 40th anniversary. This special release features features (AAA) lacquers cut from the original master tapes by Kevin Gray at Cohearent Audio and is pressed on 180-gram vinyl.
New Albums
George Porter Jr., Eddie Roberts, Robert Walter and Nikki Glaspie, Floki Sessions: Boots in Place (Color Red): Floki Sessions: Boots in Place is a powerful all-star collaborative album featuring George Porter Jr., Eddie Roberts, Robert Walter and Nikki Glaspie, recorded at Floki Studios in the Fljót Valley on the mountainous Troll Peninsula in northern Iceland at Eleven Experience's Deplar Farm during the winter of 2021. The album, produced by Roberts, also features guest artist appearances by Erica Falls, Lamar Williams Jr., Tierinii Jackson, Eric "Benny" Bloom, Son Little and rising star Chicago artist GreenTTea.
Hilario Durán and His Latin Jazz Big Band, Cry Me a River (Alma): Renowned composer and piano master Hilario Durán releases his first big band album in 17 years, leading a 19-piece ensemble with special guests Paquito D'Rivera and Horacio "El Negro" Hernandez. Cry Me a River shows Durán's Cuban roots, innovative style and gift for blending traditions with improvisation across nine captivating tracks. Read about more titles in our list of new albums released in September 2023 that you need to know about.
Lisa Marie Simmons, NoteSpeak 12 (Ropeadope): Multidisciplinary storyteller Lisa Marie Simmons reunites with long-time collaborator Marco Cremaschini to present the sophomore outing of their NoteSpeak project, released on February 24 on Ropeadope. The album renews Simmons' lyrical prowess in the form of sonnets and free verse, while Cremaschini's compositions seek to survey the distance between Western Classical and pan-African traditional music by combining complex large-scale arrangements with freedom, improvisation and spontaneity.
Martin Hayes & The Common Ground Ensemble, Peggy's Dream (251): Martin Hayes, a master of the Irish fiddle and regarded as one of Ireland's leading musicians, brings together artists from the jazz, classical and folk world on his latest album, Peggy's Dream. The concept of The Common Ground Ensemble, which grew out of Hayes' many collaborations, is to bring together musicians from different genres and forging them with the Irish tradition, giving each musician's talents the space to shine.
Live Music and Festival News
Harvest Time Project at National Sawdust: On October 14, Brooklyn's National Sawdust will host the first occurrence of the Harvest Time Project, an ever-evolving concert which will happen around the world and feature a selection of different musical ensembles coming together in different iterations to reinterpret Pharoah Sanders' seminal composition, "Harvest Time." Tickets here. "Harvest Time" is included in 1977's Pharoah, recently released on Luaka Bop, and featured in the September 2023 edition of our Vinyl Watch.
Blue Giant Motion Picture Premiere: Shinichi Ishizuka's popular jazz manga, Blue Giant, has been adapted into a full-length animated feature. Prior to its theatrical release, the film will have a special North American premiere on October 6 at Japan Society in New York City, featuring a Q&A session with composer Hiromi Uehara. Hiromi's original motion picture soundtrack for the movie was released on vinyl and CD on September 29 via Verve Records.
5th EJN Award for Music and Community Goes to B:Music in Birmingham: B:Music in Birmingham was revealed as the recipient of the 5th EJN Award for Music and Community at the end of the 9th European Jazz Conference 2023, which took place in Marseille, France, on September 16. The award is bestowed each year by the Europe Jazz Network to an organization or project for its groundbreaking work on social inclusion. Click here to find out more about B:Music in Birmingham.
Balla Kouyaté at NEC Video: The New England Conservatory (NEC) has shared a video of the finale of its concert season's opening event, which took place at NEC's Jordan Hall on September 5. The concert features an all-star faculty ensemble from the Contemporary Musical Arts department and the video documents a performance of Balla Kouyaté's "Democracy." Watch it via the player below.
New Stacey Kent Album and Tour Dates: Vocalist Stacey Kent will be releasing her new album, Summer Me, Winter Me, on November 10 on naïve Records. The record features three originals, including one co-written with Nobel Prize-winning author Kazuo Ishiguro, and a number of well-loved standards. Kent has also announced tour dates in support of her new album, including a residency at New York City's Birdland from December 12-16. Click here for all upcoming tour dates.
Featured photo courtesy of Blue Engine Records.
Like this article? Get more when you subscribe.
Join thousands of other jazz enthusiasts and get new music, artists, album, events and more delivered to your inbox.