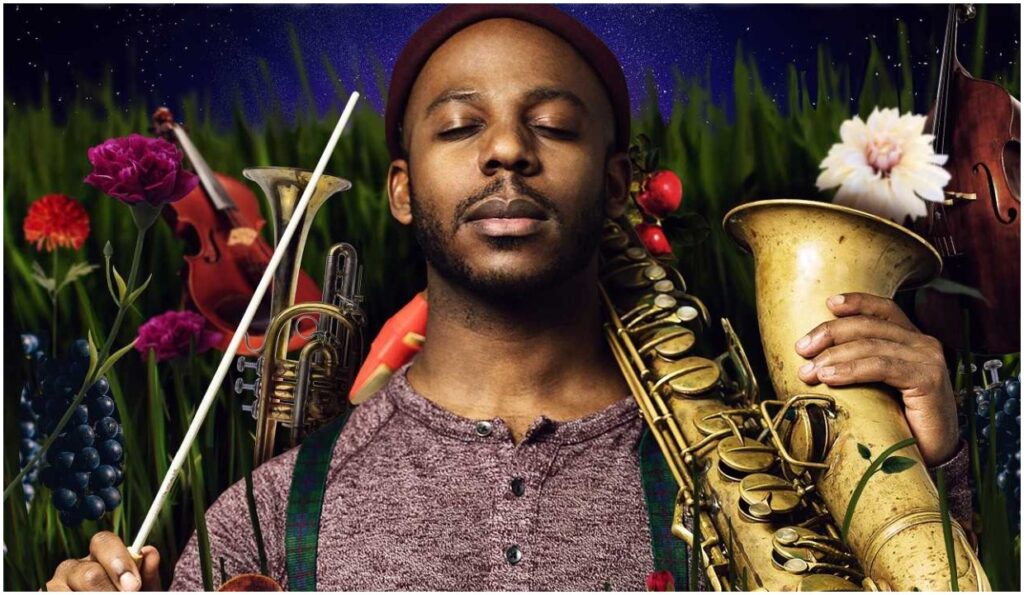 Remember record stores? Remember the thrill of turning your friends on to new music by swapping vinyl and CDs? Yeah, we do too. That's why we're rebooting that tradition for the digital age with our "Crate Digging" video series, in which we'll search through crates of our memories to bring you a handful of album recommendations on a given theme. It's social media in the truest sense of the term: no algorithms, no computer-generated playlist. Just jazz fans sharing records with other jazz fans.
You can watch a full-length discussion of the albums via the video player below. Write-ups of individual albums and sample tracks follow. Welcome to the party. Wishing you a happy new year, this week we bring you a list of albums by young artists to be on the lookout for.
Chris Pattishall, Zodiac (Self Release)
I loved Chris Pattishall's work with drummer Jamison Ross. His playing is brimming with soul, he's got a phenomenal touch at the keyboard and he's an expert at using the jazz tradition as a jumping-off point for experimentation. Zodiac, his debut release as a leader, is a large-ensemble re-interpretation of Mary Lou Williams' Zodiac Suite. And it's a marvelous listen. Pattishall's arrangements dig deep into Williams' artistry to find new angles and facets. It's an example of diving through jazz history and emerging in the future. Look out for this album when it drops on February 19. —Brian Zimmerman
Josh Johnson, Freedom Exercises (Northern Spy)
Having collaborated with such unique voices in today's jazz scene as Marquis Hill and Makaya McCraven in recent years, last year's Freedom Exercises established saxophonist/flutist/keyboardist Josh Johnson as a force to be reckoned with in his own right. The album, his debut as a bandleader, also highlighted his compositional prowess, complete with an ability to craft memorable melodies and grooves, marrying more modern styles – from nu-jazz to jazztronica – with more timeless, traditional ones with balance and confidence. —Matt Micucci
Tivon Pennicott, Spirit Garden (New Phrase)
 Tenor saxophonist Tivon Pennicott's Spirit Garden officially dropped in December 2020, but it arrives on jazz radio in January 2021, and when it does, keep an ear out. Spirit Garden started as a cordless quartet project with the aim of providing a space to nourish and heal through musical creativity. But with the release of the album, he has expanded that vision into a 24-piece string arrangement. The result is a lush yet nuanced musical landscape through which Pennicott explores jazz standards and spirited originals. You may have heard Pennicott's playing on GRAMMY-winning albums by Esperanza Spalding and Gregory Porter, but his work as a leader is a thing to behold. —Brian Zimmerman
Mariel Bildsten, Backbone (Outside In)
Mariel Bildsten has honed her craft for years within a wide range of styles and settings, including as lead trombonist in Arturo O'Farrill's acclaimed Afro-Jazz Orchestra. Backbone displays her exceptional talents as arranger and bandleader, as well as her admiration for the jazz tradition, through fine arrangements of handpicked classics and lesser-known gems. Its mix of elegance and excitement recalls the likes of Duke Ellington, which is quite impressive, given that Backbone was recorded in one night only. —Matt Micucci
Veronica Swift, The Bitter Earth (Mack Avenue)
 Veronica Swift is a vocalist possessing that rare combination of grand vision and exquisite technique. Her style encompasses nearly every page of the jazz songbook, from Dixieland to bebop and beyond. In 2019 she released an outstanding debut album, Confessions, on Mack Avenue Records. It was a deeply personal statement, with songs that unfolded like the pages of her personal diary. For her promising follow-up, This Bitter Earth, Swift changes tack, offering an ingenious song cycle that tackles sexism ("How Lovely to Be a Woman"), domestic abuse ("He Hit Me"), environmental issues, racism, xenophobia ("You Have To Be Carefully Taught"), and the dangers of fake news ("The Sports Page"). Add this one to your list when it drops in March. —Brian Zimmerman
Tom Oren, Dorly's Song (Concord Jazz)
Tel Aviv-born pianist Tom Oren, the winner of the 2018 Thelonious Monk Institute of Jazz International Competition, released his debut album last year and is quickly establishing himself as a figurehead of the new generation of Israeli jazz artists. Dorly's Song also comes from a personal place, paying tribute to the formative influence of the music of his mother, pianist Dorly Oren Chazon, and also reveling in the soulful merging of jazz, Israeli music and contemporary classical. —Matt Micucci
Like this article?  Get more when you subscribe.
Join thousands of other jazz enthusiasts and get new music, artists, album, events and more delivered to your inbox.