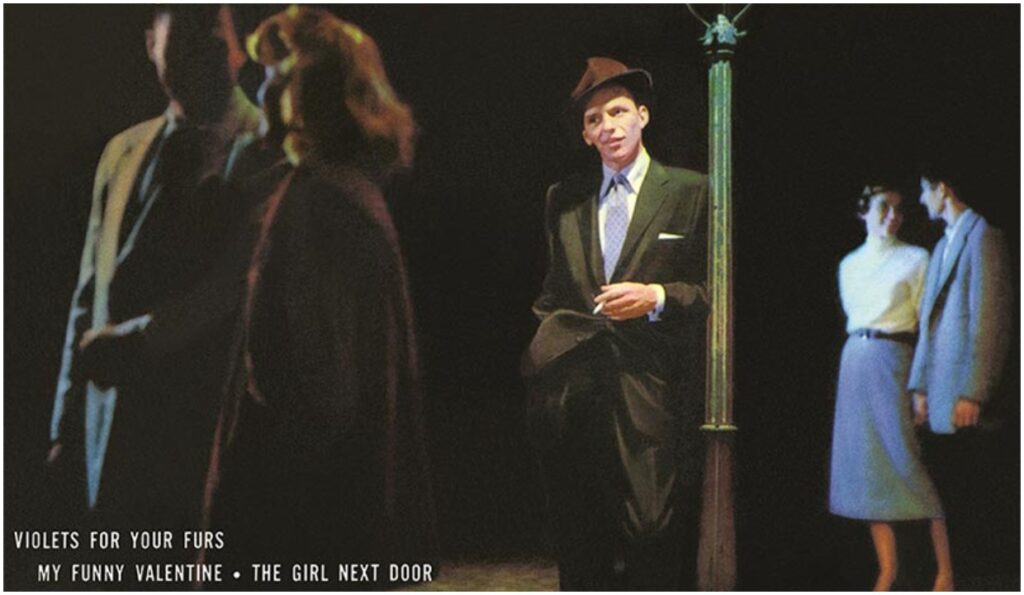 Remember record stores? Remember the thrill of turning your friends on to new music by swapping vinyl and CDs? Yeah, we do too. That's why we're rebooting that tradition for the digital age with our "Crate Digging" video series, in which we'll search through crates of our memories to bring you a handful of album recommendations on a given theme. It's social media in the truest sense of the term: no algorithms, no computer-generated playlist. Just jazz fans sharing records with other jazz fans.
You can listen to the podcast version via the player below. Write-ups of individual albums and sample tracks follow. Welcome to the party! This week we bring you a list of some of our favorite Valentine's Day albums.
John Coltrane and Johnny Hartman, John Coltrane and Johnny Hartman (Impulse!, 1963)
I'm going to open up with an album of standard romantic ballads pairing saxophone legend John Coltrane and vocalist Johnny Hartman. An unlikely pairing, given the saxophonist's increasingly modernist style and Hartman's old-fashioned crooner's. However, it is also one that definitely works. A match made in heaven where both complement each other's warm, smooth, soothing voices. Not to mention that this is also one of Coltrane's albums recorded with his Classic Quartet with McCoy Tyner, Jimmy Garrison and Elvin Jones – and you really can't go wrong with pretty much anything those guys recorded from 1962 to 1965. – Matt Micucci
James Moody, Moody's Mood for Love (Argo, 1957)
When I think of Valentine's Day, the first song that comes to my mind is "Moody's Mood for Love." And I'm honing in on the 1952 version by Eddie Jefferson, who derived the melody from a solo by saxophonist James Moody on his 1949 recording of "I'm in the Mood for Love." This was an early example of vocalese and has been covered by several artists since then – from George Benson to Amy Winehouse and beyond. The version I picked is from a 1957 album named Moody's Mood for Love, which paired Jefferson with the original soloist Moody. This is the standout track from the record, which also includes versions of "You Go to My Head," "Billie's Bounce" and more, as well as Johnny Coles on trumpet and Benny Golson playing piano on one track. – Brian Zimmerman
Miles Davis, Porgy and Bess (Columbia, 1959)
Miles Davis and Gil Evans formed one of the most significant and iconic partnerships in jazz history and together, they are known as the masterminds of the cool movement. In the late '50s, musicians were becoming increasingly frustrated by the limitations of big band swing and bebop. Davis was one of the first to seek newfound creative impulses also via a lyrical-literal approach, aided by this very partnership with Evans, whose orchestrations and arrangements created a perfect setting for him. Porgy and Bess was their second full-length collaboration, released in 1959, and it is both musically and emotionally engaging. It is also generally considered the best version of George Gershwin's blues-based opera about the title star-crossed lovers ever recorded. – Matt Micucci
Patrice Rushen, Straight from the Heart (Elektra, 1982)
If you show up with a bouquet of flowers on Valentine's Day, you're bound to make anyone happy. And one of my favorite flower-themed songs has to be "Forget Me Nots" by keyboardist Patrice Rushen, the GRAMMY-winning artist known for her funk, soul, jazz, pop music. Rushen has got an incredible jazz resume, playing with everybody from Eddie Burrell to trumpeter Eddie Henderson and beyond. "Forget Me Nots" is one of her most famous songs, from her hit 1982 album Straight from the Heart, and was also famously later sampled by Will Smith for "Men in Black." And man does it groove! Some people may say that this isn't jazz but if loving this album is wrong, then I don't wanna be right… – Brian Zimmerman
Marquis Hill, Love Tape (Black Unlimited, 2019)
Trumpeter Marquis Hill is one of the most visionary newer voices in jazz today and the album I wanted to talk about here is Love Tape from 2019. The driving theme of this record is, of course, love – a theme often explored in music. Yet, Hill's approach was different. A real starting point for him on this project was to assemble interviews with women sharing their thoughts on the topic of love, extrapolating quotes from the recordings and crafting heavenly, soul-jazz-meets-electronica pieces around them. A vocal version of this album was released sometime later, titled Love Tape: With Voices, which is just as noteworthy, featuring vocal versions of the instrumentals of the original album. – Matt Micucci
Frank Sinatra, Songs for Young Lovers (Capitol, 1954)
For this list, I just had to pick an album that prominently featured the all-time definitive Valentine's Day song, "My Funny Valentine." So, I went with 1954's Songs for Young Lovers by Frank Sinatra. This was his first release on Capitol Records, issued as an 8-song, 10″ album, and another stellar work with longtime collaborator Nelson Riddle. And the album opens up with that famous Rodgers and Hart track and, boy, does Sinatra do it justice with that famous phrasing of his. You can't deny that when it comes to singing love songs, few rival the Chairman of the Board, and this album is great from top to bottom, also including versions of "A Foggy Day," "I Get a Kick Out of You" and (another flower song) "Flowers for Your Furs." – Brian Zimmerman
Like this article?  Get more when you subscribe.
Join thousands of other jazz enthusiasts and get new music, artists, album, events and more delivered to your inbox.