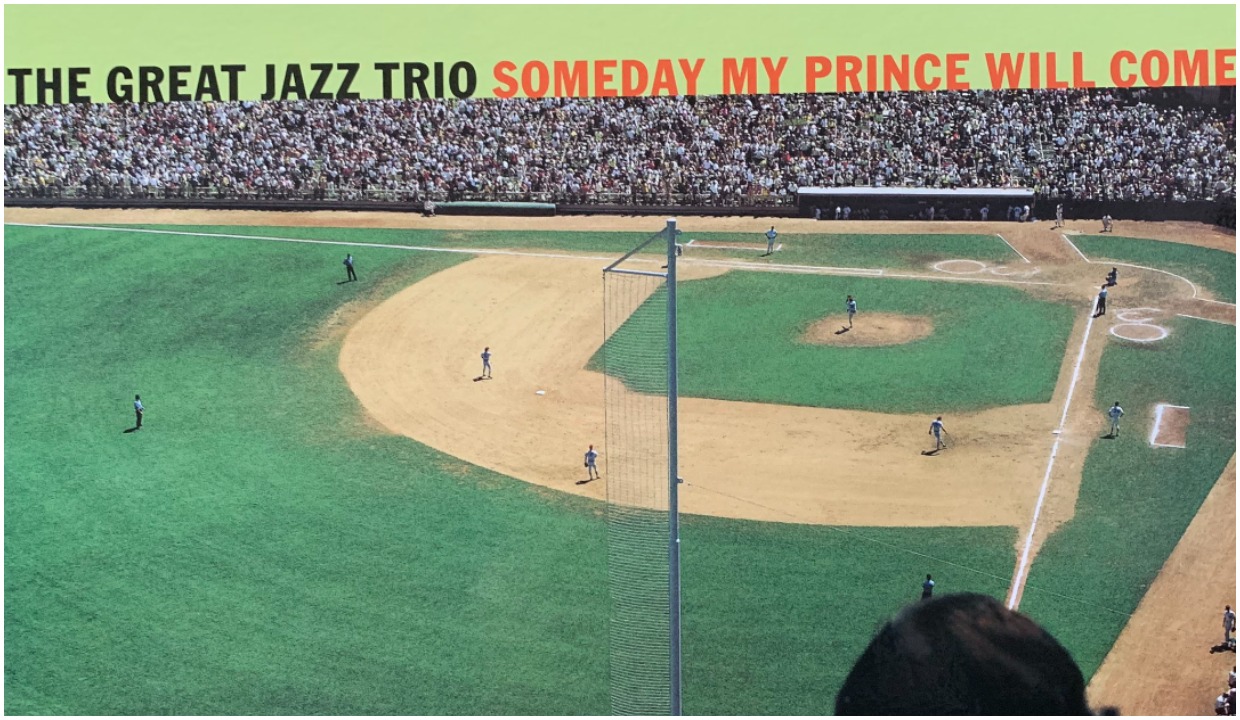 Remember record stores? Remember the thrill of turning your friends on to new music by swapping vinyl and CDs? Yeah, we do too. That's why we're rebooting that tradition for the digital age with our "Crate Digging" video series, in which we'll search through crates of our memories to bring you a handful of album recommendations on a given theme. It's social media in the truest sense of the term: no algorithms, no computer-generated playlist. Just jazz fans sharing records with other jazz fans.
You can listen to the podcast version via the player below. Write-ups of individual albums and sample tracks follow. Welcome to the party! For this episode of Crate Digging, we have chosen some of our favorite albums testifying to the link between jazz and sports!
Ralph Sutton Quartet, Jazz at the Olympics (Omega, 1961)
Scott Yanow once defined Ralph Sutton as "the greatest stride pianist to emerge since World War II." Jazz at the Olympics is a fun live recording of a live concert of his performed in Squaw Valley, California, just months before the Winter Olympics of 1960 were held there. It is a housewarming of sorts including swinging takes on such wintry classics as "Let It Snow" and "I've Got My Love to Keep Me Warm." I find this to be a hidden gem well worth checking out. – Matt Micucci
Bob James, Touchdown (Tappan Zee, 1978)
Bob James' Touchdown from 1978 is an awesome album, featuring his characteristic proto-smooth jazz aesthetic and such greats as Ron Carter, as well as a guest appearance from Steve Gadd. It is best known for featuring "Angela," the hit song from the iconic TV show Taxi, though it was originally the title track that was meant to be the show's main theme. The album is called Touchdown because it was the piano great's sixth album and a touchdown in football is worth six points. – Brian Zimmerman
Oscar Feldman, Gol (ZOHO, 2017)
Gol, saxophonist Oscar Feldman's second album as a leader, finds him heading a stellar quartet and showcasing all his compositional prowess. One of its tracks, "Viva Belgrano," is a musical retelling of his Argentinian hometown soccer team scoring a winning goal in the final minutes of a match. The triple meter of this track represents the struggle of scoring a goal and it contrasts with the joy of scoring a goal, represented by its transition to a more relaxed, swinging rhythm. – Matt Micucci
André Previn & Russ Freeman, Double Play! (Contemporary, 1957)
My favorite sport is baseball, which is so often a metaphor for life itself. Pianists Russ Freeman and André Previn seem to have thought the same thing when in 1957 they released the album Double Play!, a rare duo piano recording with one drummer, Shelley Mann. This is a baseball-themed album, including a version of "Take Me Out to the Ball Game" and songs titled "Who's On First," "Batter Up" and so on. Previn's presence gives the record a classical grounding that easily develops into an amazing swing sensibility. – Brian Zimmerman
Herb Alpert and the Tijuana Brass, Whipped Cream & Other Delights (A&M, 1965)
Whipped Cream & Other Delights by Herb Alpert and the Tijuana Brass is an iconic album that is also part of the fabric of popular culture and sports in Italy, where I was born and where soccer is the national sport. Since the mid-'60s, its legendary take on "A Taste of Honey" has been the opening tune of its iconic national broadcast of minute-by-minute commentaries of soccer matches. I'm still of a generation that would have to listen to these broadcasts as a child and watch the highlights on TV later but these radio broadcasts are ongoing and still opened by the sound of the Tijuana Brass to this day. – Matt Micucci
Marcus Shelby Orchestra, Transitions (MSO, 2019)
Marcus Shelby is a bassist from the Bay Area who has said that his biggest passions in life are Black history, baseball and big band music. He combines the three on his excellent album, Transitions, dedicated to the Negro Leagues and their legacy in America, and especially around "barnstorming," which is when a team in the off-seasons would go around playing exhibition games in rural areas. It was quite common for big bands of that Count Basie era to do that too; yet another connection between jazz and baseball. – Brian Zimmerman
Jamiroquai, Travelling Without Moving (Sony/Columbia/Work, 1996)
British acid jazz/jazz-funk band Jamiroquai reached peak popularity with 1996's Travelling Without Moving, driven by the success of its lead single "Virtual Insanity." The staccato jazzy piano chords on this track show that jazz remained an important part of their characteristic sound even as they progressively began to move towards a more disco and pop-oriented style. Fitting the theme of this list is its iconic album cover featuring that famous Jamiroquai buffalo head logo placed within the design of that of famous sports car manufacturers Ferrari. – Matt Micucci
The Great Jazz Trio, Someday My Prince Will Come (Eighty-Eights, 2004)
The Great Jazz Trio had a big name to live up to but with a lineup featuring Hank Jones on piano, his brother Elvin Jones on drums and Richard Davis on bass, it certainly did. Someday My Prince Will Come may only have a tenuous connection to the sport of baseball, musically speaking. but I guarantee that it would be the first that many would think of, particularly because of that album cover featuring an overhead shot from the baseball field to the outfield stands, with the audience looking on as a big play is in progress. – Brian Zimmerman
Art Blakey and the Jazz Messengers, Golden Boy (Colpix, 1963)
Art Blakey and the Jazz Messengers performed selections from the songbook of the musical Golden Boy, a socially-conscious musical set in the world of boxing and prizefighting. Songs are from Lee Adams and Charles Strouse. While this may not be one of the most famous albums of this legendary ensemble, it features one of its most impressive expanded lineups with such musicians as Lee Morgan and Freddie Hubbard on trumpet, Wayne Shorter on tenor, Reggie Workman on bass and many more, as well, of course, as Art Blakey himself on drums, often providing the music with that apt muscular sound. – Matt Micucci
Eddie Palmieri, Eddie Palmieri Is Doin' It in the Park (G.R.G., 2013)
My final pick is from pianist Eddie Palmieri and it is the music he composed for a 2012 documentary called Doin' It in the Park about streetball in New York City, where people gather to play at public parks, some of them being legendary proving grounds for up-and-coming basketball players. Eddie is about as New York as they come, born and raised in the Bronx, so you get a little of that Puerto Rican vibe here but also, some of the rhythms of the game of basketball itself – the squeaks of the sneakers against the floor, the sound of the dribbling of the ball and so on. – Brian Zimmerman
Like this article?  Get more when you subscribe.
Join thousands of other jazz enthusiasts and get new music, artists, album, events and more delivered to your inbox.