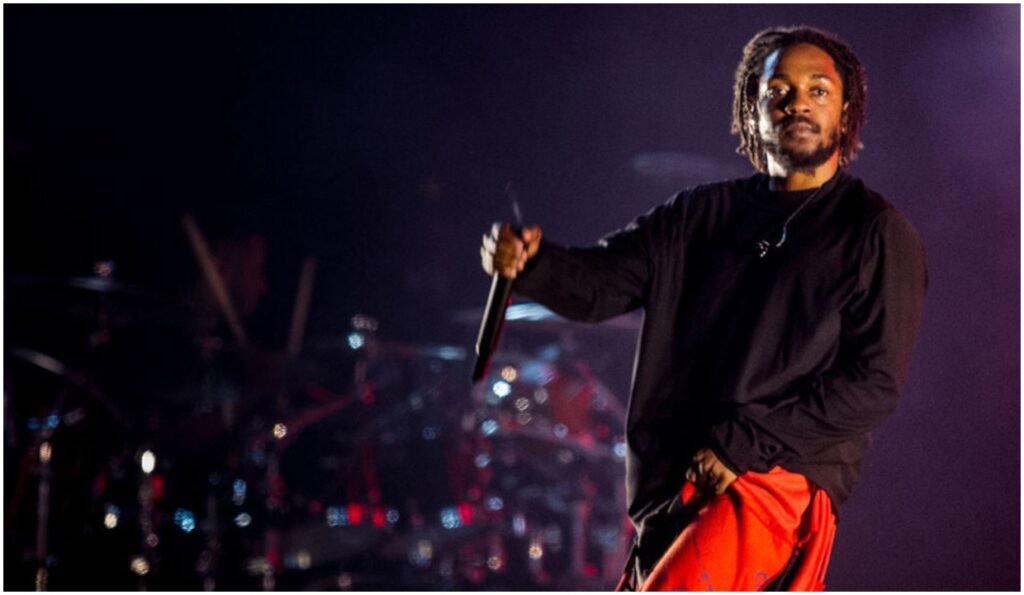 Remember record stores? Remember the thrill of turning your friends on to new music by swapping vinyl and CDs? Yeah, we do too. That's why we're rebooting that tradition for the digital age with our "Crate Digging" video series, in which we'll search through crates of our memories to bring you a handful of album recommendations on a given theme. It's social media in the truest sense of the term: no algorithms, no computer-generated playlist. Just jazz fans sharing records with other jazz fans.
You can watch a full-length discussion of the albums via the video player below. Write-ups of individual albums and sample tracks follow. Welcome to the party. This week we bring you a list of some of our favorite albums where jazz meets hip-hop. (You can also listen to our Crate Digging podcast via the player below.)
Kendrick Lamar, To Pimp a Butterfly (TDE/Aftermath/Interscope, 2015)
Kendrick Lamar's To Pimp a Butterfly is a major large-scale work that, aside from carrying messages ranging from social justice to self-love, shifts seamlessly from interior monologue to universal resonance. Some of the songs have even become anthems for the Black Lives Matter movement, including "Alright." The LP's richness in sound and dense instrumentation, as well as its devil-in-the-detail attitude complete with poetic interludes, enhance the work's theatricality, making it at times operatic. And a lot of that creative energy comes from jazz both as music and attitude. In fact, To Pimp a Butterfly does actually feature such jazz musicians as Terrace Martin, Kamasi Washington, Thundercat and many more, contributing to an incendiary, eclectic mix of influences old and new that results in one of my favorite – and one of the most spectacular – albums of the 21st century thus far. – Matt Micucci
A Tribe Called Quest, The Low End Theory (Jive, 1991)
For the first on my list, I chose what I consider to be the quintessential jazz-rap album, The Low End Theory by A Tribe Called Quest from 1991. A Tribe Called Quest are Q-Tip, Phife Dawg, Ali Shaheed Muhammad, Jarobi White and it's no secret they're all huge fans of jazz. This album passes the jazz authenticity test in every regard and even features Ron Carter on one track. Q-Tip's lyrics are replete with nods to the language of jazz both in lyrics and through his use of sampling – meaning the process of taking little snippets of other tunes and cobbling them together to make a beat. Here, you'll hear samples of other tunes by Gary Barts, Weather Report, Grant Green and more. And a line from the opening track "Excursion," makes the link even clearer: "You can find the abstract listening to hip-hop / My pops used to say it reminded him of bebop." – Brian Zimmerman
R.A.P. Ferreira, Purple Moonlight Pages (Ruby Yacht)
It seems particularly appropriate to follow an overview of The Low End Theory with Purple Moonlight Pages, a new album by R.A.P. Ferreira released last year. Here's a guy from the new breed who really seems to be taking that tradition of jazz-rap pioneered by A Tribe Called Quest's generation into our century's second decade. Many of the tracks on this record are very laid back, fluid and meditative, blending samples with live instrumentation in a way that is aesthetically pleasing and reflects the stimulating nature of Ferreira's rhymes. As many familiar with his music will tell you, Ferreira often veers for the philosophical, even intellectual, and such lines as "the self is defined by the struggle" from "NONCIPHER" particularly resonate. – Matt Micucci
Nas, Illmatic (Columbia)
Jazz is my career, jazz is my life and I obviously listen to a ton of jazz but if you were to peek into my Apple iTunes library, you'd see my most played album of all time is Nas' Illmatic from 1994. Nas is my favorite rapper and there's a reason they study his lyrics in poetry classes at Harvard. Really, few rappers have illuminated the experience of black urban youth at the turn of the century with more clarity, beauty and truth. And again, this is just another great link between jazz and hip-hop, as the musical texture leans heavily towards jazz and its amazing producers – like Q-Tip, DJ Premier, Pete Rock and more – take samples from such artists as Ahmad Jamal, the Heath Brothers and Donald Byrd, among others. but the connection doesn't end there. Nas is the son of avant-garde cornetist Olu Dara and you can actually hear him playing muted cornet on the standout track "Life's a Bitch." – Brian Zimmerman
Madvillain, Madvillainy (Stones Throw, 2004)
I challenged myself to choose albums for this list that were made during the 21st century and when you think about albums that absolutely revolutionized the hip-hop genre during this time, Madvillainy is always going to be at the top of that list. But I also chose the record in honor of the great British rapper MF Doom, who recently passed away. This is one of his most memorable works; a fabled collaboration with Madlib from 2004 and an era-defining underground hip-hop masterwork that provided a popular and viable alternative to what was the mainstream hip-hop of that time with its mix of villainy and sophistication. Madlib's samples come from a diverse and unexpected range of sources, including Brazilian psychedelic fusion, Sun Ra and obscure music form cop TV shows, creating a deadly combination that enriches MF Doom's one-of-a-kind "return of the repressed" rhymes and the otherworldly, comic book, post-noir cinematic vibes of this record via brief tracks, each memorable in their own way. – Matt Micucci
https://youtu.be/ewc1hixzYPY
Lauryn Hill, The Miseducation of Lauryn Hill (Ruffhouse/Columbia)
I don't think everybody would lump The Miseducation of Lauryn Hill from 1998 into the jazz-meets-hip-hop category but I'm going to make a case for it. This was one of the best-selling albums of all time and it kind of ushered in an era known as neo-soul that sound artists returning to a bygone era of soul and funk. Many know Lauryn Hill from hip-hop supergroup The Fugees and this solo album was made after she broke up with the band, met Rohan Marley, became pregnant, returned to faith and connected with her roots both spiritually and musically. The Miseducation of Lauryn Hill chronicles all that experience and you can tell she brings to it her very strong influences from gospel, R&B and soul. Hill counts among her heroes Aretha Franklin and Roberta Flack, who were themselves descendants of great jazz singers like Nina Simone, Sarah Vaughan and Billie Holiday, and her own voice as a singer reflects that lineage. She is also a phenomenal songwriter and rapper, very much in that East Coast 1990s boom-bap style and what also makes this LP stand out is its prominent use of acoustic, live instrumentation – which was rare in hip-hop at the time. – Brian Zimmerman
Join thousands of other jazz enthusiasts and get new music, artists, album, events and more delivered to your inbox.