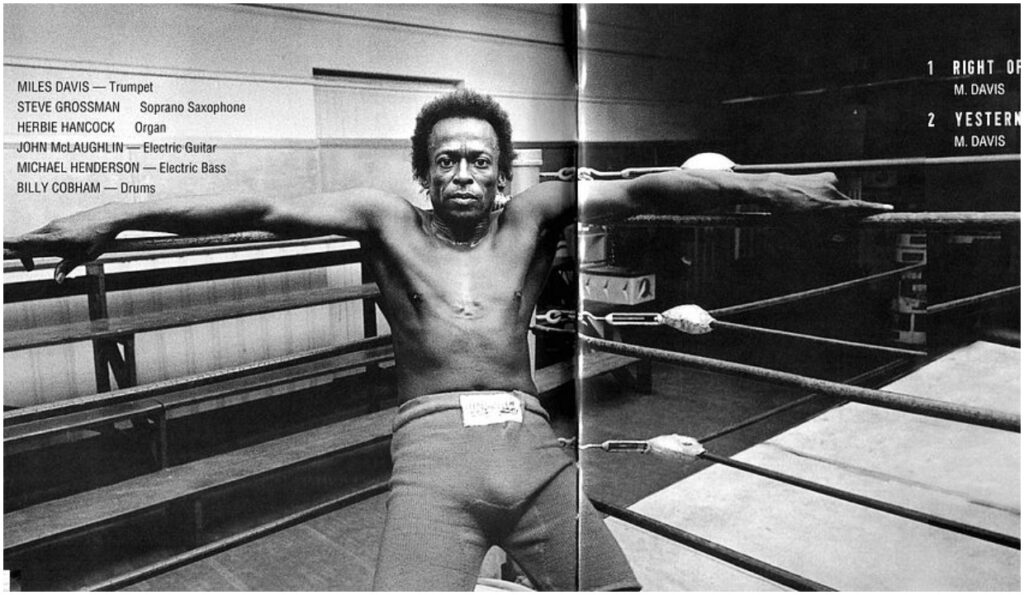 Remember record stores? Remember the thrill of turning your friends on to new music by swapping vinyl and CDs? Yeah, we do too. That's why we're rebooting that tradition for the digital age with our "Crate Digging" video series, in which we'll search through crates of our memories to bring you a handful of album recommendations on a given theme. It's social media in the truest sense of the term: no algorithms, no computer-generated playlist. Just jazz fans sharing records with other jazz fans.
You can watch a full-length discussion of the albums via the video player below. Write-ups of individual albums and sample tracks follow. Welcome to the party. Wishing you a happy new year, this week we bring you a list of six great albums that turn 50 in 2021.
Miles Davis, A Tribute to Jack Johnson (Columbia)
While it may have been almost ignored at the time of its original release, A Tribute to Jack Johnson is now regarded as a landmark recording of Miles Davis' fusion period and one of the greatest jazz-rock recordings of all time. Composed for an Oscar-nominated documentary on the life of the title boxer, whom the trumpet legend greatly looked up to, the album consists of two extended tracks spliced together by Teo Macero from audio from four incendiary sessions. The guitar-centric, genre-defiant end result may, incidentally, also be the best workout jazz record ever created.
Alice Coltrane, Journey in Satchidananda (Impulse!)
Journey in Satchidananda further established Alice Coltrane's reputation as a trailblazing bandleader, marking a significant evolution of her idiosyncratic musical idiom by integrating teachings of guru Swami Satchidananda within the compositional structure of her previous recordings. The resulting prayer-like aura is a solemn meeting of Eastern and Western cultures, making ingenious use of an amalgamation of varied instruments – including the oud, tamboura and harp, rarely heard within a jazz context up to that point, and the soaring saxophone of Pharoah Sanders.
The Mahavishnu Orchestra, The Inner Mounting Flame (Columbia)
While primarily targeting young rock fans at the time of its release, The Inner Mounting Flame was a sophisticated culmination of John McLoughlin's studies of various music genres and traditions, complete with odd time signatures and rhythms. Its incendiary marriage of fusion and electricity immediately inspired several copycat acts. Yet, in the eyes and ears of many, none could match the tight-knit unit of this first incarnation of The Mahavishnu Orchestra, helmed by the profoundly influential guitarist and featuring Rick Laird on bass, Billy Cobham on drums and percussion, Jan Hammer on organ and keyboards, and Jerry Goodman on violin.
Herbie Hancock, Mwandishi (Warner Bros.)
Mwandishi is a landmark album in Herbie Hancock's oeuvre as a bandleader, reflecting his then-new aesthetic and spiritual direction. It marked a continuation of the fusion he had begun to explore in his collaborations with Miles Davis, as well as something of a break from the traditional idioms of jazz, incorporating progressive notions of jazz, funk and rock, enriched with tinges of the avant-garde. This album, which the piano great would later define as one of his favorites and the loosest he had ever done, was arguably the first of many LPs with which Hancock established himself as one of the major trendsetters on the jazz scene for many years to come.
Carla Bley, Escalator Over the Hill (JCOA)
From the visionary mind of musician/composer Carla Bley, inspired by the poet Paul Haines, Escalator Over the Hill is the ultimate jazz opera album, the likes of which had rarely been seen before. One of the most ambitious manifestations of artistic independence of its period, this multi-LP set of colossal magnitude cites a plethora of influences and weaves an epic, absurdist and theatrical narrative over the course of its duration. The interpreters are members of a massive ensemble assembled for the project, coordinated by Michael Mantler, and featuring in its ranks such giants as Gato Barbieri, Jack Bruce, Don Cherry, John McLaughlin and many more.
Freddie Hubbard, Straight Life (CTI)
The 1970s represented change and transition and few people could bridge tradition and modernity better than Freddie Hubbard around this time, during which he released many notable albums. Yet, looking back, it is Straight Life that best represents the prowess and virtuosity of this trumpet great, who embraces several styles from hard bop to the avant-garde throughout his storied career. Straight Life also showcases the greatness of the partnership he forged with producer Taylor Creed for his CTI imprint and features three extended tracks performed with a top-rate band including in its ranks, among others, a then-young and promising George Benson on guitar.
Like this article?  Get more when you subscribe.
Join thousands of other jazz enthusiasts and get new music, artists, album, events and more delivered to your inbox.