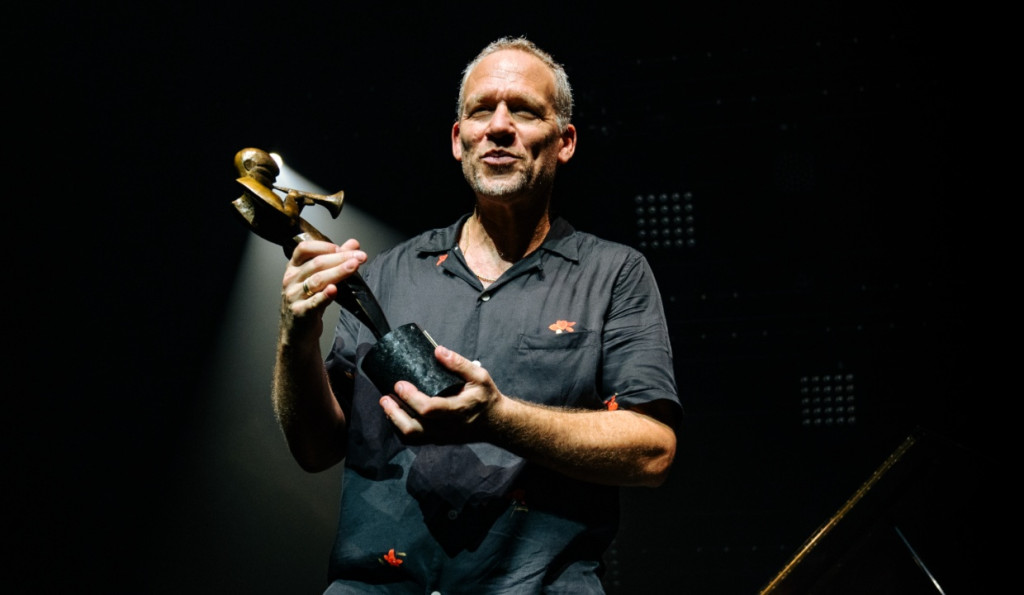 The Week in Jazz is your roundup of new and noteworthy stories from the jazz world. It's a one-stop destination for the music news you need to know. Let's take it from the top.
Noteworthy
More Candid Records Reissues: On July 21, iconic jazz label Candid Records will reissue five more classic titles from its fabled catalog. All five titles are from the label's Nat Hentoff era. They are Charles Mingus' Mingus (1960), Toshiko Mariano Quartet's self-titled debut (1961), Steve Lacy's The Straight Horn of Steve Lacy (1961), Phil Woods' Rights of Swing (1961) and Don Ellis' How Time Passes (1960).
New Keb' Mo' Video: Candid Records has also released the official video for "Taking Me Higher" by Keb' Mo', from the Sweetwater (Original Motion Picture Soundtrack) album. The film tells the true story of Nat "Sweetwater" Clifton, the first African American to land an NBA contract. The track, featured during the end credits of the film, was composed by Keb' Mo', who was inspired after reading the script. Its video, which you can watch via the player below, is directed by Sweetwater's director Martin Guigui and features Keb' Mo' along with scenes from the film.
Edward Simon Named a 2023 Lucas Artist Fellow: Acclaimed Venezuelan pianist Edward Simon has been named a 2023 Lucas Artist Fellow. This year marked the first open call held by the Montaldo Arts Center Sally and Don Lucas Artists Program (LAP) in over ten years. 65 out of 370 applicants in various art forms were chosen to receive awards. "It is a huge privilege and honor to be amongst this group of distinguished artists," says Simon, whose latest album, Femininas: Songs of Latin American Women, was released earlier this year. More here.
Nina Simone "Blues for Mama": Verve and UMe have released "Blues for Mama" as the second single from You've Got To Learn, a newly-discovered recording of Simone's performance at the 1966 Newport Jazz Festival. You've Got To Learn will be released on July 21 as part of a year-long celebration of the High Priestess of Soul's 90th birthday. Watch the official lyric video via the player below.
HotHouse Launches Capital Campaign for New Home: HotHouse founder and CEO, Marguerite Horberg announced the signing of the purchase contract for the former Elliott Donnelley Center in Chicago's south side neighborhood of Bronzeville. The signing follows the State of Illinois Capital Grant bestowed upon the nonprofit organization and kicks off the official launch of the Capital Campaign, an ongoing development plan to adequately and abundantly resource the acquisition and build out of the combined 32,000 sq. ft. of space into a multipurpose facility for arts and community engagement. More here.
New Albums
Miguel Espinoza Flamenco Fusion, Living in a Daydream (self-released): Living in a Daydream is the third full-length album by the Miguel Espinoza Flamenco Fusion, a group firmly rooted in the flamenco, classical and jazz traditions. On this new recording, released on March 6, the musicians explore new sonic textures and myriad creative influences on a program of eight original compositions, four of which are in collaboration with GRAMMY-winner Howard Levy.
Luis Russell, At The Swing Cats Ball: Newly Discovered Recordings From The Closet – Vol. 1 – 1938-1940 (Dot Time): On March 3, Dot Time Records released a 20-track collection of recordings of legendary early jazz pioneer Luis Russell, from solo stride piano performances and newfound recordings of Russell's stellar performances with Louis Armstrong & His Orchestra and the Luis Russell Orchestra. At The Swing Cats Ball is a new entry in the Dot Time Records Legends series.
Shakti, This Moment (Abstract Logix): Shakti, born of the musical and spiritual brotherhood between guitarist John McLaughlin and percussionist Zakir Hussain 50 years ago, released their first new studio album in more than 45 years. This Moment finds them continuing to explore sonic hybrids and the soulful, organic intermingling of Eastern and Western musical traditions on a set of new compositions and performances.
Wayne Escoffery, Like Minds (Smoke Sessions): Saxophonist/composer Wayne Escoffery celebrates the chemistry shared by some of his most longstanding musical partners on Like Minds, much of the program of which he composed during the pandemic. The album features his quartet with David Kikoski, Ugonna Okegwo and Mark Whitfield, Jr. joined by special guests Gregory Porter, Tom Harrell and Mike Moreno on selected tracks.
Live Music and Festival News
Avishai Cohen Presented with the Miles Davis Award 2023: Bassist Avishai Cohen was honored with the esteemed Miles Davis Award at the Montreal Jazz Festival in Canada on June 30. This distinction marks Cohen as the 28th recipient of the prestigious award, which recognizes outstanding contributions to the world of jazz and celebrates innovative achievements within the genre. Notably, the Israeli bass virtuoso also becomes the first non-American artist to receive this prestigious honor, further highlighting his global impact on the jazz community. More here.
Shayna Steele Announces West Coast Tour: Vocalist Shayna Steele has announced a West Coast tour kicking off August 6 in Grass Valley, California, and running through August 13 at the San Jose Jazz Festival. The run includes stops in San Francisco, Los Angeles and Las Vegas, among others. Check out all upcoming dates here. The tour follows the release of her most recent album, Gold Dust, Steele's genre-crossing compilation of originals and covers.
92NY Announces Joshua Redman Album Release Concert: Saxophonist Joshua Redman will perform an official album release concert for his Blue Note label debut, where are we, at The 92nd Street Y, New York, on September 27. The concert will be Redman's only New York City appearance and will open the 2023/23 Tisch Music concert season at 92NY, which is celebrating its historic 150th anniversary. Tickets here.
EJN Green Rider for Organizing Sustainable Tours and Events: Europe Jazz Network (EJN) presented a new web platform collecting tools, tips and concrete examples to reduce the environmental impact of tours and events. The EJN Green Rider is specifically addressed to organizers, artists, managers and the audience, and is the result of many years of collecting information and testing new models within the EJN membership, as well as organizing the results with the help of specialized organizations. More here.
Featured photo by Marie Emmanuelle Laurin.
Like this article?  Get more when you subscribe.
Join thousands of other jazz enthusiasts and get new music, artists, album, events and more delivered to your inbox.