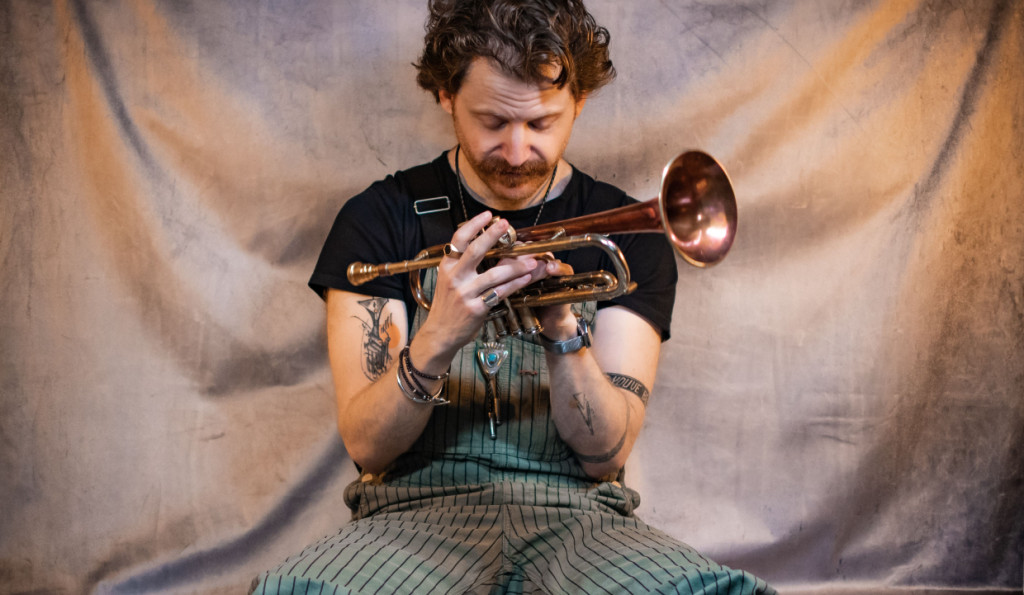 Trumpeter Michael Sarian shares a different perspective on the end of the world in his second full-length quartet release as a leader, Living at the End of the World.
Michael Sarian is a multi-talented trumpeter/composer/arranger born in Toronto, raised in Buenos Aires and currently based in New York City. Throughout his career, he has performed on some of the world's most iconic stages and has released a diverse and fascinating discography that documents his evolving musical journey. In 2022, Sarian released his latest album, Living at the End of the World, which was partly inspired by the tumultuous times experienced worldwide during the pandemic, as well as influences from within and outside of the realm of music.
The album features Sarian Sarian alongside his like-minded and longtime collaborators, pianist Santiago Leibson, bassist Marty Kenney, and drummer Nathan Ellman-Bell. It also showcases his ongoing exploration of the intersections between composed music and spontaneous creation, delivering a program of originals and arrangements, traversing a wide range of moods, from the longing and melancholy, expressed in Sarian's arrangement of the 18th-century Armenian poet Sayat Nova's "Yi Ku Ghimetn Chim Kidi (I Don't Know Your True Value)" to the tension-filled "The Pilgrim," inspired by Enrico Rava.
The album's title, Living at the End of the World, suggests the album's themes, reflecting the tumultuous times of the pandemic and the various influences both inside and outside the realm of music. The polarity of this seemingly apocalyptic theme is powerfully expressed via the album's title track, including a hard-hitting open solo by Leibson on Rhodes and Minimoog. "Instead of the world as we know it coming to an end, we could approach it as simply a new, temporary space we are living in," says Sarian via a press release. "Still a menacing, other-worldly space, but not without hope."
The album often expresses contrasting ideas within the same piece, as exemplified in "Regarding Kobe," conceptualizing the mixed emotions felt by many upon the passing of Kobe Bryant, and the aforementioned title track, a bluesy shuffle with contrasting sections. On "Cinta Marina," special guest vocalist/guitarist Camila Meza interprets a young girl's relationship with the ocean. Sarian's vision and clarity of concept resonate through the album, stimulating both listeners and musicians with moments of powerful poetry and philosophy. His ongoing exploration between composed music and spontaneous creation is stimulating for both musicians and listeners, making Living at the End of the World a must-listen for fans of innovative and captivating jazz music.
Michael Sarian's latest album Living at the End of the World is available now on ears&eyes Records. Order it here. Sarian will also be touring with his quartet this March. Click here to check out all upcoming tour dates.
Featured photo by Haroun Barsoumian.
Like this article?  Get more when you subscribe.
Join thousands of other jazz enthusiasts and get new music, artists, album, events and more delivered to your inbox.