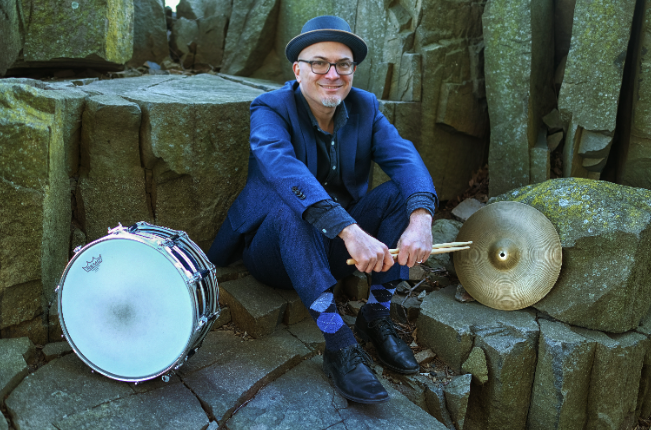 Greg Joseph demonstrates his mastery behind the drum kit and reveals his depth as a composer and bandleader on his long-awaited Drop the Rock, which debuts his organ trio The Right Back.
With over 25 years of presence on the vibrant music scene of New York City, Greg Joseph stands as a sought-after drummer in high demand. His musical journey has seen him collaborate with a diverse range of renowned artists, including Chris Potter, Kevin Hays, Ira Sullivan, Steve Wilson and the Art Shaw Orchestra, among others. In his long-awaited debut as a bandleader, Drop the Rock, Greg Joseph builds on that experience and presents his distinctive perspective on the vintage organ trio format, serving as a splendid platform for his soulful and exuberant musical expression.
Now available on Sunnyside Records, Drop the Rock introduces his trio, which he named The Right Back, and features two of his musical heroes, Larry Goldings on Hammon organ and Steve Cardenas on guitar. The album also benefits from the guidance of its producer, esteemed keyboardist Henry Hey, who also lends some of his compositional expertise to the project. Its program, in fact, primarily features original compositions by Joseph, Hey and Goldings, although the repertoire is augmented by invigorating renditions of Ray Charles' "Ain't That Love" and a rare interpretation of Joni Mitchell's "In France They Kiss on Main Street."
Echoes of the soulful Stax sound resonate in Hey's "Sauté," while Goldings pays homage to the legendary Paco de Lucía with a flamenco-infused piece titled "Paco's Theme." The musical voyage commences with the infectious groove of "Mozam-BBQ" and culminates with the spirited and swinging "Right Back Blues," a fitting conclusion that captures the essence of a perfect live set finale. Among the album's most heartfelt moments lies "Nina's Lullaby," an interpretation of a melody that Joseph's daughter sang to her pet fish, affectionately named Crabby. Drop the Rock's journey encompasses a wide spectrum of emotions and embraces an array of stylistic influences, while also carving a unique path forward.
Greg Joseph and the Right Back's new album, Drop the Rock, is available now on Sunnyside Records. Order it here.
Featured photo by Enid Farber.
Like this article? Get more when you subscribe.
Join thousands of other jazz enthusiasts and get new music, artists, album, events and more delivered to your inbox.