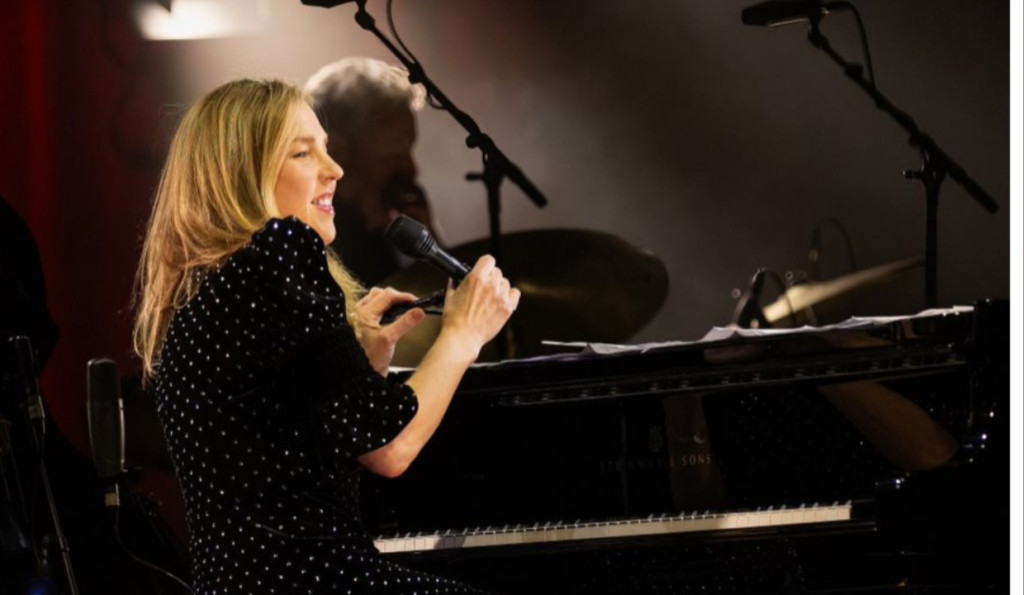 By Philip Booth
From Diana Krall to Thundercat, the Montreal Jazz Fest hosted performances to satisfy the most eclectic palates of its devoted attendees.
"I've missed you so much," Diana Krall said about halfway through her second show in two nights at the 3,000-seat Salle Wilfrid-Pelletier theater, during the 43rd edition of the Montreal International Jazz Festival (June 29-July 8). The popular singer-pianist from British Columbia, in front of an adoring sell-out crowd, offered polished American Songbook standards and other tunes, including Leonard Cohen's "Famous Blue Raincoat" and Krall's "The Girl in the Other Room," co-written with husband Elvis Costello.
Krall, joined by the top-flight trio of guitarist Anthony Wilson, bassist John Clayton and drummer Jeff Hamilton, presented an evening of blue-chip swing and, in the case of a bossa version of "Night and Day," elongated vocal lines delivered in sultry, smoky fashion. Krall's performance at the sprawling event — 10 days, more than 350 events — marks her first appearances in six years at a gathering she first played in 1998.
Krall opened her set, appropriately enough, with "I Love Being Here With You," a 1961 hit for Peggy Lee. The song's sentiment is seemingly shared by artists and audiences alike at the fest: The former tend to give particularly spirited performances in Montreal, and listeners typically show up in droves to the many indoor ticketed concerts and free-admission outdoor shows.
That held true even in the thick of a heatwave that had temperatures climbing, humidity spiking and concertgoers sweating when a crowd estimated at 60,000 swarmed the acreage in front of the TD Stage to catch Thundercat. The L.A. six-string bass guitarist and singer, born Stephen Lee Bruner, lit up the joint with his patented blend of frenetic jazz fusion and futuristic R&B. He aired out his long set with fan favorites such as "Lotus and the Jondy," "Friend Zone," "Funny Thing" and "I Love Louis Cole" (cue the onstage appearance by pal Cole), closing with his (not Buddy Miles') "Them Changes," dedicated to Gino Vannelli, one of his major influences. Two nights later, the same venue was jammed with a mostly younger crowd thrilling to the trippy, spacey, funky, experimental-minded groove music of Toronto-bred favorites BadBadNotGood.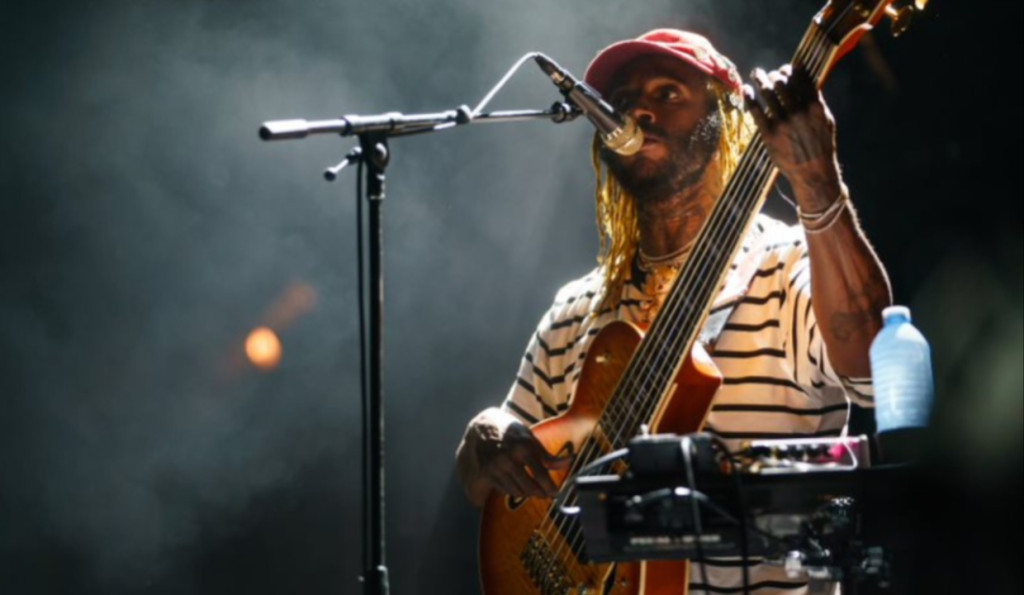 Montreal's eclectic festival is characterized by a commitment to high-quality fare, regardless of genre. Virtuoso Cuban-born pianist Chucho Valdés turned in a raucous, inspired program of Latin jazz, including Chick Corea's "Armando's Rhumba," bolstered by drummer Horacio "El Negro" Hernandez, bassist Jose Gola and percussionist Roberto Vizcaino. Robert Plant, the former Led Zeppelin singer, collaborated again with veteran bluegrass singer-fiddler Alison Krauss. The two, with a five-piece group including extraordinary fiddler/multi-instrumentalist Stuart Duncan, impressed with creatively arranged acoustic-electric versions of Zep tunes "Rock and Roll," "Gallows Pole," "The Battle of Evermore" and "When the Levee Breaks." The 75-minute set also featured Plant's solo single "In the Mood," Allen Toussaint R&B hit "Fortune Teller," "Trouble With My Lover," "High and Lonesome" and other music from two Plant-Krauss albums.
Ambitious, cosmic-minded free jazz and laid-back balladry, courtesy of Chicago saxophonist and activist Isaiah Collier and the Chosen Few — pianist Julian Davis Reid, bassist Jeremiah Hunt and drummer Michael Shekwoaga Ode — were on the menu at an outdoor pub. Meanwhile, Montrealer Alain Caron, a master of the six-string fretless bass guitar, deployed his nine-piece little big band at the intimate underground Gesù theater for a display of high-energy fusion tinted with funk and R&B.
This festgoer's itinerary was capped by guitarist-singer John Pizzarelli's alternately barn-burning and mellow set of swing, dominated by music from his new Stage and Screen album. The affable, frequently funny Pizzarelli, joined by pianist Isaiah J. Thompson and bassist Mike Karn, excelled as an instrumentalist and vocalist on tunes such as "Too Close for Comfort," "I Want To Be Happy," "As Time Goes By," the humorous "Coffee in a Cardboard Cup" and "Where or When?" He commingled those retro gems with his versions of Randy Weston's "Hi-Fly" and Pat Metheny's "Last Train Home" and "Letter From Home." Pizzarelli first played the festival more than 30 years ago. "This is the top of the pack of the festivals," he said during his July 8 closing-night concert. Many attendees would agree.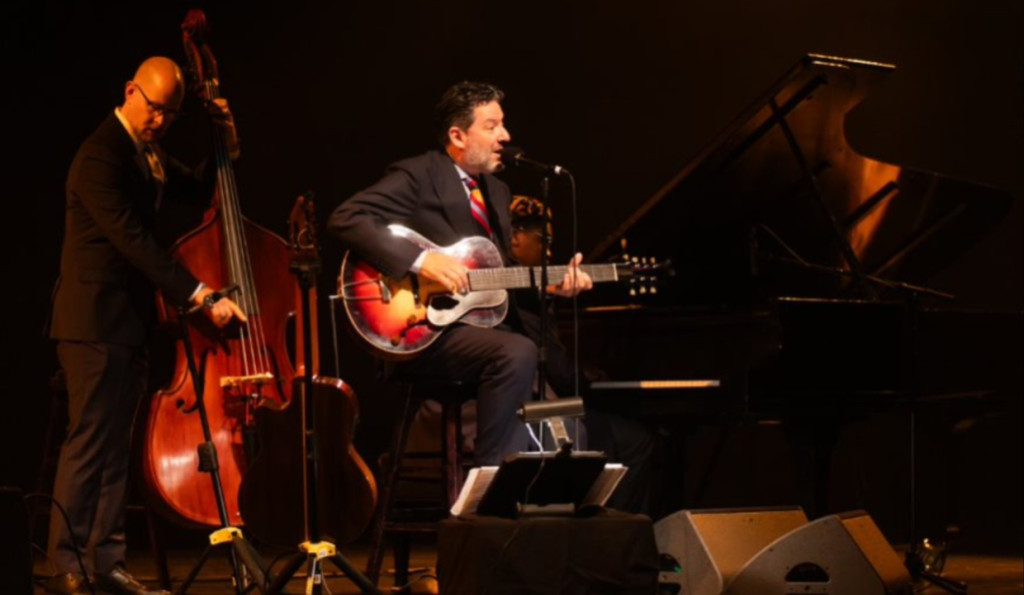 Featured photo by Frédéric Ménard Aubin.
Like this article? Get more when you subscribe.
Join thousands of other jazz enthusiasts and get new music, artists, album, events and more delivered to your inbox.