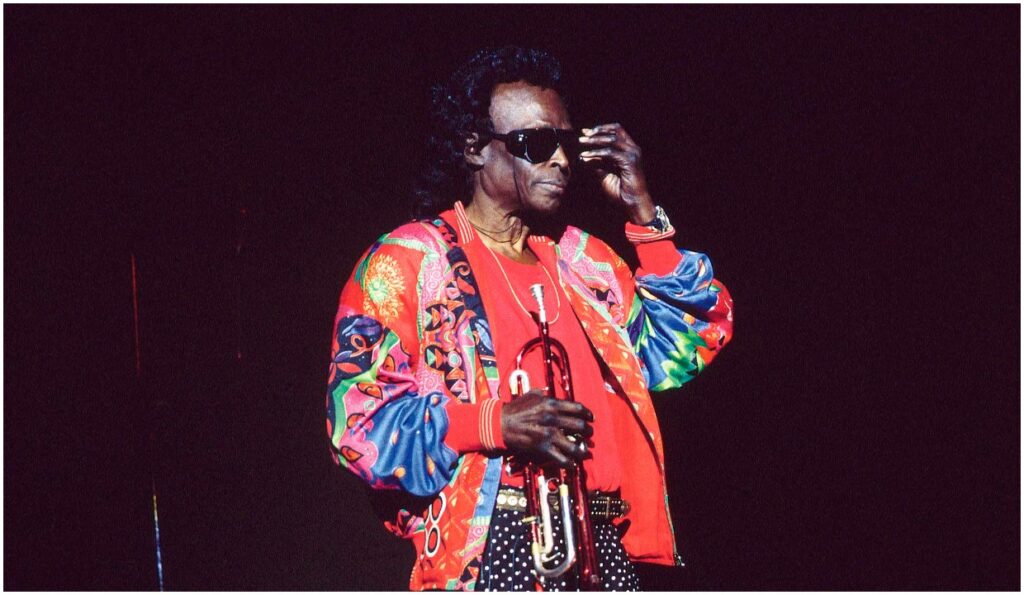 A previously unreleased recording of one of Miles Davis' final live concerts; a modern guitar virtuoso's Blue Note debut; a celebration of the architects of the Black American songbook. All this and more in our list of ten albums out this month (June 2021) that you need to know about.
Bruce Harris, Soundview (Cellar Music Group)
Release date: June 4
Bronx-born trumpeter/composer/educator Bruce Harris celebrates his ancestors and the architects of the Black American songbook, from Duke Ellington to Barry Harris and beyond, via covers and originals on his latest full-length. Soundview is produced by Jeremy Pelt and features Harris and his A-list quartet of masterful musicians, including pianist Sullivan Fortner, bassist David Wong, drummer Aaron Kimmel and rising star vocalist Samara Joy. Order it here.
Cande y Paulo, Cande y Paulo (Decca)
Release date: June 4
Vocalist/upright bassist Cande Buasso and keyboardist Paulo Carrizo follow their viral YouTube success with a stunning, self-titled debut album. On Cande y Paulo, the Argentinian duo offers a sublime collection of reworked songs, including "I Fall in Love Too Easily," lead single "Tuyo" and a new take on the song that brought them fame, "Barro Tal Vez." The album was recorded and produced by Larry Kleyn. Order Cande y Paulo here.
Michael Mayo, Bones (Mack Avenue)
Release date: June 4
Classically trained NYC-based rising star vocalist/instrumentalist/songwriter Michael Mayo has developed his own seamless and lush sound and on his solo debut full-length, Bones, he showcases this idiosyncratic blend of alternative and neo-soul. Bones is also his most personal release yet, where he shares his experience of embracing his bisexuality and where its songs represent the building blocks that made him the person he is today. Order Bones here.
Kevin Hays, Ben Street and Billy Hart, All Things Are (Smoke Sessions)
Release date: June 4
Pianist Kevin Hays, bassist Ben Street and drummer Billy Hays collaborate on strikingly telepathic performances on All Things Are, recorded in December 2020 at an empty Smoke Jazz & Supper Club and after only one rehearsal session. The set is drawn from this multi-generational trio's two livestream performances celebrating Hart's 80th birthday and features seven pieces in total, six of which were composed by Hays. Order it here.
Brad Mehldau and the Orpheus Chamber Orchestra, Variations on a Melancholy Theme (Nonesuch)
Release date: June 11
Brad Mehldau combines the classical form with jazz harmonies to represent melancholy on his new major work, commissioned by and performed with the GRAMMY-winning Orpheus Chamber Orchestra. Variations on a Melancholy Theme includes the theme and its eleven variations, plus a cadenza and a postlude. "I imagine it as if Brahms woke up one day and had the blues," explains the acclaimed pianist/composer via a statement. Order it here.
Julian Lage, Squint (Blue Note)
Release date: June 11
On his latest album, Squint, Julian Lage weds incisive, expressive songwriting with the profound interplay he has honed over the years with his trio featuring bassist Jorge Roeder and drummer Dave King. Squint also marks the guitar virtuoso's Blue Note debut. "I felt like this was an opportunity to present new music born out of the Blue Note traditions as I've interpreted it," Lage explains via a statement. Order it here.
Ben Goldberg, Everything Happens To Be (BAG Production)
Release date: June 18
For his new record of original compositions, clarinet innovator Ben Goldberg convened a group of what he refers to as "distinct and eccentric musical personalities." Everything Happens to Be features a formidable ensemble of some of New York's most exciting musicians, including guitarist Mary Halvorson, tenor saxophonist Ellery Eskelin, bassist Michael Formanek, and drummer Tomas Fujiwara. Order it here.
Marc Ribot's Ceramic Dog, Hope (Northern Spy)
Release date: June 25
Marc Ribot and his Ceramic Dog trio with bassist/multi-instrumentalist Shahzad Ismaily and drummer Ches Smith reflect the era's uncertainties on their powerful new record, Hope. The new album's eight originals feature a wide range of styles and influences, from noise rock to psych-folk and spoken word, and find the guitarist flexing minimalist storytelling skills to reflect the tumult of contemporary times, including, as he explains, "the effects of political burnout." Order Hope here.
Steve Cole, Smoke and Mirrors (Artistry/Mack Avenue)
Release date: June 18
From quiet contemplation to funky celebration, Smoke and Mirrors finds saxophonist Steve Cole offering up an intimately personal and heartfelt reflection of his own true self, his creativity and his artistry. Created entirely in pandemic-necessitated isolation, Smoke and Mirrors brings together an all-star lineup and is also Cole's latest collaboration with his longtime producer/co-writer/multi-instrumentalist David Mann. Order it here.
Miles Davis, Merci, Miles! Live at Vienne (Rhino)
Release date: June 25
Merci Miles! Live at Vienne is a recording of one of trumpet legend Miles Davis' final live performances, recorded at the Jazz à Vienne festival in France in July 1991. This was the same month he became a Knight of France's Legion of Honor and just a few months before his passing. This electrifying, previously unreleased set also includes two songs written by Prince, "Penetration" and "Jailbait," and is out as part of Rhino's Black Music Month celebration. Order it here.
Featured photo: David Redfern/Redferns.
Like this article?  Get more when you subscribe.
Join thousands of other jazz enthusiasts and get new music, artists, album, events and more delivered to your inbox.