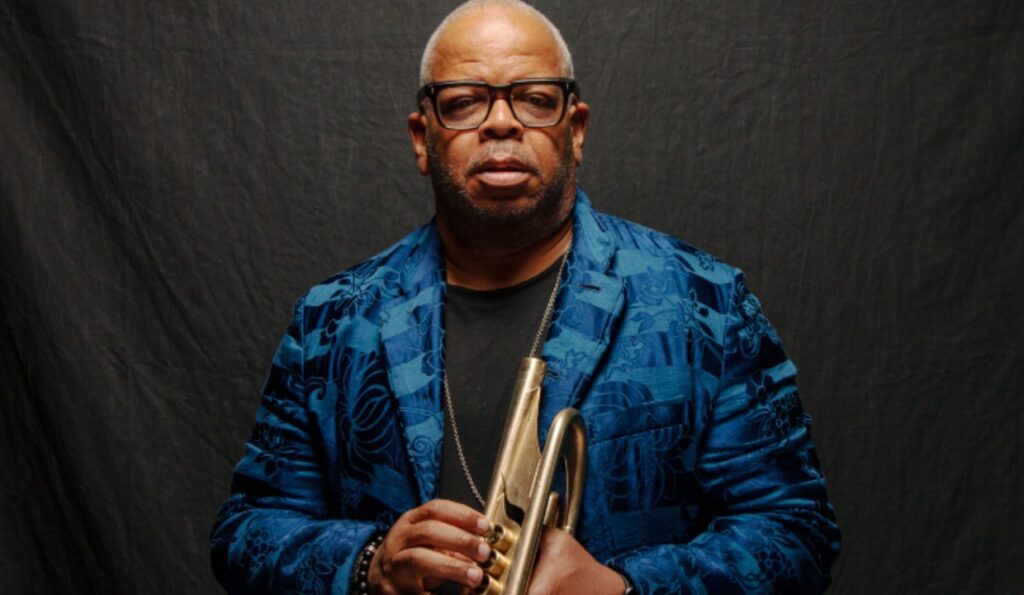 Tributes to Wayne Shorter, Burt Bacharach and Terry Gibbs; a stellar major-label debut; an exploration of the saxophone's lineage in jazz and classical music. All this and more in our list of ten albums out this month (August 2021) that you need to know about.
Brian Jackson, Ali Shaheed Muhammad & Adrian Younge, Brian Jackson JID008 (Jazz Is Dead)
Release date: August 6
The latest installment of Ali Shaheed Muhammad and Adrian Younge's Jazz Is Dead series is their collaboration with Brian Jackson, the musical director and multi-instrumentalist best known for his legendary collaborations with Gil Scott-Heron. "Brian Jackson is the first album we recorded for Jazz Is Dead," reveals Younge via an official statement. "He set the tone for the entire label. He turned our aspirations global … We are forever indebted to this icon." Order Brian Jackson JID008 here.
Gerry Gibbs, Songs From My Father (Whaling City)
Release date: August 6
Drummer Gerry Gibbs pays tribute to his groundbreaking vibraphonist father Terry Gibbs, one of the last living architects of bebop. Songs From My Father features inventive and modern arrangements of 18 tracks selected from his father's fabled discography, performed by four iterations of his Thrasher Dream Trio. It also includes one track composed specifically for this project by Chick Corea and one of the late great pianist's last recorded performances. Order Songs From My Father here.
Patricia Barber, Clique (Impex)
Release date: August 6
With Clique, pianist/vocalist Patricia Barber returns to the standards-album format for the first time since 2000's Nightclub. The record finds her revisiting standards and well-known songs that she has frequently performed as encores, including classics by Rodgers & Hammerstein, Stevie Wonder, Thelonious Monk and more. These tracks are performed with her longtime rhythm section of bassist Patrick Mulcahy and drummer Jon Deitemyer, plus guitarist Neal Alger and saxophonist Jim Gailloretto. Order Clique here.
Brandee Younger, Somewhere Different (Impulse!)
Release date: August 13
Innovative jazz harpist Brandee Younger pays homage to her predecessors on her new album, Somewhere Different, which is characterized by lush landscapes and a radiant blend of hip-hop, R&B, classical and jazz. This eight-track collection produced by Dezron Younger features a great lineup and a special appearance by none other than bass legend Ron Carter. It also marks Younger's major-label debut. Pre-order Somewhere Different here.
PRISM Quartet, Heritage/Evolution, Volume 2 (XAS)
Release date: August 13
The PRISM Quartet, one of America's foremost chamber ensembles, returns with their second full-length celebration of the saxophone, Heritage/Evolution. This time, they are joined by saxophone icons Ravi Coltrane, Joe Lovano and Chris Potter. Together, they explore the instrument's dual lineages in classical music and jazz, via a program of works ranging from totally notated scores to completely free improvisation. Order Heritage/Evolution, Vol. 2 here.
Andrew Cyrille Quartet, The News (ECM)
Release date: August 27
The News is an album of impressionistic sonic exploration guided by veteran drummer Andrew Cyrille, a force in improvisational music for over sixty years. Recorded at Sound on Sound Studios in New Jersey in 2019, this is a follow-up to Cyrille's acclaimed 2016 album, The Declaration of Musical Independence, and features an updated lineup of that quartet with Bill Frisell and Ben Street returning, and with David Virelles taking the piano role. Order The News here.
Denise Donatelli, Whistling in the Dark – The Music of Burt Bacharach (Savant)
Release date: August 27
Three-time GRAMMY-nominated vocalist Denise Donatelli reimagines the music of Burt Bacharach on her new album, Whistling in the Dark, an intimately arranged collection produced by Larry Klein. "Larry's idea was to reimagine Bacharach's music in such a minimalistic way… to reframe them in a way that examines the very essence of the songs," explains Donatelli. "He knew what he was striving for but left the room in the process for what became a great collaboration among the musicians." Order Whistling in the Dark here.
Gary Meek, Monterey Groove (Autumn Hill)
Release date: August 27
On Monterey Groove, virtuosic saxophonist/keyboardist Gary Meek revisits originals from his rich catalog and celebrates the musicianship of his adopted hometown of Monterey, California. Aside from introducing a stellar new quartet that he devised with guitarist/producer Michael Lent, this stunning set of modern fusion also features guest appearances by some of Meek's long-term collaborators, including Dave Weckl, Flora Purim and Airto Moreira. Order Monterey Groove here.
Kenny Garrett, Sounds from the Ancestors (Mack Avenue)
Release date: August 27
Saxophone veteran Kenny Garrett looks both backward and forwards on his 20th album as a leader, which combines the musical history of Detroit and the rich influence of his ancestry with his passion for innovation. Its multifaceted program is performed with a stellar ensemble and features tributes to Roy Hargrove and Art Blakey, as well as Garrett extending his instrumental palette by playing piano and singing on a couple of cuts. Order Sounds from the Ancestors here.
Terence Blanchard, Absence (Blue Note)
Release date: August 27
Terence Blanchard pays tribute to legendary/composer Wayne Shorter with his acclaimed E-Collective and the Turtle Island Quartet, led by violinist/artistic director David Balakrishnan. Absence presents pieces written by Shorter as well as original compositions by the acclaimed trumpeter and members of his band. "I'm proud to have a chance to visit some of the music that has shaped my musical identity," he states via a press release. Order Absence here.
Featured photo by Cedric Angeles.
Like this article?  Get more when you subscribe.
Join thousands of other jazz enthusiasts and get new music, artists, album, events and more delivered to your inbox.